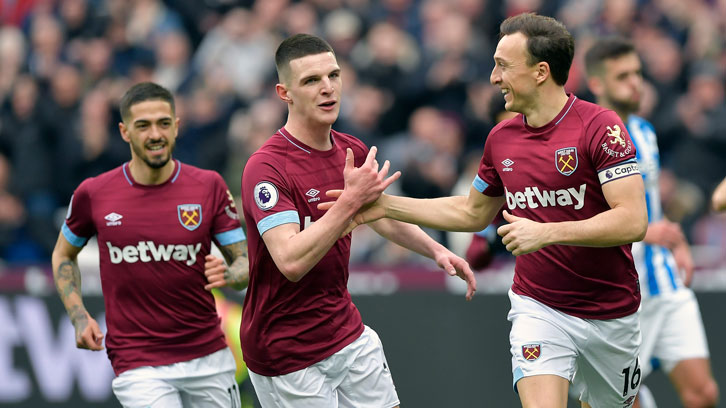 Captain Mark Noble says West Ham United know they need to keep winning here at London Stadium if they are to secure a top-seven Premier League finish...
We face Everton at London Stadium in the Premier League this evening and no doubt you're all looking forward to the game, wherever you are watching.
It's been two weeks since we last played, with the international break in between, and it seems like ages since we came from behind in dramatic fashion to beat Huddersfield Town.
That win extended our unbeaten run at London Stadium to seven games in 2019 and, as I, the manager, the players and a lot of other people have said, we are really starting to feel the benefit of our home advantage, playing in front of nearly 60,000 every other week.
We want to extend that unbeaten record here until the end of the season, but we know Everton will not make it easy for us, especially after their win over Chelsea last time out.
Both teams still have ambitions of finishing seventh spot and potentially qualifying for Europe if one of the Manchester clubs win the FA Cup.
Looking at our remaining fixtures, we only go out of London once more, when we play Manchester United. That's an advantage, as is the fact that the two teams ahead of us, Wolves and Watford, are still involved in the FA Cup, too.
The bottom line, though, is that we have to keep winning games. Wolves are in the driving seat at the moment but we are still on their tails – after going the first four games of the season without a point!
Those early-season teething problems ended against Everton, of course, when we went up to Goodison Park and produced one of our best performances of the season to win 3-1.
If we can play as well as we did on that day, we can complete another 'double' and hopefully finish the weekend in seventh.
We certainly need to tighten things up in defence. For the fans, our 4-3 win over Huddersfield a couple of weeks ago must have been great – but I would much rather have won 1-0!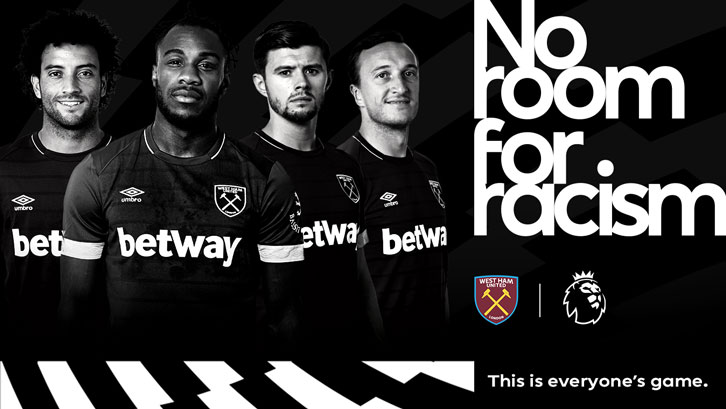 One player who can definitely help us do that is Declan Rice, who has had a memorable couple of weeks, making his debut and then his first start for England.
I've been asked a lot about Declan and our relationship over the last couple of seasons and I must admit I felt like a proud Dad, watching him come on at Wembley, having watched him come through the ranks, grow up and mature.
I texted him before he started the Montenegro game. I said: 'Have fun Dec, it's just a walk in the park' and I think you could tell he did just that. He seemed to be enjoying it all.
I spoke to him again when he came back to the club this week and he said that he thoroughly enjoyed his first England international experience. He did exactly what was asked of him.
Aside from Declan's outstanding performance, England's 5-1 win in Montenegro was also marred by racist abuse.
Today, we are all showing our strong commitment to equality and diversity, while also supporting and raising awareness for the Premier League's 'No Room for Racism' campaign and Kick It Out.
I would urge you all to read and watch all the content focusing on those issues in today's Official Programme, on whufc.com and on the big screens at London Stadium.
Get behind the boys and enjoy the game – your support really does make a big difference!