Club
Hammers fan Charlie reunited with Boleyn bricks
A lifelong West Ham United fan has spoken of his delight at being reunited with treasured commemorative bricks from the Boleyn Ground.
Charlie Bridges, 76, of Rainham in Essex, purchased the bricks during the building of the new West Stand at Upton Park back in 2001, to mark four generations of Hammers fans in his family – his father Charles, himself, his son Jason, and granddaughters Amy-Louise and Abigail.
Now a Season Ticket holder in the Billy Bonds Stand at London Stadium, Charlie was presented with the salvaged bricks at his home this week by 17-year-old Jonjo Heuerman, who has been leading the initiative with support from the Club over the past two years.
Charlie, who first attended matches at Upton Park with his father in the late 1940s and became a Season Ticket holder over 40 years ago, said to West Ham TV: "We thought the bricks were long gone, but they've now turned up, which is a bit of a miracle really!
"It's four generations of the family, which is good. It will be great when the grandkids come over to see them, even though they live a long way away now in Reading.
"The West Ham family is a big family, and a good family. Round here where I live, we are all part and parcel of the same group.
"I've also seen the new stones at London Stadium, we went there in April to have a look and found the last one, Abigail's, which we had been looking for. We've found all of them now, which is great."
Jonjo, who with the help of his family and fellow West Ham supporters, has raised more than £350,000 for the Bobby Moore Fund for Cancer Research UK, said: "It's been amazing, I'm just really happy that we've been able to return the bricks to Charlie.
"Every single brick has a story behind it and I'm glad to reunite them with their owners. To see them smile, and hopefully brighten their day, is really good.
"We've had bricks go to people all over the world – in Texas, Australia, New Zealand, Holland. It's just amazing how far the story can travel, one brick goes a very long way!
"We've got around 400 bricks left, and there is a collection day coming up soon, so hopefully we can return those as soon as possible. Like I said, every brick has a story, and hopefully we can get them all back to their owners."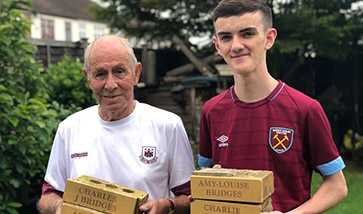 Dozens of volunteers supporting the Bobby Moore Fund and the Club's efforts two years ago helped to collect the bricks from the memorial walls on the Sir Trevor Brooking and Bobby Moore Stands, and Jonjo and his team continue to work in partnership with the Club's Supporter Services Team to locate the individual or family who commissioned them.
West Ham United were originally advised in 2015 that there was no guarantee the bricks could be saved as part of the demolition process, and so arranged for every message to be reproduced on a stone at Champions Place at London Stadium as a lasting memorial.
However, the demolition company managed to keep many of the bricks intact and worked with West Ham United and the Bobby Moore Fund to return them to their owners with hundreds of bricks already handed back, although around 400 still remain unclaimed.
All of the commemorative bricks have now been recovered and logged. Due to the nature of the process, although every care was taken, not all bricks were able to be salvaged.
West Ham United Supporter Services Manager Jake Heath said: "It has been lovely to see Charlie reunited with his commemorative bricks and to see how much it obviously means to him and his family.
"We are delighted to have been able to assist Jonjo in his fantastic efforts to track down supporters who originally purchased the commemorative bricks nearly 20 years ago, and will keep doing so in the hope of returning as many as possible from those still unclaimed.
"We have received many emails from supporters that have made the hard work worthwhile, and it is great that they can be reunited with the original bricks while still being able to see their messages and tributes permanently built into the fabric of West Ham United's home thanks to the Champions Place stones at London Stadium."
If you had a commemorative brick at the Boleyn Ground the Club would be delighted to hear from you to help you locate it please contact: supporterservices@westhamunited.co.uk, or visit http://www.fornannyandbobby.com/boleyn-brick-project where you can search a log of the recovered bricks or discover details of the collection days arranged by Jonjo and his team.
You will also be able to register the inscription of the brick you are trying to trace in the event that it is recovered in the next phase of reclamation. Alternatively you can search via Facebook group Boleyn Brick Salvage here.