New West Ham United signing Pablo Fornals says joining the Hammers was 'the easiest decision' he has ever made.
The 23-year-old has become West Ham's second most-expensive signing ever and the club's third new arrival this summer, following goalkeepers Roberto and David Martin to London Stadium and joining Manuel Pellegrini's Premier League side from Villarreal.
The midfielder, having put pen-to-paper on a five-year deal with an option of a further 12 months, is relishing the prospect of playing in the Premier League and says the Club's ambition made his choice to join West Ham an easy one. 
"I feel very happy and very grateful for the opportunity that has been provided to me by joining West Ham," Formals told whufc.com. "My decision to join West Ham was quite clear in my own mind. I asked for opinions, without revealing anything, about the Premier League and everyone has told me wonderful things about this league, London and West Ham as a team. 
"This is a Club that continues to bring in young and ambitious players; players who want to do well in the future. And, of course, it motivates me to play big games against great teams.
"I am very lucky to play now in the Premier League, where almost every weekend you play against a great team. Because of all this, it was the easiest decision to make."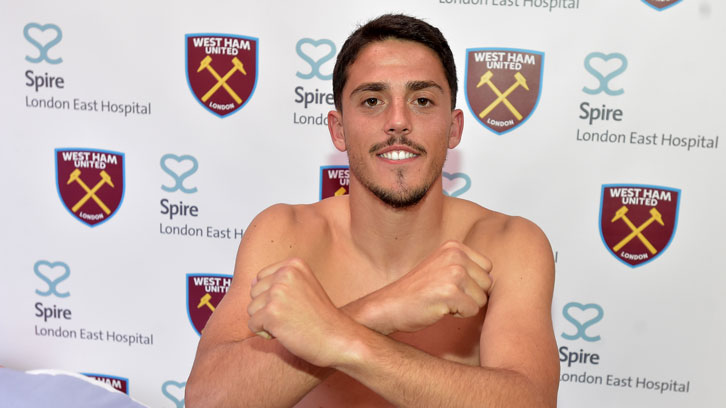 Fornals scored five goals and registered six assists in all competitions with Villarreal last season, but the Spaniard believes one of his best qualities is his work ethic on the pitch. 
According to the midfielder, the main thing he can do is work as hard as he can to help his new West Ham teammates to win every game.  
"I think the goals and assists are secondary," he continued.  "What I'm sure of is that I'm going to give my all. I'm going to put in everything on the pitch and in training so that those goals and assists can come, but I think that is secondary.
The most important thing is what I can do to help my team and my teammates. I will try to do my best, try to play the maximum possible minutes and help the team finish in the best place we can."
Every child has dreams of representing their country at the top level

Pablo Fornals
With Fornal at the heart of their midfield, Villarreal reached the quarter-finals of the Europa League last season, and the newest acquisition is targeting a return to Europe with West Ham.
On an international level, Fornals is also looking to establish himself in the Spanish national team and become the first player to earn a senior cap with Spain while playing in the Claret and Blue. 
He added: "I'm going to try to help West Ham and my teammates as much as I can. I think it is a nice goal to get into Europe, but the most important thing is to finish as high as possible in the table. 
"If we finish in the European spots then much better. Why not be ambitious and try to go for it?
"Every child has dreams of representing their country at the top level. I've had the fortune of playing in several friendlies, and I have the dream of returning to the side as well."