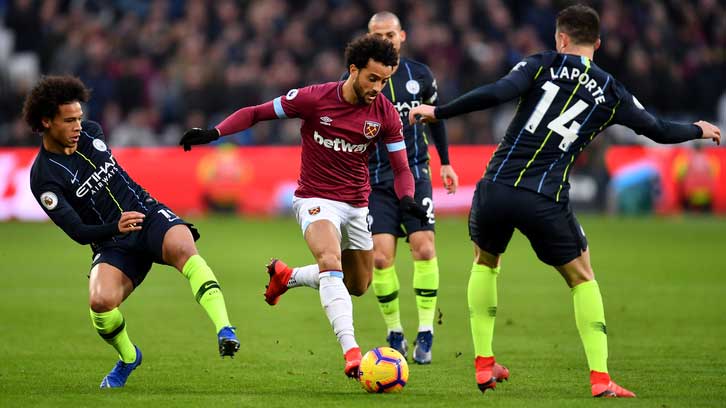 West Ham United will kick-off the 2019/20 Premier League season with a home test against reigning Premier League champions Manchester City.
Manuel Pellegrini will prepare his Irons to take on former side City on Saturday 10 August at 12.30pm, with the match chosen to be shown on BT Sport.
August continues with a trip to play Brighton and Hove Albion for the first league away match of the season. A visit to Watford – where West Ham won 4-1 on the closing day of last campaign – is next, before August closes with a home tie with newly promoted Norwich City. 
September opens with an away clash with Aston Villa following the international break, before Manchester United visit London Stadium. This fixture, currently on Saturday 21 September, is likely to change to Sunday 22 September due to the Red Devils' involvement in the Europa League. Pellegrini's Hammers will then travel to play AFC Bournemouth. 
Crystal Palace will visit London Stadium to kick-off October on Saturday 5 before West Ham visits Goodison Park to play Everton a fortnight later, following the international break. The month ends with a home tie against promoted side Sheffield United. 
Two London derbies – at home to Tottenham Hotspur on Saturday 23 and away to Chelsea on Saturday 30 – will end a November that also sees Newcastle visit London Stadium at the start of the month. A trek to play Burnley, on Saturday 9, completes the month. 
With six league fixtures, December is set to be the busiest month for the Hammers. The close of the year will open with a midweek trip to Wolverhampton Wanderers before Arsenal come to London Stadium on Saturday 7 December. 
Southampton away in mid-December is followed by Liverpool at home on Saturday 21. The busy festive period will see West Ham travel across the capital to play Crystal Palace on Boxing Day, while Bournemouth will come to Stratford on New Years' Day. A home clash with Leicester City is sandwiched in-between. 
A home match with Everton comes between away games against Sheffield United and Leicester City to complete January. 
February will see the introduction of the first mid-season player break, in which the fixtures for Round 26 will be split across two weeks. West Ham's visit to Manchester City will either take place over the weekend of 8/9 February or 15/16 February. 
All five matches on each weekend will be broadcast live in the UK and the split of the matches will be decided when the UK broadcast picks for the month of February 2020 are announced. The approximate date for this announcement is 14 December 2019.
February will also see West Ham play at home to Brighton and Southampton, while a visit to Anfield to play Liverpool is set for Saturday 22. 
March will see the Hammers go to the Emirates Stadium for a match with Arsenal and also take on Tottenham Hotspur away. A home match against Wolves is in the middle. 
Chelsea and Burnley will visit London Stadium in April while West Ham will travel to Newcastle and Norwich City. 
The season will conclude with a home match against promoted side Aston Villa, after the visit of Watford and an away match at Old Trafford against Manchester United. 
Supporters should note that all Premier League fixtures are subject to change.
In addition, the Hammers will begin their Carabao Cup challenge at the second-round stage in the week commencing Monday 26 August, while the Emirates FA Cup third round will be held over the weekend of Saturday 4 January 2020.