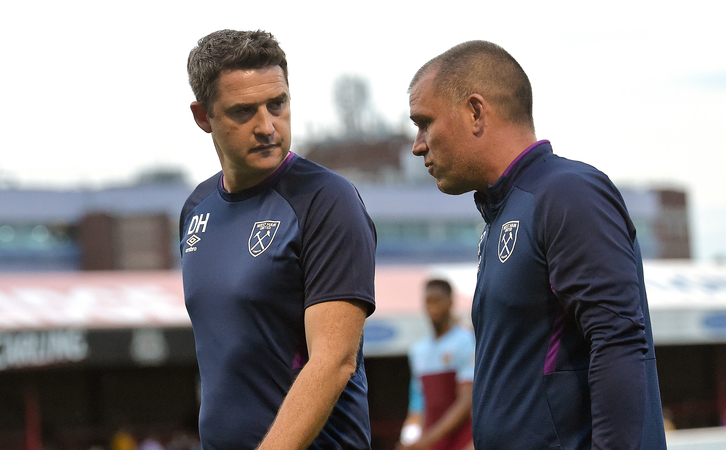 West Ham United U23s Head Coach Dmitri Halajko was full of praise for his side after their 2-1 win over Reading U23s on Tuesday afternoon.
The game was played behind-closed doors at Reading's training ground with Nathan Holland and Anthony Scully finding the net for the Hammers.
West Ham controlled the game for large spells as they continued their pre-season preparations ahead of the Premier League 2 season. 
"I thought it was a great team performance" Halajko said. "I wouldn't single out an individual, we just spoke in there about getting all three thinking points. The first is a good team performance, the second is eleven to 16 good individual performances and the third is the result, it was a good day because we managed to get all three."
Throughout pre-season the U23s have played senior opposition and Halajko was glad to test his side against an academy.
"I think in our game today it was the first time that we have come up against U23s opposition. A lot of our games have been up against senior teams and we wanted to test ourselves against someone who was around a similar age and see how we came out and I was quite pleased with how it went.
"Reading pressed a little bit at times and left us some space to try and exploit if we were good enough and quick enough on the ball which at times we were."
Centre back George Heaven went down injured with just ten minutes remaining in Tuesday's game but the U23s manager believes it's just a short-term problem.
"It's not as bad as we first thought, we thought it might be something quite serious when we saw his foot get stuck in the turf, but the physio has just had a look at him and it's certainly sprained but hopefully nothing too serious."
Next up for West Ham is an eye-catching trip to Belgium to face RSC Anderlecht on Friday afternoon.
West Ham kick off their Premier League Division 2 campaign against Fulham on August 9 at The Chigwell Construction Stadium in Dagenham.