Declan Rice has vowed to take his already outstanding game to a new level this season.
The West Ham United and England star excelled in a deep-lying midfield role in 2018/19 earning senior international honours and rave reviews from across the game.
After showing his all-round talents by playing in both his usual position and at his previous place at centre-half in Saturday's Premier League Asia Trophy defeat by Newcastle United in Shanghai, the youngster outlined his aims for 2019/20.
There is so much of my game I need to get better at

Declan Rice
"You need to improve," he said. "I don't think you can be happy and content with how I played last season. I'm certainly not. I know I can get better for sure.
"There is so much of my game I need to get better at, maybe going forward a bit more; sometimes in my position, I'm just there to sit there and keep things ticking; my tactical side of the game; when to drop in as a centre-half and when to push up – there are so many things.
"I'm still only 20 years old. I'm enjoying playing every week, I'm learning and I'm trying to get better."
While Rice is looking forward to the campaign ahead, he also reflected positively on the Asia Trophy in China, where West Ham gained valuable fitness and sharpness by playing and training in demanding conditions. Despite the fact results went against them, the No41 felt the trip was a valuable exercise.
"It's been really tough," he said. "We knew what we were getting when we were coming out to China – hot weather, humidity and two good tests in Newcastle and Manchester City.
"Overall, it's been a good trip. We didn't manage to win either of the games, but I don't think that matters too much as long as we gel as a team and we're getting back into the swing of things and getting fitter so we're ready for the new season. It's been good and we'll learn from it.
"The conditions were hard to play in, especially on Saturday when we played at five o'clock and it was really hot and sticky. Against Man City it was a bit easier as it was cooler but, like I said, we knew what were getting into when the manager decided to come here.
"It's a great tournament and it's tough, but we're going to get fitter and it stands us in good stead for when we go back."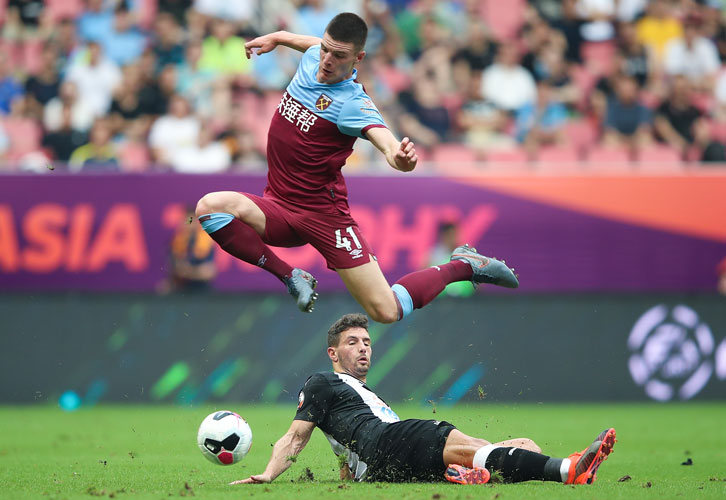 Having now spent three weeks out of the country – two in Switzerland and one in China – the Hammers now fly back to London for a week of work at Rush Green before rounding out preseason with fixtures at Fulham, against Hertha Berlin in Austria, and at home to Athletic Bilbao.
"Last season was a disastrous start, but we have been with the manager a year now and we all know what we want and the players have been around each other long enough.
"There are no excuses for how we started last season, but this season we're getting ready, we're building, we're getting physically better and come Manchester City in the first [Premier League] game, we're going to be ready."