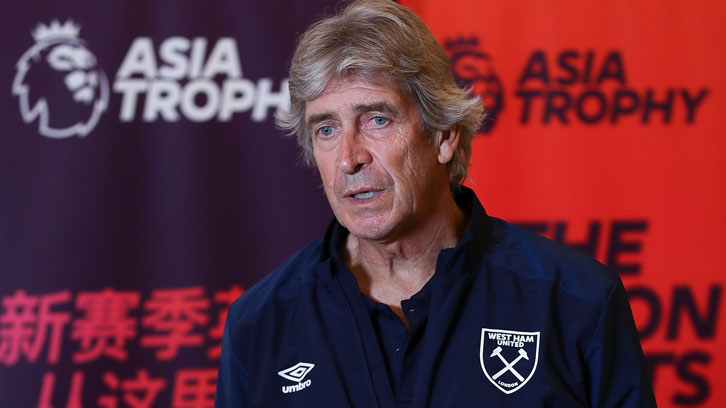 Manuel Pellegrini is relishing his latest visit to China after touching down in Nanjing with his West Ham United squad for the Premier League Asia Trophy.
The manager previously brought the Hammers' semi-final opponents Manchester City to Hong Kong in 2013, defeating South China and Sunderland to win the tournament, before spending two years in charge at Chinese Super League club Hebei China Fortune between 2016-18.
On arrival in the historic walled city and capital of Jiangsu province, Pellegrini said he was delighted to be back in the People's Republic.
I saw the supporters at the airport and at the hotel and I think the people in China are delighted about football more every year

Manuel Pellegrini
"I lived here before for two years so I know China very well and I am very happy to return, especially to play in this important Asia Trophy," said the Chilean, who was in demand for autographs and selfies from passionate Chinese fans.
"I saw the supporters at the airport and at the hotel and I think the people in China are delighted about football more every year. I have continued to be interested in what is happening in the league here and I can see that this league has improved. I am sure in another couple of years more, there will be a very big league here.
"It was a good experience managing here in China and football is growing here more every year and more and more people are seeing the games. The two years I lived here, I saw a very good league."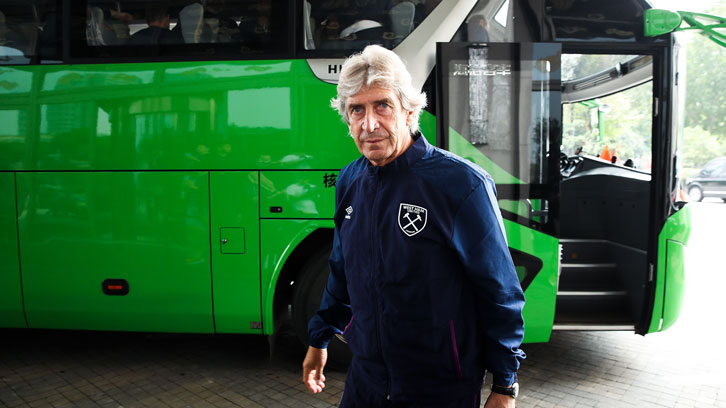 With Manchester City also providing West Ham's opening Premier League opponents when the 2019/20 season kicks-off on 10 August, Pellegrini believes the challenge of facing Pep Guardiola's domestic treble winners is the perfect tune-up for a number of reasons.
"I remember the first year I came here with Manchester City and we won the tournament," he recalled. "The games were not played in easy weather conditions, but we played well and won that trophy.
"We are now playing Manchester City in our first game this year and it's always good to start by playing against the best team, and that is what they demonstrated in England in the last two years.
"So, to play against them in the Asia Trophy on Wednesday will be a good test for everyone. I understand it is a difficult match, but we always feel confident about performing well."
Pellegrini took his team to Switzerland for a ten-day training camp to begin their preparations for the campaign ahead, before popping over the border to Austria, where they defeated Bundesliga club SCR Altach 3-2 in an entertaining game on Thursday evening.
After a day off, the squad assembled for the trip to China, where they will also take on Newcastle United or Wolverhampton Wanderers, depending how they fare in their respective semi-finals on Wednesday at the Nanjing Olympic Sports Centre.
The manager says facing two Premier League opponents in hot and humid conditions will help his players get up to speed.
"It's good to have this challenge in preseason as we started working ten days ago and every day we are getting nearer to the Premier League season, it is good to have these games against the top teams," he confirmed.
"We are working well. We did the programme we had prepared before and now we are starting to complete this week in China that will be very different for us."
Ticket information for both West Ham fixtures can be found here.