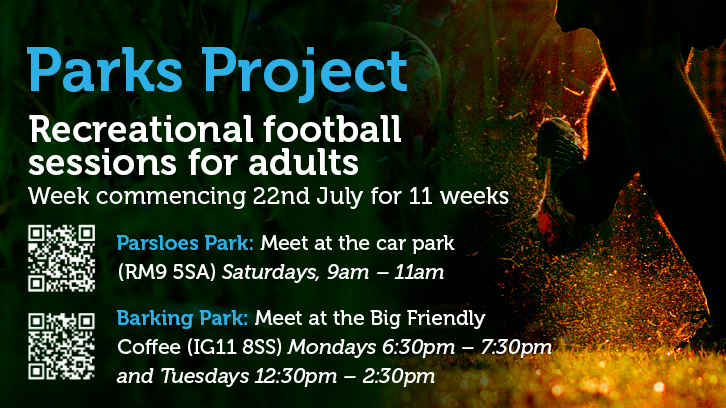 West Ham United Foundation is delighted to announce the launch of its new Parks Project, designed to inspire local adults to take part in new sporting activities. 
Starting on July 25 and running for 11 weeks, the Parks Project includes free recreational football sessions for adults running across two parks in Barking & Dagenham. 
In the London Borough of Barking & Dagenham, 5.9% of the population is unemployed, which is higher than the average percentage in both London and the whole of Great Britain. 
Based on this statistic, the Foundation has created a unique program to combat some additional negative effects of unemployment. 
These free sessions will include a mix of Walking Football and Football Fitness, ensuring the sessions are accessible to all. The overall aim of the program is to develop the confidence of all those engaged, which should inspire them to continue their sports involvement. 
Each session will also contain aspects of delivery that focus on the five steps to improve mental wellbeing; connect, be active, keep learning, give to others and be mindful.
Bryan Glover, Head of Football Development at the Foundation spoke about the launch of the initiative.
"This new project is a fantastic opportunity for us to engage with more of the Barking & Dagenham community whilst delivering a wide range of sporting initiatives across excellent parks in the borough.
"I am greatly looking forward to seeing the project in action with local residents benefiting from the work delivered by the Foundation."
The program will be delivered at Parsloes Park and Barking Park, which are both central to the borough. 
Dates and locations of the sessions are:
Parsloes Park: Meet at the car park (RM9 5SA) 
Saturdays: 9am - 11am
Barking Park: Meet at the Big Friendly Coffee (IG11 8SS)
Mondays: 6:30pm - 7:30pm
Tuesdays: 12:30pm - 2:30pm
 
For any more information regarding the program email: [email protected]