Samir Nasri is excited by how far this West Ham United side can go after signing a deal with the Irons. 
The midfielder has joined the Hammers on a contract until the end of the season and is already prepared for what he believes can be a thrilling chapter in the Club's illustrious history. 
Citing names such as record signing Felipe Anderson, Jack Wilshere and Mexican striker Chicharito, Nasri can feel the ambition that West Ham has, and knows the team has the quality to go far. 
I think that West Ham has everything to be one of the biggest clubs in London, for sure. This team has the potential to finish in the top eight.

Samir Nasri
"I know the team and, for me, West Ham is a team with a lot of quality," Nasri told West Ham TV. "I think that West Ham has everything to be one of the biggest clubs in London, for sure. This team has the potential to finish in the top eight, so it is really an exciting challenge.
"The ambition excites me. Felipe Anderson was the new wonder-kid when he signed for Lazio and two or three years they were talking about a move to Manchester United. 
"Jack Wilshere, I know him from when he first came in at Arsenal. He was a wonder kid. [Andriy] Yarmolenko same thing. Chicharito same thing. This team is full of talent and it's the right ingredient for this team to go really high."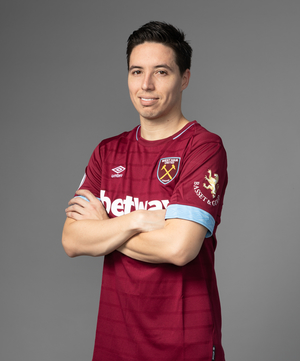 The opportunity to return to the Premier League was also a huge incentive for Nasri, having previously played in the top flight of English football with Arsenal and Manchester City. 
The new No18 believes there is no other division like the Premier League in world football and cannot wait to be involved once again.
He continued: "The Premier League is really appealing because it's the best league in the world. If you like intensity and you like every game to go in any way, the Premier League is for you.
"Nothing is secure in the Premier League. You can be top of the league, and play at home to 17th, and you can lose that game. That's why the Premier League is so good. 
You also have the best managers in the world in the Premier League. I played in Spain and it was different football. It was slower, maybe more technical, but the Premier League is magic."
At 31-years-old, Nasri hopes his experience and time with some of Europe's biggest clubs can help some of West Ham's younger players to become even better; something that will only benefit them and the entire team.
Nasri said: "It's important to have winners in the dressing room; or some players who have won things, to make sure every player has the same mentality to go forward. Sometimes, if you have a good result and you're not used to it, you can become complacent.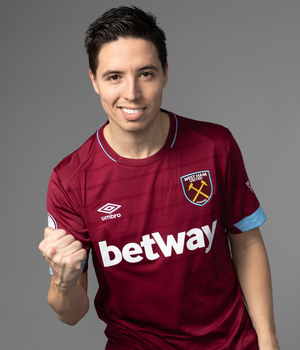 "We have a young team so maybe some of them, like Declan Rice for example, might one day might be like: 'I've seen you and I've played as you on FIFA'. If I was to give him advice he might take it better than if it was someone else. It's important to have those kinds of players in the dressing room."
Having trained with West Ham for a few weeks, Nasri believes his determination to prove himself is clear to see, and is ready to step out onto the London Stadium pitch in Claret and Blue for the first time. 
The Frenchman's desire to succeed and play football once again at the highest level is driving Nasri to give his all for West Ham.
"I think the manager and the other players know how my determination is at the moment," he added.  "I met with the manager and we had a talk, a really good talk. We talked about everything, not just about football, and I told him how I felt at the time, and that I wanted only one thing; to be back and show everyone that I can still be that guy. 
"I want to prove it to myself, which is the most important thing. I want to look at myself in the mirror and be able to say: 'you came back and did everything good in the right way'. 
"It's for my son as well. He's too young but when he sees me play, I want it to be competitively. I could have gone somewhere exotic, but I wanted to be back in a competitive league and prove to myself I can still be doing it, and I want to do it for West Ham."