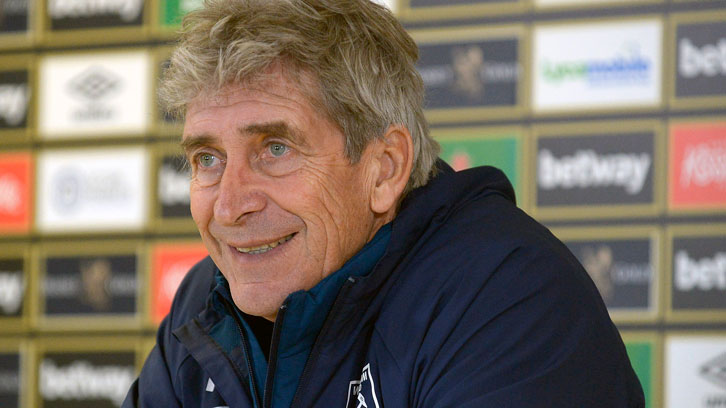 Due to an error by a third-party publisher, a previous version of Manuel Pellegrini's column appears in tonight's Official Programme for the Premier League fixture with Liverpool. Here, we publish the manager's correct notes in full and apologise for any inconvenience caused to supporters...
Good evening everyone.
It is good to be back in front of our home supporters tonight and we are looking forward to what will be another magnificent atmosphere at London Stadium. 
It has obviously been a disappointing couple of weeks in terms of the last three results, especially as we played so well to beat Arsenal in our last match here. At that point, we had six wins in nine Premier League matches and were just one point behind seventh place.
The defeats at Bournemouth and Wolves, with the FA Cup loss at AFC Wimbledon in between, have not been acceptable and, as a staff and squad, we have taken full responsibility. Last Tuesday at Molineux, we conceded two goals from set pieces. I think we didn't work well as a team on defending or attacking and we must concentrate if we are to improve.
However, there have been factors that have played a part in the problems we have encountered. Injuries mean that we have had to use the same 14 or 15 players throughout the busiest and most challenging period of the season, which clearly is not ideal, while other issues off the field during the January transfer window have not been helpful.
Still, these are not excuses, and we must continue to be positive and appreciate the fact that we are still in a good position to fight for an achievement this season. Overall, we have been on a very good run since the beginning of December and I know we have the quality to get that back on track. We also have some players who are starting to return from absence and that will help to make us stronger.
Tonight, we welcome Jurgen Klopp and the players, staff and supporters of Liverpool to London Stadium. There is no doubt about the quality and attacking danger they possess, and they deserve to be where they are at the top of the table. Despite that, we can approach the game with confidence given our results here so far in recent months, and there is still much to play for and look forward to for the rest of the season.
Our mentality must remain the same. To be professional at all times, to approach every match with the intention of winning and playing well, and to finish as high as we possibly can in the Premier League.
I have belief that the players will respond in the right way tonight and, with your fantastic support, we will be doing everything we can to secure another memorable victory at London Stadium.
Enjoy the game.
Manuel Pellegrini