Charities
West Ham United players visit Richard House Children's Hospice
West Ham United first-team players Pablo Zabaleta and Winston Reid and Academy of Football scholars Joshua Okotcha and Jake Giddings paid a special Christmas visit to Richard House Children's Hospice.
The Hammers quartet were welcomed to the Beckton-based hospice, which provides palliative care to children with life-limiting and life-threatening conditions across London, and spent a couple of hours meeting youngsters, their families and staff.
The players enjoyed an arts and crafts session and a tour of Richard House – London's first children's hospice, which celebrates its 20th birthday in 2020 – before posing for photographs and signing autographs.
As a father himself, Zabaleta was moved by the experience of meeting families who are dealing with complex challenges every day of their lives.
It's tough, really it's hard to see what people are going through, but that's why football players should always be able to do this kind of thing

Pablo Zabaleta
"As football players, when we have the chance to visit hospices and hospitals and meet families who are having tough times, especially at this time of year, Christmas and New Year, it is always good to make people happy," he confirmed. "It's tough, really it's hard to see what people are going through, but that's why football players should always be able to do this kind of thing.
"We've got kids and sometimes we have been in situations where they have a problem and have to spend time in hospital and it's always hard, so in this period of the year visiting Richard House is something that personally made me feel good.
"It's the first time I've been in Richard House, which is local and has a lot of West Ham fans, which is even better. As players, sometimes we complain we have to play on Boxing Day but when you visit a place like this and see the people who are working 24-hours-a-day, they are the real heroes and people I really appreciate."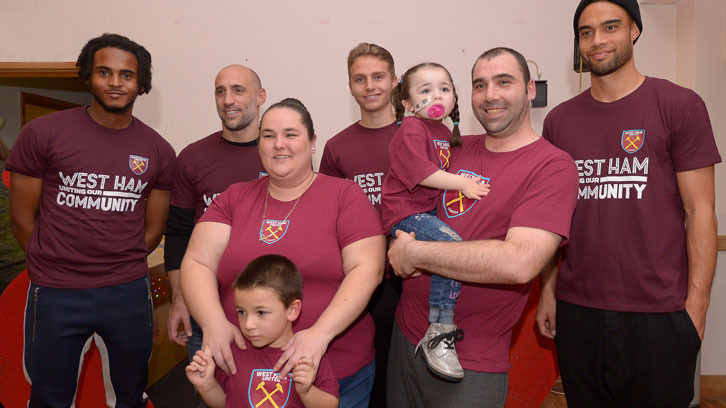 Richard House's Social, Therapeutic & Resource (STaR) Team Manager Carol Butwell said the players' visit was part of creating a positive atmosphere for the families who use its services.
"The word 'hospice' is very frightening to most people, especially when related to children because nobody wants to talk about children dying, but it's not like that at all here; Richard House is a chatty and fun environment, welcoming and a nice place to be," she explained.
"Awareness is a major thing for us, letting the local community, professionals and families know about us, and with West Ham players being heroes to lots of our children and their Mums and Dads, the club definitely supports us through our relationship.
"The families were so excited by the players' visiting that we had a waiting list because so many of them wanted to come and meet them!"
Among those to welcome the players were Maureen Muteesa and her 13-year-old son Calvin Muwanga, who was born with VACTERL disorder, a rare condition affecting multiple organ systems.
Muteesa explained that Richard House provided invaluable treatment and assistance to both her and her child.
"Calvin was born with complex medical needs and, at first, we had no idea that there was somewhere like Richard House, but then we were referred here and we found out they could look after his difficult medical needs," she said, before explaining that more funding for the charity would enable more families to benefit more often from its services.
"We visit three nights a month, but we would love to come more often if there were more beds available, because it's a brilliant place for us to come. Richard House is something that is absolutely fantastic because it gives me the break that I need so much. Personally, I don't think I could do without Richard House."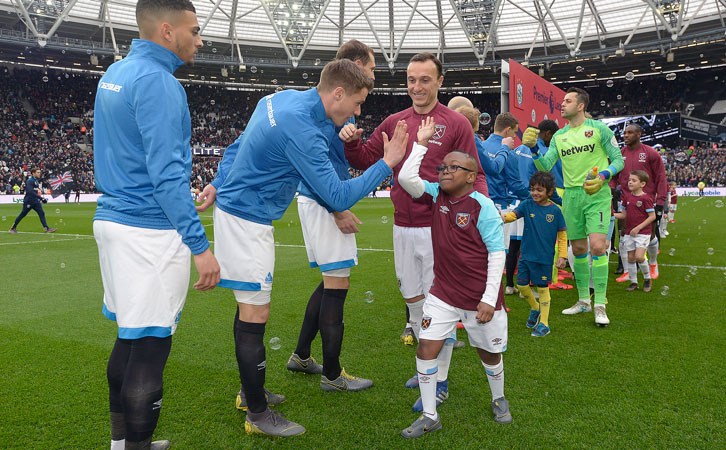 As part of Richard House's partnership with West Ham, Calvin was invited to be a mascot for the Hammers' Premier League fixture with Huddersfield Town in March this year, leading out the team with his favourite player Mark Noble. It was an experience he will never forget.
"It was brilliant! It was fantastic!" Maureen smiled. "I don't know exactly what happened, but I do know that when Calvin went on the pitch he was high-fiving them and he must have done something really funny!
"Even for children with special needs, it is a joy for them to be around the players. I am so grateful to West Ham for seeing past his disability and giving him the chance to take part in such an important occasion.
"Just seeing his name on the screen and hearing his name called out as a mascot was so special."
For more information about Richard House and how you can get involved by volunteering, donating or fundraising, click here.