West Ham United kicked-off their Rainbow Laces weekend with a match between the LGBT supporter groups of the Hammers and Arsenal in the shadow of London Stadium on Friday evening.
In the build-up to Monday's match-up between West Ham and the Gunners, Pride of Irons took on Gay Gooners in a keenly-contested game.
The lead changed hands three times over an entertaining hour of football at the London Marathon Community Track, before Pride of Irons prevailed by a 4-3 scoreline.
West Ham United are proud to once again be backing the Rainbow Laces campaign – an annual initiative to show support for all LGBT people in football and beyond. As part of the Club's ongoing commitment to equality and inclusion, West Ham are standing alongside the football family and the leading charity for LGBT equality, Stonewall, with the aim of showing that football is for everyone and encouraging the gay, lesbian, bi and trans community to get involved at all levels of sport.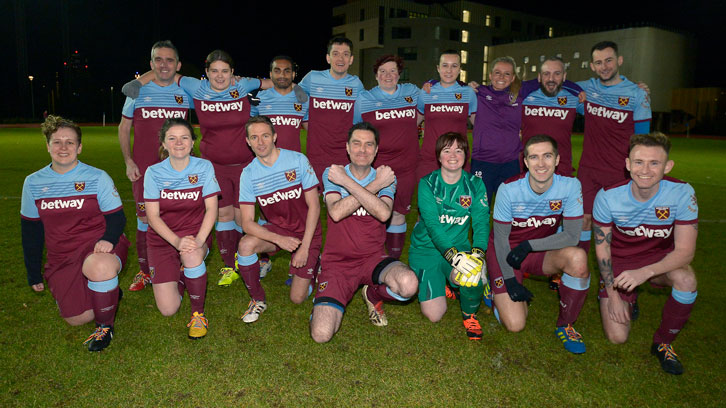 Pride of Irons Co-Chair Jim Dolan was thrilled to welcome his Arsenal counterparts to London Stadium. "We've got a really good relationship with West Ham and this year they said 'do you guys fancy a kick around on the Community Pitch' and we said 'yes, it'll be a laugh'," he said.
"It's kind of crazy how this weekend has grown. It's gone from a ball, an armband and some flags to where it is now and it feels like the influence of groups like ours has made it become a friendly competition to see which club does the most for the campaign and it feels like West Ham are towards the top of this table.
"This is about inclusivity, it isn't about carving out a corner for LGBT people. We are very much part of the footballing community and this is showing that we are here. We're as big fans as anyone else and I just hope that people see we just want to be part of that West Ham family."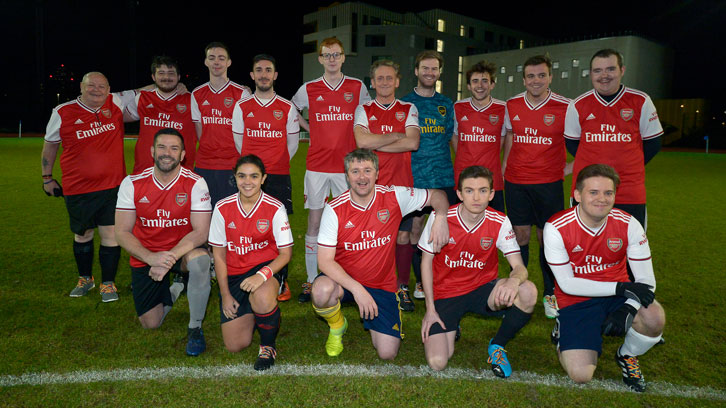 Those thoughts were echoed by Joe White, Co-Chair of Gay Gooners, who said: "It's great to see a club like West Ham showing what can be done for Rainbow Laces and how important inclusion and diversity is.
"Arsenal are always up for listening to our ideas and doing new things. Having the rivalry with West Ham that's quite friendly as well, means we can go to Arsenal and say 'look what West Ham did'.
"It's always nice to have that friendly rivalry and make sure we keep on doing things bigger and better for seasons to come."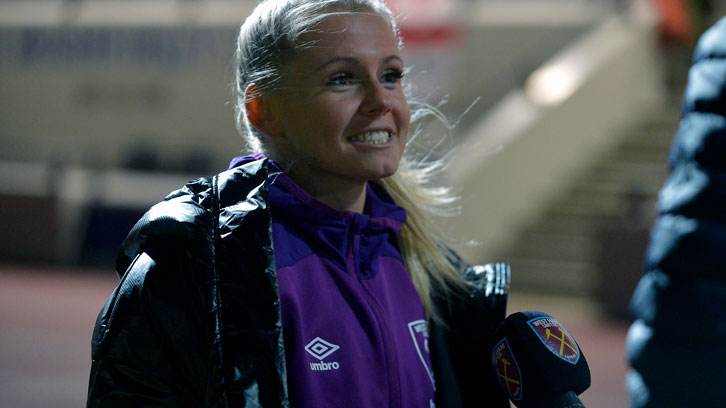 The Hammers side were cheered on by West Ham women's player Julia Simic, who was only too happy to show her support.
The Germany international said: "I'm here for the Pride of Irons to encourage them and support them. It was good to see their skills on the pitch and also to get in touch with them and speak with them.
"It's a good start-up for a really important game on Monday night for West Ham. Friday night's game was about having fun and getting in touch with each other. Having a chat, and joking around a little bit, but also a great event to play against each other.
"It's really important to support this campaign. All of the girls are wearing rainbow laces at the moment too and it puts out a really good message that we are supporting people to do what they feel like, and are able to live a life openly and not hide their feelings."
For more information about Stonewall's Rainbow Laces campaign, click here. To find out more about Pride of Irons, click here.