West Ham United and LGBT supporters' group Pride of Irons invited a special guest to join them at London Stadium in the shape of award-winning comedian, writer and actor Tom Allen.
Allen attended the Hammers' Premier League fixture with Sheffield United as part of the annual Stonewall Rainbow Laces campaign, whose aim is to make sure all LGBT people have a good experience in sport.
As a gay man who had little interest in football growing up, Allen admitted he did not know what to expect ahead of his visit, but left London Stadium feeling welcome and as part of an inclusive Claret and Blue community.
"I've never really been into football because, when I was a kid, I never really thought it was for me because it seemed to be something other people seemed to play and I was a bit frightened by it but, because of the Rainbow Laces campaign, I'm game to give it another go," he explained.
"For me, as a young, gay man, sport felt like something other people did. When I was 16, some people I worked with said 'You can come with us to the football if you want, but don't open your mouth!' so I don't know how openly gay I'll be during the match."
Wearing a football scarf at West Ham immediately made me feel like I was part of a community, and that's a lovely feeling, particularly if, for whatever reason in your life, you felt like an outsider

Tom Allen
Allen's nerves and trepidation quickly dissipated as he was welcomed to London Stadium, not just by Pride of Irons members, but by the wider fan-base, many of whom recognised his famous face.
And he praised Stonewall, the Premier League and its clubs for supporting the Rainbow Laces campaign.
"I think Stonewall, the football community and the Rainbow Laces campaign are so important because, beyond being a physical demonstration of support, it actually sends a subliminal message to anybody who might feel like they wouldn't be welcomed in a football community.
"It pre-empts any anxiety you might have and say 'You are welcome here and you're entitled to be yourself and confident in yourself and included as part of us'."
"I know that football is a broad church, so I didn't feel terribly nervous, but I was more worried that I would get bored during the game because I didn't understand it!"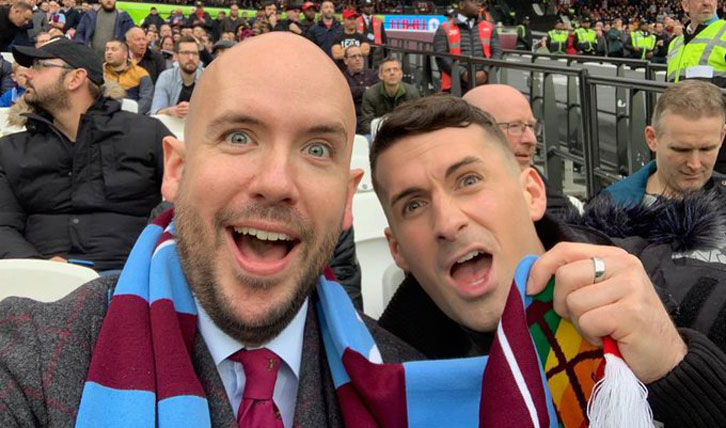 Allen was given a warm welcome by Pride of Irons co-chairman Jim Dolan, his fellow members and other West Ham supporters, who recognised him from his many successful television and film roles, most recently as the host of 'The Apprentice: You're Fired!' and 'Bake Off: The Professionals' on BBC Two.
The 36-year-old was handed a Pride of Irons West Ham United scarf and spent the 90 minutes cheering the Hammers on and being taught the words to club anthem 'I'm Forever Blowing Bubbles'.
"It was much more fun than I thought I was going to find it," he confirmed. "I thought it was going to be rubbish!
"Wearing a football scarf at West Ham immediately made me feel like I was part of a community, and that's a lovely feeling, particularly if, for whatever reason in your life, you felt like an outsider. To feel like you're part of something is truly magical."