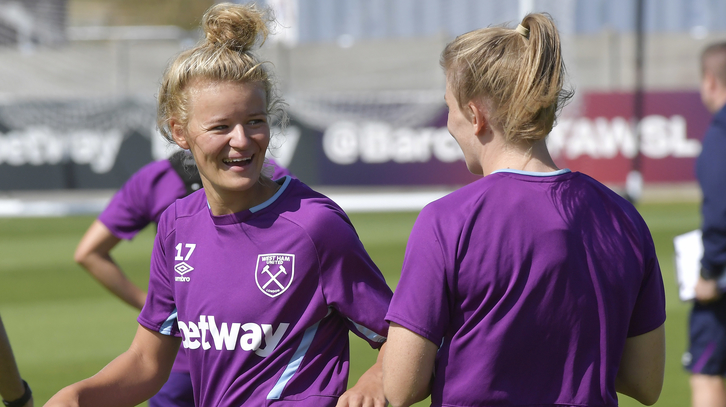 West Ham United women's home match with Manchester United was memorable not just for the result on the pitch, but also for the return of a certain Dutch forward. 
Esmee de Graaf was back in a Hammers matchday squad for the first time in exactly a year, having last played for Matt Beard's Irons in a win away to Brighton & Hove Albion at the start of December 2018.
Although the 22-year-old didn't take to the pitch, just being back on the bench and amongst her teammates was an incredible feeling, having worked so hard in the last 12 months to play again.
"It was so good to be back," De Graaf told whufc.com. "I worked for this for 12 months with my rehab and everything, so it means so much to be back. 
"It's been a long and hard journey. We've had a few players that have had big injuries and I've been a part of that group for a year. I never had injuries before this one. 
"Being back in the squad on Sunday was what I have been working towards since the very beginning of my injury. That has been my aim and I reached it, so I can say I'm back and it's a lovely feeling."
It's been a long and hard journey. I worked for this for 12 months with my rehab and everything, so it means so much to be back.

Esmee de Graaf
And what a game to return for. 
De Graaf watched on among her colleagues, her friends, as West Ham twice came from behind to defeat Manchester United. Despite being down to ten players, Katharina Baunach chipped home a cheeky free-kick as the game ticked into injury time to secure a famous win under the lights at Rush Green Stadium.
"I was doing warm-ups on the side of the pitch against Manchester United and just doing that felt so special," the forward recalled.
"That win was unbelievable. I was watching on, doing my warm-up, and I was going crazy when we levelled to make it 2-2. I lost my mind when Katha scored her second and we won! 
"Sitting in the stands for the game is okay; we're still part of the team. But there's nothing like being in the squad and being pitchside, or on the pitch. You can really feel the nerves on the bench, and it felt amazing. I love that feeling."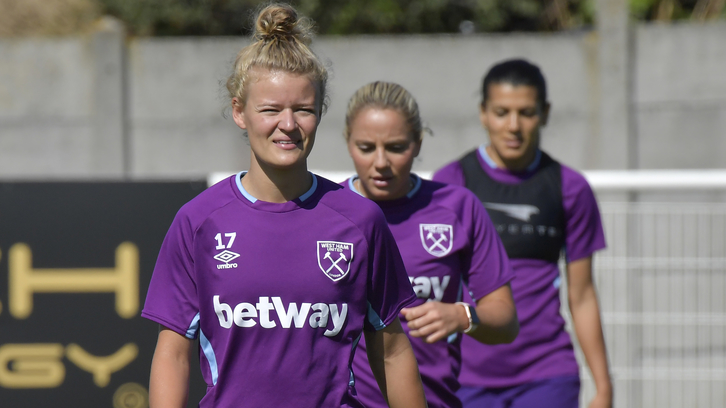 It is somewhat strange to think that there are now more players in the West Ham squad that De Graaf hasn't shared a pitch with than she has. 
With seven new signings joining in the summer, and Adriana Leon and Cho So-hyun making the move to east London in January, De Graaf is eager to step out and share the experience with her teammates in the Claret and Blue.
She continued: "I really want to play with these girls. For example, Cho and Dri [Leon] joined us in January but I was already out injured. Although we've been in the same squad for almost a year, we've never played together. I'm really looking forward to that. 
"I'm also looking forward to sharing a pitch with Martha and Kenza and all the new signings. I just can't wait to get back out there."
Having been back in the squad against Manchester United, and come through an Academy match on Wednesday, De Graaf is now targeting a place in the squad on Sunday when the Irons travel to Prenton Park to take on Liverpool.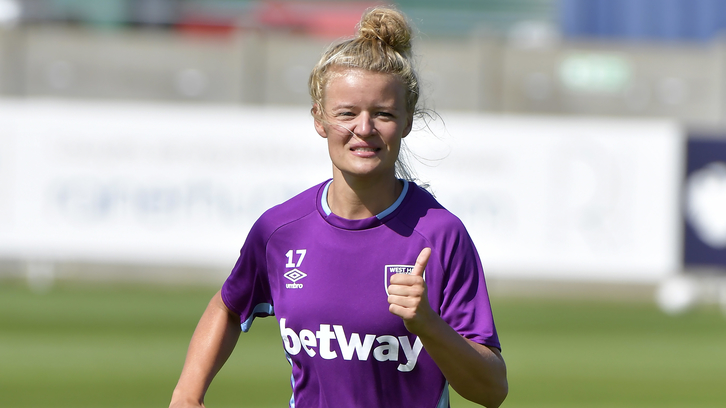 Hopefully, for the first time in a year, the versatile attacker could pull on the West Ham shirt and play in the Barclays FA Women's Super League.
"I played my last Academy game on Wednesday and it was all good, so hopefully I will be able to be in the squad on Sunday and maybe even get some minutes against Liverpool," she added. 
"Putting a shirt back on for those Academy games meant so much. I've been training on the pitch for a couple of months but there's nothing like those proper matchdays. There's just something different. There's a unique feeling and I hope to feel it again Sunday."