Manuel Pellegrini said West Ham United's victory over Everton on Sunday was reward for their hard work on the training ground.
The Hammers boss said his team had not been deterred by their start to the season and continuing along the same path paved the way for their success at Goodison Park.
West Ham were not afraid to attack their hosts from the off and they were rewarded with two Andriy Yarmolenko goals inside the opening 31 minutes.
Gylfi Sigurdsson pulled one back before the break, but West Ham kept going and Marko Arnautovic's third of the season sealed their 3-1 success, giving Pellegrini a very happy birthday.
"I was absolutely convinced that we were going to finish getting the bad results," he said. "We were unlucky to lose the last three games. Maybe we didn't deserve to win, but we didn't deserve to lose them also.
"It's so easy to say we are going to change because this is not the way, but I was absolutely convinced that this was the way. We came here to a stadium where it is very difficult [to win], and we went for the game from the first minute. We scored goals and we always tried to continue scoring.
" I saw the players working every day and [up until now] we have been working well in the week and maybe haven't been able to repeat that in a match.
"We continued working because we had to be able to repeat that in the games, when there is the pressure of getting the result. I was convinced and the players were convinced too."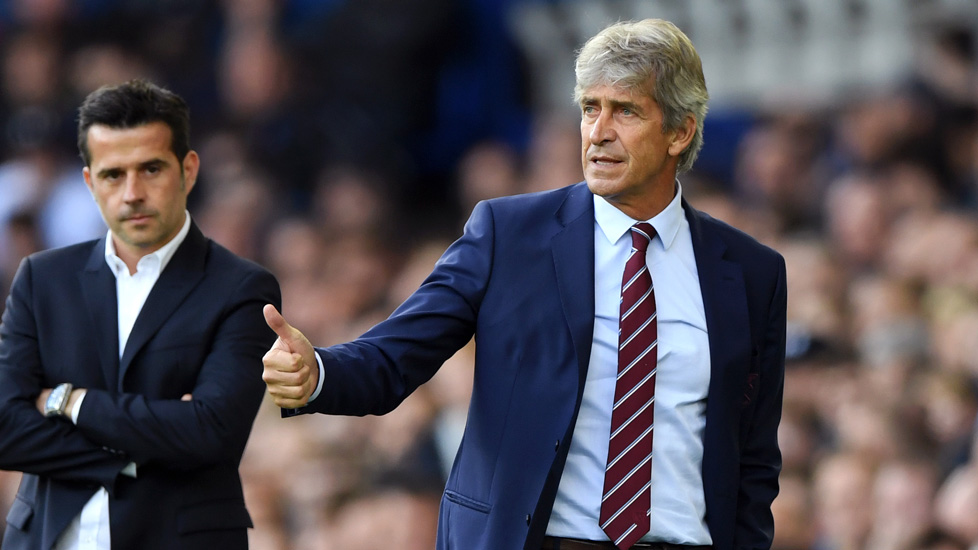 Pellegrini also said that patience paid off in the case of Yarmolenko, who he threw into the starting eleven for the first time in the Premier League at Goodison Park after he worked to adjust to the pace of the English game.
The Ukrainian's reward for that hard graft was two goals and the manager was thrilled with his impact.
"He arrived late in the pre-season with us and that's why we didn't start him in the Premier League so far, because he needed to improve a lot with the pace.
"He has a lot of quality and he has demonstrated that in every game, but he was not ready to play in the Premier League after he just arrived.
"We were patient with him, talking with him, working with him and I'm very happy for him that today when I thought he was ready he demonstrated it [with his performance]."
Finally, Pellegrini clarified the circumstances around his substitution in the 64th minute when he replaced the injured Arnautovic.
He added: "When Marko was injured, I called for Lucas because he had been warming up, but when I saw he was sitting on the bench because he had finished and Antonio was working, I saw that Antonio was ready.
"That's why I changed path and went with Antonio, and not wait for Lucas to warm up, because we needed to make the change immediately."