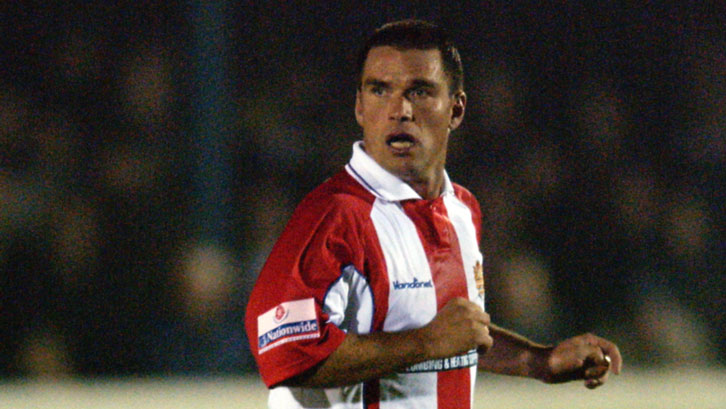 West Ham United legend Steve Potts has encouraged Hammers fans to get behind the only other club he represented during his illustrious 18-year career.
Now in charge of West Ham's U18 squad, Potts played 505 times in Claret and Blue before a chance meeting with then-manager Garry Hill saw him join near-neighbours Dagenham & Redbridge in September 2002.
Playing alongside fellow former Premier League players Mark Stein and Tony Roberts and a host of talented youngsters, the Daggers reached the FA Cup fourth round and finished fifth in the Conference – now National League.
Potts hung up his boots in May 2003, but Dagenham continued their rise, being promoted to the Football League for the first time four years later, before winning promotion to League One in 2010.
Since then, however, the club formed by a merger between Redbridge Forest and Dagenham in 1992 has struggled, suffering two relegations back to the fifth tier and, in recent months, unprecedented financial issues.
The latter led to West Ham agreeing to send a first-team squad to Chigwell Construction Stadium on Wednesday 21 March at 7.30pm for a fundraising friendly – a match and a cause Potts has urged Hammers fans to support wholeheartedly.
"Clubs like Dagenham & Redbridge are so important, not only to their own supporters, but to football in general, because they are at the centre of their communities and give players opportunities to learn about the game," said Potts, who played 24 times in the Daggers' red and blue.
"They have always had relatively small crowds, but they have kept going and have been competitive at every level they have played at, which is testament to how well the club has been managed down the years.
"They have been up a few divisions and enjoyed a good spell up there, producing good players who they have been able to sell on for good money but, for whatever reason, that has not happened so often recently.
"But that doesn't mean clubs like Dagenham should just be left to fend for themselves, because football is a family. Non-league clubs depend on a band of volunteers and small crowds, so if West Ham sending a team down to play there can help them out, then obviously I think that's a great idea.
"I thoroughly enjoyed my season there as a player. Dagenham is a good club with good people, so I would encourage any West Ham fan who can get down for the game there to do so."
Clubs like Dagenham & Redbridge are so important, not only to their own supporters, but to football in general

Steve Potts
As an Academy coach, Potts says the presence of clubs like Dagenham & Redbridge can also benefit West Ham in the long-term, with the east London side taking a succession of Hammers youngsters on loan over the last 15 years.
"National League football is still a decent standard and clubs like Dagenham can certainly give young players experiences which they cannot have while playing U18 or U23 football, and a lot of ours have gone there and really benefitted. We also play our U23 matches there, too.
"That local connection is there and it is important that it continues."