Marko Arnautovic has vowed to do everything he can for West Ham United and the supporters who have come to adore him.
After a tough start, the Austrian has become a hero among the Claret and Blue Army for his outstanding displays, never-say-die attitude and clear affection for the fans.
With the Hammers set to return home from a five day training camp in Miami on Saturday, Arnautovic restated his love for those in the stands, and for the Club as a whole.
If we are all together, work hard together, and keep the team and the fans and everyone involved with West Ham together, then we can come out of this situation

Marko Arnautovic
"I'm happy. I'm happy, I've said this a couple of times already," he said. "I'm happy to be here and I'm happy to play for this Club, with my teammates and for those fans. But it doesn't matter how I feel now. I want the team as one unit and we're going to fight in these last eight games."
After a run of 20 points from 12 games, West Ham have lost each of their last three Premier League matches by a combined score off 11-1 to drop to within three points of the relegation zone.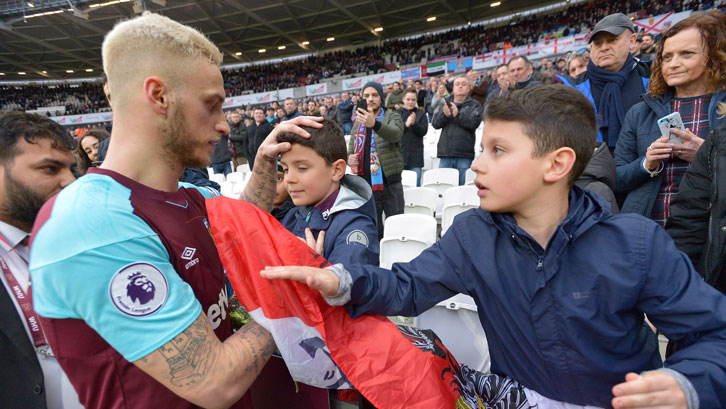 Following last Saturday's 3-0 home defeat by Burnley, Arnautovic stood in the pitch, head bowed, in disappointment and frustration, before collecting his thoughts and handing his boots to a young fan as the crowd sang his name.
That bond, he says, will be even more important when West Ham return to action at home to Southampton on 31 March.
"The fans are always important. I know they are disappointed, but I also know that against Southampton the Stadium is going to be full and they are going to be right behind us. We need them, because without them, you are not much in football without fans.
"I have a good connection with them [the fans] and even when they boo us, it doesn't matter, I will always be behind them and I will always love when they support us. Still those people were with us until the end. I was applauding them because they deserved it, even in this hard situation.
"We know this is a hard time, a tough time for them, but also for us. It's not that we don't want to win games. We are in a hard situation but if we are all together, work hard together, and keep the team and the fans and everyone involved with West Ham together, then we can come out of this situation."