West Ham United's players must display heart and character if they are to get a positive result in this weekend's match with Burnley, according to assistant manager Stuart Pearce.
The Irons head into a home game with the Clarets on the back of disappointing losses away to Liverpool and Swansea City, but have the chance to return to winning ways in front of the Claret and Blue Army at London Stadium.
Pearce knows that it is vital the side make a marked improvement in Saturday's contest and is calling on the team to step up their efforts against a Burnley team that sits seventh in the Premier League.
"I think we've got to show some character, especially at home," Pearce told whufc.com. "We're playing a well organised Burnley side, and a side who galvanised a victory last weekend. They've been playing particularly well. Their results have probably not turned around and shown us the whole picture. They are a good side with an outstanding manager.
"It's a game that we've got to look to get on the front foot in. We've got to look to play better than we did in the last two matches. One or two things we felt we didn't do particularly well, like conceding cheap goals, we're going to have to improve on that."
We've got to show some character, especially at home...It's a game we've got to look to get on the front foot in.

Stuart Pearce
Although back-to-back losses has ended a strong start to 2018 for the Hammers in the league, Pearce believes there are still positives to take from the side's last two contests.
Pointing to the development of young defender Declan Rice, who has become a regular in the first team since his promotion from the West Ham Academy, the former West Ham player knows that, even in defeat, there are lessons to be learned.
He continued: "Every time you take to a pitch, there's a learning curve to be had. We had young Declan in the side and every minute he gets in a Premier League match, and bear in mind he played at Swansea for 90 minutes, every minute he gets is a bonus to us as a football club. It's money in the bank for us as a football club in regard to his knowledge.
 
"There's always positives there. Sometimes when you get beaten in any individual game, you're very downcast, because it's a result driven business. But you've got to look and drill deeper than that and say there's fantastic learning curves all the time."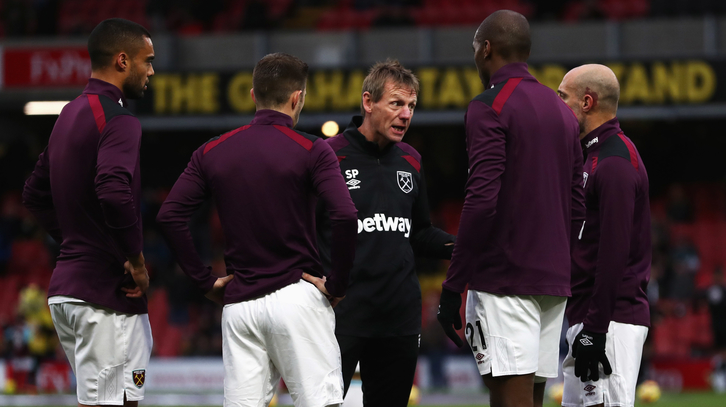 Just seven points separates 11th and 19th in the English top flight, meaning every contest is vitally important in the race to Premier League survival, and Pearce admits the significance of every single match is the one thing that has surprised him since returning to top flight coaching with the Hammers.
The coach recognises that three points this weekend is critical for the Irons and has pushed the team to bring the winning feeling back to the West Ham dressing room.
"I think they are always important, three points in the Premier League. The profile of the Premier League is extending year on year, week on week even. That's probably the one thing that has surprised me a little bit – the profile of each individual game and how the media spotlight every individual game.
"The profile of the Premier League is enormous and with that come the pressures accordingly. The feeling when you win, in the dressing room afterwards, makes everything worthwhile."