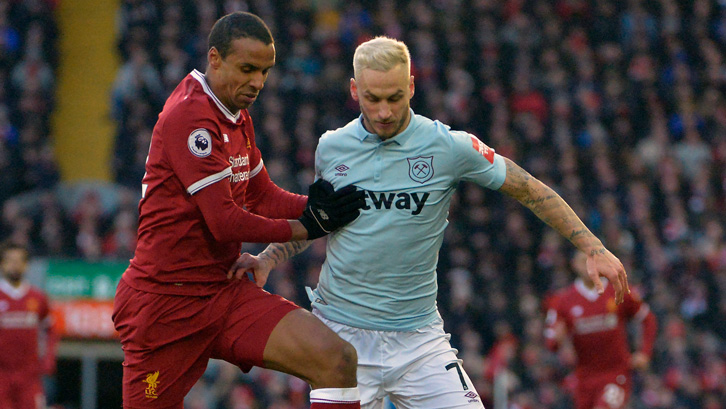 West Ham United will kick-off the 2018/19 Premier League season with a trip to Anfield to face UEFA Champions League runners-up Liverpool.
The Hammers will face the Reds on Saturday 11 August, before hosting AFC Bournemouth in their opening home game of the campaign - just as they did two seasons ago in the very first Premier League fixture at London Stadium.
A trip across the capital to Arsenal is followed by the visit of Championship title winners Wolverhampton Wanderers on Saturday 1 September.
September looks to be a challenging month, with a trip to Everton followed by home games against Chelsea and Manchester United, before Tottenham Hotspur visit London Stadium on Saturday 20 October.
The Hammers' home derby with Chelsea on Saturday 22 September is likely to move to Sunday 23 September due to the Blues' involvement in the UEFA Europa League the preceding Thursday.
Premier League champions Manchester City will be in Stratford on Saturday 24 November – the first time new West Ham manager Manuel Pellegrini will have faced his old club since departing in 2016.
December is the busiest month of the season with seven top-flight matches to be played, three of them at home and four on the road, including a Saturday 15 December trip along the River Thames to newly-promoted Fulham and a Boxing Day meeting with Southampton at St Mary's Stadium.
Championship runners-up Cardiff City will be the only home midweek visitors to Stratford on Tuesday 4 December.
The New Year kicks-off at London Stadium, with Brighton & Hove Albion and Arsenal the visitors on 1 and 12 January 2018 respectively.
London derbies at Crystal Palace and home to Fulham are sandwiched between Liverpool's visit to east London on Saturday 2 February and Pellegrini's return to the Etihad Stadium on Wednesday 27 February.
April begins with tough-looking trips to Chelsea and Manchester United, followed by the visit of 2016 champions Leicester City and a first-ever trip to Tottenham's new stadium on Saturday 27 April.
What every West Ham supporter hopes will be a successful 2018/19 campaign ends with a home game against Southampton and a trip around the M25 to Watford on Sunday 12 May.
Supporters should note that all Premier League fixtures are subject to change.
In addition, the Hammers will begin their Carabao Cup challenge at the second-round stage in week commencing Monday 27 August, while the Emirates FA Cup third round will be held over the weekend of Saturday 5 January 2018.