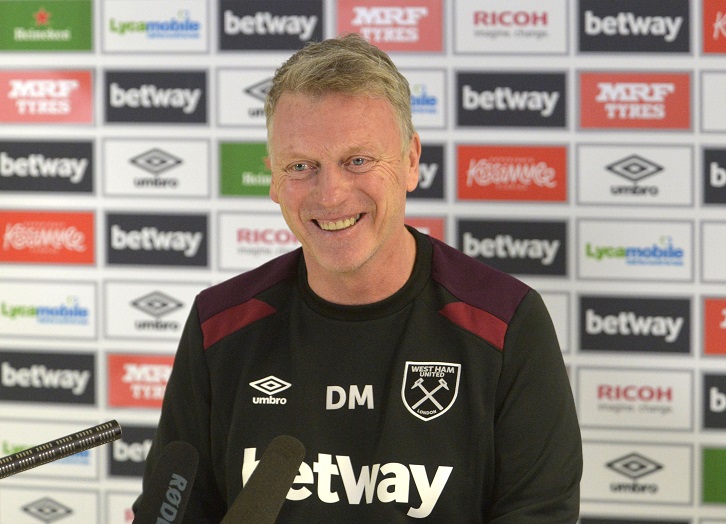 David Moyes has called on the Claret and Blue Army to roar West Ham United to victory over Crystal Palace on Tuesday evening.
The Hammers go into their London derby meeting with the Eagles on a run of one defeat in nine Premier League matches that has lifted them to eleventh in the table.
And with victory over Roy Hodgson's men set to take West Ham into the top half, the manager says the energy provided by a capacity London Stadium crowd can inspire his team to another important win.
"The main thing at the Stadium has been really good," he said. "In my first game Leicester, I got the feeling that they knew the team and the club needed it.
"They recognised that the team was putting in a real shift in their effort and in the main, probably the run we have been on, it has merited it, but we're not asking for more praise.
"We didn't play well at Wigan but I would hope there was a bit of an understanding that, with the team we took up there, it was always going to be a struggle.
"I said after the game that I don't think, unless we had our best team out, we had a realistic chance of winning because I don't think you can go to these clubs with less than your best team; maybe one or two players out, but not what we had out for the game.
"Ultimately, we are the ones on the pitch, and I need to get the players to play better and get results.
"Some of the atmospheres recently have been fantastic and I think the players have helped that with. Marko Arnautovic's running and energy have spilt over to the terraces.
"Some of the games we've had have been terrific and even against West Brom, late on, the energy the supporters gave us was terrific. We've had some really big results at home against Chelsea and Arsenal, so we've got to keep that going."
Some of the atmospheres recently have been fantastic and I think the players have helped that with

David Moyes
When asked which players could be back in contention for Tuesday's game, Moyes was being understandably coy, so as not to give any advantage to opposite number Roy Hodgson ahead of kick-off.
"I'm not going to give Roy any help on his team selection but there is a chance that we might have a couple back around the squad or around the team. Most could probably do with of extra training or a bit of extra football, but sometimes that's what you have to do.
"Michail Antonio is one who could be close, but he is someone who is a big, powerful boy and we've got to watch that we don't do things too quickly with him.
"Mark Noble has done some training in the last two days so I'm going to push to try to get him fit, but there is no guarantee yet."