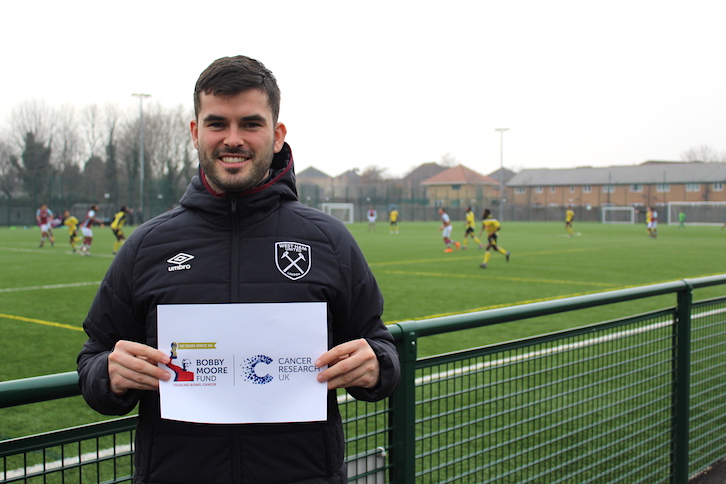 West Ham United Foundation's Higher Education Officer, Andrew Griffiths, is set to run this year's London Marathon on Sunday 22 April - and is aiming to raise £1966 for West Ham United's Official Charity Partner Bobby Moore Fund.
The Bobby Moore Fund for Cancer Research UK was set up by Stephanie Moore MBE, Bobby's widow, in his memory to fund pioneering, life-saving bowel cancer research. Since the fund was set up in 1993 mortality rates have fallen by more than 30% and over £23.5 million has been raised for research, but there is still so much more to do.
Speaking to whufc.com about his excitement for the marathon, Andrew explained why his personal experience has made him determined to do all he can to raise money for the Bobby Moore Fund. 
"Like any good partner would, I started helping my girlfriend train for the marathon back in October. I never knew that 4 months on I would be running the marathon myself! A couple of weeks ago, I received a call from the Bobby Moore Fund and Cancer Research asking me to run this extraordinary event."
"My own Grandad, William Griffiths suffered from bowel cancer a few years ago yet, because of charities such as the Bobby Moore Fund and Cancer Research, his treatment was successful and he is still with us today. As you can imagine, this cause is therefore something that is very close to my own heart. So, when I received that phone call, I was delighted to say yes and run in the London Marathon on behalf of all those who have suffered and been affected by bowel cancer."