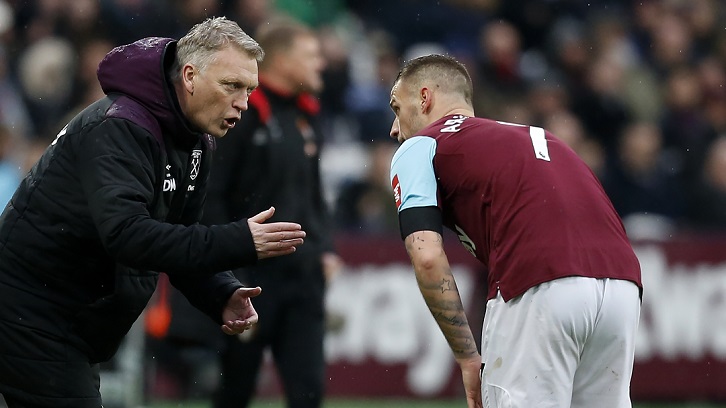 David Moyes gave a wide-ranging interview with the 'Mondays' newspaper reporters after Saturday's 2-0 Premier League win over Watford.
The Scot was not getting carried away, despite seeing Marko Arnautovic star in a victory that saw his West Ham United team pass the 30-point barrier.
Moyes was also questioned about David Sullivan's West Ham TV interview, in which the Joint-Chairman revealed, among other things, plans to re-examine the Club's recruitment strategy...
I'm only interested in hard work
David Moyes celebrated passing three months in charge of West Ham United with a 2-0 Premier League win over Watford on Saturday.
Playing for the 20th time under the Scot, the Hammers looked a side transformed from the team which lost by the same scoreline to the same opposition in his first game in charge. So, what has Moyes changed since being appointed manager on 7 November last year?
"All I've done is come in and said 'Look, this is the way I am doing things and if you don't want to do it, I'm not interested' and sometimes, when it's fresh and new, some of the players will pick up, some of the players needed it and some were probably hoping it would happen.
"Behind the scenes we're really professional. We do our work before the games and after the games, we'll make sure we've covered as much as we can and give the players every chance to win. We're really conscientious about the training we do and we're trying to put the right work into them and will always view it to see how it's gone.
"So, from inside, we're trying to give the players the most experience we've got, Stuart Pearce, Alan Irvine, Billy McKinlay and myself, and this is how it's going to be. To be fair, they've all joined in."
Praise has to be hard-earned
Speaking to reporters after Saturday's victory, David Moyes was asked for his views on Marko Arnautovic's goalscoring, assisting comeback to the starting XI.
The Austrian returned after a three-match absence with a hamstring problem to produce another powerful performance which earned begrudging praise from his taskmaster of a manager in his post-match press conference.
Talking to the Monday newspaper reporters, Moyes let his guard down, revealing his admiration for Arnautovic's all-round performance.
"If you read Leon Osman's book, he tells you it's really difficult to praise from me, as you have to really earn it. They'll get a pat on the back and a quiet 'Well done' but generally I'm telling them they doing a really good job to be in the position they're in, to have lifted themselves up, and I'll be saying things quietly in one or two ears.
"But I want them to earn their praise correctly and Marko is earning it because of what he is doing, his goalscoring and the threat he is carrying, which is incredible.
"He looked as if he'd faded and some of us looked a bit tired after 60 minutes, but Marko kept going. The reason we don't remove him is because of what he can do. He can look dead [physically] and then he can go again. Sometimes you think 'Has he run his race?' and then he goes again, and they're the things you get with Marko."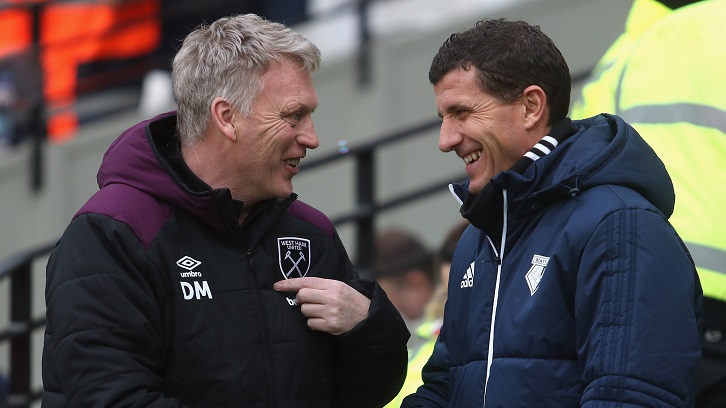 No rest for the Hammers
While previous seasons have seen the West Ham squad jet off to a warm-weather training camp at this time of year, David Moyes will instead keep his players' feet on the ground.
With no fixture this coming weekend, the squad will be given a few days off, but the manager does not want to give his team any excuse for standards to drop ahead of the trip to Anfield on Saturday 24 February.
"I've just said in the dressing room that we're training hard. We've got 30 points which is a big milestone and the next one is 40, so we're not dropping off.
"They'll get a couple of days off but, if you ask me, I'd rather be in the FA Cup next Saturday, I really would."
A change in recruitment strategy
David Moyes has confirmed plans to revamp the Club's recruitment structure, following Joint-Chairman David Sullivan's admission in a West Ham TV interview that changes need to be made to give the Hammers the best-possible chance to identify and sign top-class talent.
"We've put together some plans and thoughts about what we're going to do and over the years I had good success with the way we ran it," said the manager, alluding to his eleven-year spell at Everton, where he unearthed a succession of future first-team stars from a variety of courses.
"Sometimes it can take a bit of time and you don't get time in management to set up a recruitment strategy and how you want it to go, because you're only as good as your last win in terms of who you sign and what you do, but we are going to try and look at it slightly differently and see if we can do things in a slightly different way than it's been done in the past and hopefully it will work.
"I'm going to certainly be heavily involved in the process of helping get it set up, but the Chairman will be heavily involved as well. Everyone at the Club will be to get something that looks right.
"The hardest thing is to get things done exactly right at this time because there may be people in jobs who we wouldn't be able to take away just now, so we might have to do it more in-house at this time.
"Hopefully we'll find ways of churning it back out and trying to make decisions which are right. They have signed an awful lot of good players here, a lot of good players – Manuel Lanzini, Marko Arnautovic – so there's no criticism, but we're going to set up something that hopefully gives us another look. It's going to come a little bit away from the chairman. The Chairman is going to try to stand aside a bit from it.
"I'm a manager who wants to do things correctly well and I've seen what correct looks like. It doesn't mean you win games, and I'll be judged by winning games, but if you think that people are putting the right things in place in any business, no matter how you work in the structure, whether it's me or somebody else, I would hope it's the right way to go."