First Team
Moyes: Jordan Hugill is ready to make a big impact at West Ham
David Moyes believes new signing Jordan Hugill is ready for the challenge of Premier League football after completing his deadline day transfer to West Ham United.
The centre forward was playing non-league football just five years ago, before embarking on an inspirational journey up through the Football League, culminating in his move to east London earlier this week.
Moyes has been impressed with the impact the 25-year-old has made in his first training sessions as a Hammer, and is looking forward to seeing what he can do in a Claret and Blue shirt after naming Hugill in his squad for Saturday's Premier League fixture at Brighton & Hove Albion.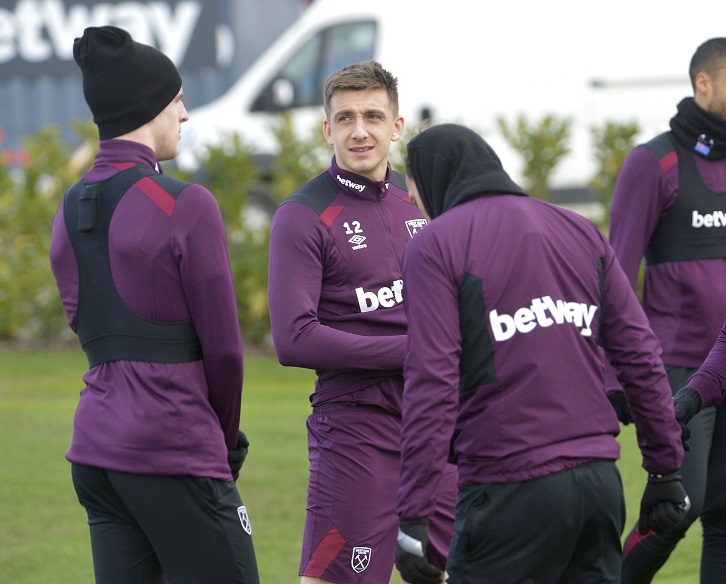 "Jordan Hugill will give us a bit of presence up front, which we need, and big energy and honesty," said Moyes, before citing his previous success in unearthing future top-flight stars during his tenure as Everton manager.
"In all Premier League clubs, you have to look in the lower leagues and I have done it over the years, signing players like Leighton Baines, Joleon Lescott and Tim Cahill, and all of them were a real success.
"Here, if you look at Aaron Cresswell coming from Ipswich and Michail Antonio coming from Nottingham Forest, they've done well, so I'm hoping Jordan can have as big an impact as those players have.
"I think Jordan is ready. I think he could play and he won't let us down in terms of his effort and commitment. I think it will take him time to get used to his new surroundings, but hopefully he can help us in a period when we're a bit short of strikers."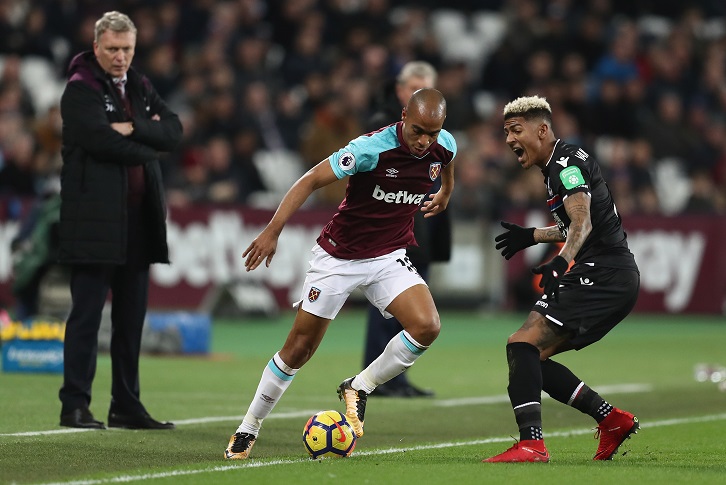 Alongside Portugal playmaker Joao Mario, Hugill was one of two senior players to join West Ham during the January transfer window.
Moyes revealed they could have been joined in east London by one or two other new faces, but that moves for Leicester City's Algeria striker Islam Slimani, Anderlecht's Belgium midfielder Leander Dendonker and Lille's Cameroon defender Ibrahim Amadou had ultimately not been completed for a variety of reasons.
"I think we'd have liked one more player if we could have got it," the manager explained. "We tried right up to the last minute. At the start of the window two players would have been adequate, and we tried for quite a few players, but we were happy with what we saw from Joao Mario and we've now got in Jordan Hugill, who is a different sort of centre forward and will give us cover up front.
"We were in for Slimani, but he had another option to go to Newcastle and he chose that one. We had an interest in Dendonker and Amadou as well and we hoped to get one of those two players later on, but for different reasons they didn't come off.
"We're happy enough. If we'd have got one more at the end, it would have made it right, but two was enough.
"I think we've got enough cover if we get the injured boys back. We hope Marko Arnautovic won't be too far away and obviously we know Manu Lanzini is out, but we're getting the players back little by little and the games thin out a bit over the coming weeks, when the games go Saturday to Saturday, so that should help us as well."
We sign good, quality players, the best players we can get, and it doesn't matter where they are from to me, at all

David Moyes
The manager was also asked for his reaction to the suspension of Director of Player Recruitment Tony Henry by the Club earlier this week, pending a full and thorough investigation into alleged comments about the Club's transfer policy surrounding African players.
His response was clear – West Ham try to recruit the best possible players, regardless of their nationality.
"Well, the comments are wrong. We were signing two players from Africa on deadline day so I can only say they're wrong.
"Of course we have an open transfer policy. You can see the players the Club have signed over the years. We sign good, quality players, the best players we can get, and it doesn't matter where they are from to me, at all.
"Never, ever, in all my time in football have I ever had [a prejudiced transfer policy], at all.
"I spoke with one or two of the African players and they seem fine. They've trained well over the last couple of days and morale in the camp is good because we're on the back of a pretty good run where the players are doing really well, so we want to keep it going."