First Team
Zabaleta laughs off retirement rumours
Pablo Zabaleta has rubbished suggestions he is planning to hang up his boots at the end of the season.
West Ham United's ageless right-back may be 34 in January, but he is in fantastic physical condition and feels he has plenty more to offer at Premier League level.
Zabaleta's fine form, selfless attitude and relentless work-rate have endeared him to the Claret and Blue Army, who implored him to sign a new contract with the Hammers during last Saturday's 2-0 win at Fulham.
"It's really nice," the Argentinian said, when asked if he had heard the supporters singing his name. "I always appreciate the love and respect from the fans and, as I said last week, I'm enjoying my football and am so proud to be part of West Ham United Football Club.
"We're here to try to help the club to be better. This is what I wish. I came at the end of my career. I'm not getting any younger, so the main thing for me is to bring a winning mentality to the club."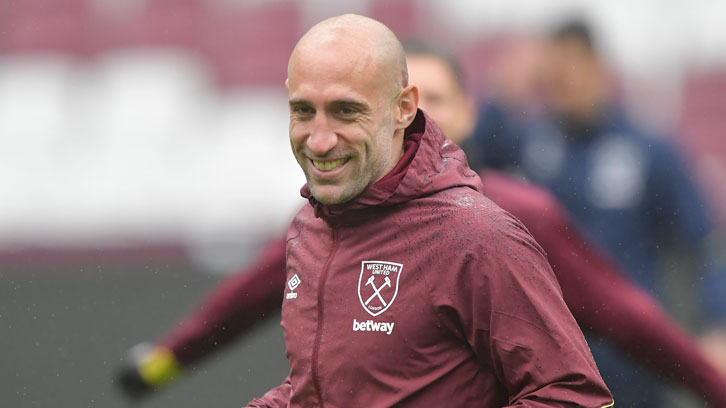 While he admits he is not getting any younger, Zabaleta went on to dismiss recent press speculation that he would move into a coaching role at the end of the current campaign.
And, such is the enjoyment the No5 is taking from his football this season, it very much sounds like Zabaleta sees his future in Claret and Blue for as the club want him!
"We need to give credit to the owners because this season they spent big to bring quality into the team," he said. "They brought a successful manager so, at the end of the day, to compete in this league and have a successful season, that is what you need.
"For me, I don't want to be selfish. I just want to think about the team to do well first and then, at the end of the season, we'll see what is the best for me, for the club and for everyone.
"I will try to be 100 per cent about that decision but I will continue playing. There was something in the papers saying 'Zabaleta is thinking about retiring' and let me tell you that is absolute rubbish!
"I'm 33 and I'll be 34 in January but physically I feel very well. I am playing in every game and I hope I can continue like this and be injury free.
"If I can go for a few more years or at least one more season in the Premier League, this is what I wish because it's a league I've been in for a long time and especially because I am enjoying my time at West Ham."