Aaron Cresswell welcomed the news that his West Ham United captain, teammate and good friend Mark Noble has signed a new contract with the club until 2021.
The left-back has played alongside Noble more often than any other player in his Hammers career, appearing with his skipper 128 times for a total of 10,634 minutes.
With the pair being so close, on and off the pitch, Cresswell reacted to the announcement with customary humour.
We are pushing each other every day, striving for better

Aaron Cresswell
"I'm hoping his hair is still there by the time his contract runs out!" he laughed. "But no, on a serious note it is fantastic news and not only for him but for everyone involved. He's Mister West Ham and he's been a fantastic servant to the Club and long may that continue." 
At the age of 31, the captain has produced some excellent performances this season, most notably in the Premier League wins over Everton and Manchester United in September.
And Cresswell, who has played alongside Noble since his arrival from Ipswich Town in summer 2014, says the No16's attributes mean he will continue to be effective well into his thirties.
"Nobes will be the first to admit he's never had pace, but there is so much more to football than having a bit of pace and certainly intelligence-wise, with the ball and his leadership, he's got everything."
"Certainly, this year I think he's been fantastic. Of course, we had the tough start, but since he's come back after his suspension, we have had three wins on the bounce and we've got Fulham on Saturday, then a good little run after that as well, so hopefully we can pick more up wins."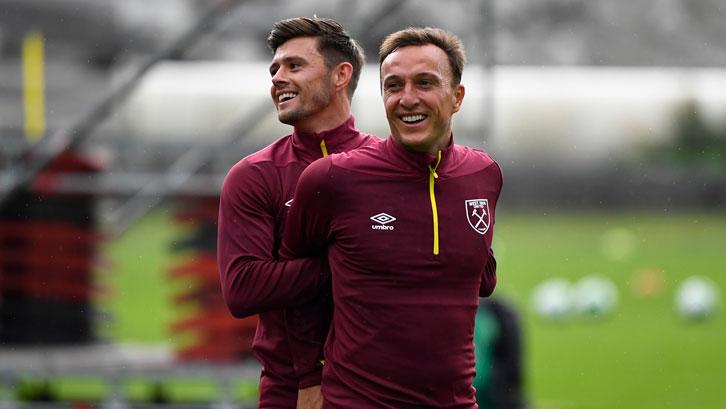 While the No3 is optimistic of continuing the recent upturn in form when West Ham travel to Craven Cottage on Saturday, he shares his manager's view that any level of complacency could prove very costly against Claudio Ranieri's side.
"There's a good atmosphere at the training ground," he revealed. "You go in everyday, everyone's working hard, harder than before and not just because we've got a win. Everyone thinks we can relax, but we can't.
"We are pushing each other every day, striving for better and certainly, just because we got three wins doesn't mean we are going to stroll up for Fulham and not have a real go or automatically people think we are going to win.
"We are really working hard in training and trying to put everything in. We are going to try and put those little things we see right – the two goals against Palace from two set plays, which obviously we were not happy about. We are working hard to focus on the next game."