West Ham United is delighted to confirm that the Club and Mark Noble have activated an option that will see the captain's contract extended until 2021.
The clause - written into the contract he signed back in February 2015 - means that Mr. West Ham, who has amassed 446 competitive appearances for the Irons, has added another year to what will extend his association with the Hammers' first team to 17 years.
"It was an option in my contract that I signed a few years ago now, and it's an extra year, which is fantastic for me and my family," Noble said. "I've been at this club all my life - I've always said I wanted to be at this club and I think we're moving in the right direction, so it was the right time to do it."
Joint-Chairmen David Sullivan and David Gold said: "Mark is Claret and Blue through and through so we are delighted that he is staying with the Club for at least another two and a half years.
"He's our captain and current longest-serving player – he leads by example both on and off the pitch.
"He embodies everything that the fans love about West Ham and he will forever be associated with our Club." 
Born in Canning Town, the No16 has been a West Ham supporter his entire life and graduated from our famed Academy, making his senior debut for the club in August 2004, playing as a 17-year-old in a 2-0 League Cup victory against Southend United.
I've always said I wanted to be at this club and I think we're moving in the right direction, so it was the right time to do it.

Mark Noble
 
Speaking to Club legend Tony Cottee, Noble revealed the first time he was called up to train with the first team at West Ham United, and the impact seeing other Academy graduates such as Joe Cole and Michael Carrick had on him. 
 
"I'm 31 – going on 32 - and I've been here at West Ham all my life," Noble continued. "I remember getting a call-up when I was in school, from Glenn Roeder, to come train in half-term with the first team, with the likes of Joe Cole, Jonny Moncur, Steve Lomas, Paolo [Di Canio], Trevor Sinclair and Michael Carrick.
 
"I was only a young kid at the time. I still remember that excitement of being in the indoor gym at Chadwell Heath and training with those players. When I was young it was Joe Cole, and Michael Carrick. At 15, that's who we watched out for. You'd see them coming through the Academy. 
 
"I don't care what anyone says. When you're in the Academy and you get close to the first team, and you see the likes of Joe and Michael come through, you think: 'I have a chance at this club'."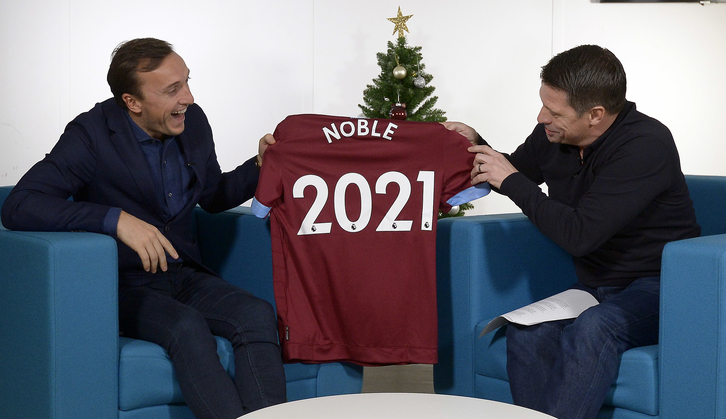 Having come up through the ranks with the Hammers, and consistently been a regular for the Irons, Noble knows how lucky he has been to regularly turn out for his local club. 
 
Even when he hasn't featured, the midfielder knows he has had a responsibility to react in the right way, setting an example for future Academy graduates.
 
He continued: "Obviously you're going to be upset when you don't play. But what am I going to do, throw my toys out of the pram? I know a lot of players do and that's why they end up all around the world, in lower league football, or go elsewhere and don't play. They move their families all around the country and they aren't happy. As I said, it's not just in my nature.
 
"I've been really lucky with injuries. I've stayed pretty injury free over my career, and to play 30 odd games a season for 13 years is pretty special."
 
Having served as captain since the start of the 2015/16 campaign, Noble has taken on the responsibility of helping other youngsters on their journeys into the West Ham first team.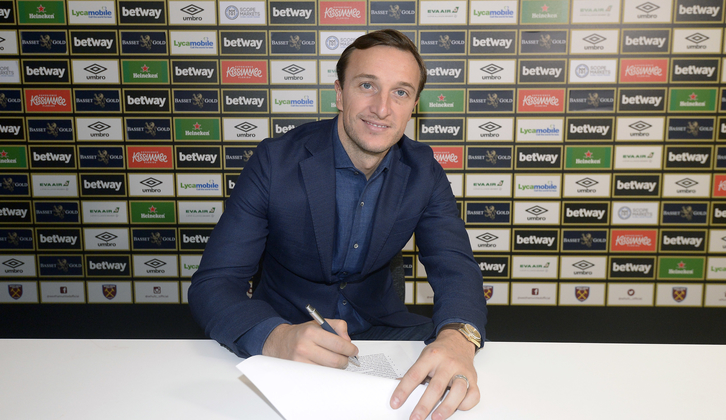 Noble said; "Stepping out on that pitch is the best feeling in the world. That feeling… you look around on the pitch and you go through stages. And some of those stages are so hard. And I'm on Declan and I'm on Grady now to let them know that this is not a smooth ride.
 
"You have to be so mentally strong to be able to cope. Especially now with social media and the pressure of actually being a Premier League player. It's immense. It's not through ability most of the time, it's being able to cope with the pressure of being able to win."
 
With Noble adding another season to his contract, the captain is eager for the club to continue progressing and moving in the right direction, and wants to continue his involvement with the Hammers even after his deal expires and beyond.
 
He added: "I hope that the club keeps moving in the right way, and hopefully I can be a part of that.
 
"To be honest, I haven't done my coaching badges. Football is so intense now that when it gets to the summer, I like to spend it with my kids and the wife. I'd love to be involved somewhere though. 
 
"I think there's no better person than me at this club to know the morals and ensure the foundations are kept with the young players and staff members."