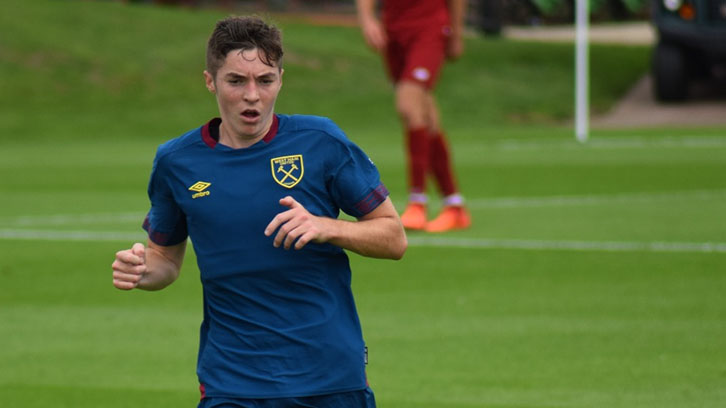 Conor Coventry revealed he is working hard to improve his game in and around the opposition's box in a bid to score and create more goals for West Ham United's U23s.
The Republic of Ireland youth international, speaking after the Hammers' 3-0 defeat to Southampton in Premier League 2 on Tuesday night, has not scored for 18 months for the side but has become a key player at the base of the young side's midfield, breaking up play, dictating and setting the tempo of matches with his excellent range of passing.
Having come close to breaking his duck on a couple of occasions against Chelsea in Premier League 2 on Friday night before again trying his luck against Southampton, the 18-year-old explained goalscoring and assisting are features of his game he'd like to improve upon.
"I'm trying to get in the box more and score more and firstly I'm thinking I need to get in and around that dangerous area more, higher up the pitch and have more influence around the box," the teenager said. "It's getting there, and now I just need to add that goal!
"We've been playing with two midfielders and five defenders recently, and that system is different and I enjoy it to be fair. It allows me to do different things and sometimes having three centre-backs behind me means that I can get forward a little bit more. 
I'm thinking I need to get in and around that dangerous area more, higher up the pitch and have more influence around the box.

Conor Coventry
"It's nice to have that change and I like the system, and hopefully it will allow me to improve in these ways."
The Hammers were disappointed to crash out the Premier League International Cup with defeat on Tuesday, but Coventry described the experience of playing in the tournament over the last two seasons as a valuable one.
"To be fair, it's a great experience because you learn different things against these opposition. This year playing Zagreb and Porto and then last season Benfica and Villarreal, it's great because you pick different things up playing against them and they have had great players and they're generally older as well.
"It's a good tournament and we've all learned a lot from the games we've played in.
"We weren't really at it [against Southampton]. We didn't pass it how we normally pass it, or maybe run as hard as we can normally run. The aggression wasn't really there and it seemed like maybe they wanted it more and they out-fought us in the end.
"I think the intensity that we had at Chelsea was lacking tonight. Maybe subconsciously because it was Chelsea, we were more motivated for that than tonight. 
"Of course that's not the right mentality and you can't let that happen, and if that is the reason, it's cost us. You can't do that because they're a good team and maybe that was the difference."