West Ham United will support the award-winning Stonewall Rainbow Laces campaign at tonight's Premier League fixture with Cardiff City at London Stadium.
All 92 Premier League and EFL clubs are supporting the three-week initiative, which campaigns to make football everyone's game, with national teams, leading clubs, professional players, fans and grassroots players from across the sport showing their support for LGBT people in sport.
Rainbow Laces forms part of a three-year partnership between the Premier League and the UK's leading charity for LGBT equality, Stonewall, with the aim of showing that football is for everyone and encouraging the gay, lesbian, bi and trans community to get involved at all levels of sport.
Tonight's game will see a host of rainbow-themed activations, with rainbow laces available to all players and rainbow armbands for team captains. There will also be a bespoke Rainbow Laces pitch flag, rainbow-coloured ball plinths and substitution boards.
Our clubs do fantastic work in this area to reinforce the message that football is for everyone

Premier League Executive Director Bill Bush
Pitchside LED boards and the Official Programme will also support the initiative, while the Hammers will also display the club's support online throughout the evening.
West Ham United's LGBT supporters' group Pride of Irons will be the club's guests at London Stadium on Tuesday evening.
To further raise awareness, women's team captain Gilly Flaherty and Head of Player Care Hugo Scheckter have ave been discussing Rainbow Laces and the issues facing LGBT footballers and staff.
Flaherty spoke to West Ham TV, while Scheckter, who came out in 2016 while working at Southampton, has appeared on Sky Sports' The Debate programme. 
Premier League Executive Director Bill Bush said: "Stonewall is an excellent partner for us and we value their ongoing work to support the League and our clubs in promoting diversity across the sport.
"Our clubs do fantastic work in this area to reinforce the message that football is for everyone. We are proud to be playing our part and to use our reach to celebrate the Rainbow Laces campaign."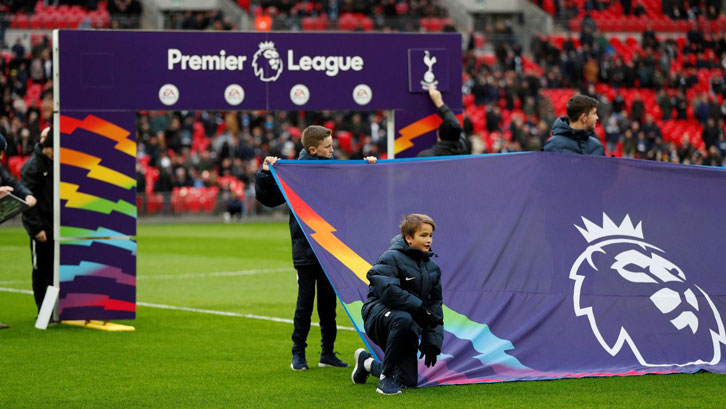 The Rainbow Laces campaign has inspired millions of people to feel more positive about LGBT inclusion in sport, and as a result, feel more confident to challenge anti-LGBT language.
Kirsty Clarke, Stonewall's Director of Sport, said: "It's great to see UK sport banding together in the biggest ever show of support for LGBT people in sport. 
"Whether you're in to cricket, darts, rugby, football or athletics, your sport is taking part and lacing up.
"But it can't just be the national bodies making this statement. We need every sports fan to do the same and commit to stand up as an ally to LGBT people in their sport and beyond.  
"What that action looks like is simply being a good teammate and taking responsibility for making LGBT people feel welcome. Not only can you show your support, you can challenge chants or insults about LGBT people, or report abuse, whether that's online, watching live sport or taking part. 
"So many sports wanted to take part this year we had to extend the campaign from a week to three weeks and that just shows what an appetite there is for positive change across the sporting world."
For more information about Stonewall and Rainbow Laces, click here.
West Ham United are committed to making football a game for everybody and do not tolerate homophobic or discriminatory language. If you hear or see anything you consider offensive, call or text 07860 404069 in the strictest confidence.