West Ham United women's captain Gilly Flaherty has thrown her support behind the Rainbow Laces campaign. 
The centre-back proudly donned the rainbow captain's armband in the Irons' 2-0 victory over Bristol City Women last Sunday, while also wearing the rainbow laces. 
Flaherty lives with her partner, Lily, and has spoken about realising and embracing her sexuality. 
"I'm gay," Flaherty said. "I've known that since I was little. Growing up, I knew I wasn't interested in boys. There was nothing there that interested me.
"I didn't really know anything about it when I was growing up, but as I got older I realised that I am gay, and from there it was about dealing with it."
The defender acknowledged that she was fortunate with her parents' reaction to coming out, but knows not every young person coming to terms with their sexuality is in a similar situation.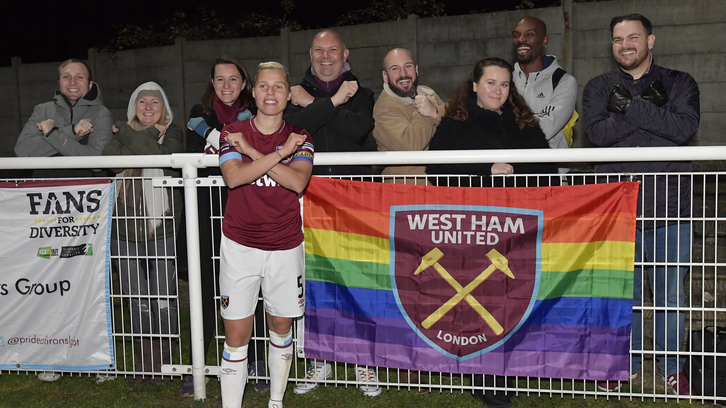 She continued: "I'm very lucky and blessed to have parents like mine. For me, there's no difference. They accepted me with open arms and they see my current partner like their own daughter. I know I'm lucky in that sense. 
"I think there is that fear of rejection, and I know people could find it difficult in telling their families because they are worried about letting them down or embarrassing them. The main thing is that I'm no different, and you're no different, whether you are with a boy or a girl. I am still me, and my personality hasn't changed."
According to figures provided by Stonewall, seven out of ten football fans have heard some form of homophobic language on the terraces at matches. 
Flaherty admits that such a number is difficult to understand, but believes that women's football has shown that sport and players is accepting of sexuality and differences. 
"It's sad that in this day and age there is still hatred towards homosexuality, and I do feel that it is hard for some people to accept it," Flaherty said. 
"I've been out before and heard different slurs. I've been on nights out with Lily and heard things. I think for me, and a lot of gay girls, the big one is when certain blokes turn around and say something like 'what a waste'. For me, that's more hurtful, because we love each other. How is it a waste? 
The main thing is that I'm no different, and you're no different, whether you are with a boy or a girl. I am still me, and my personality hasn't changed.

Gilly Flaherty
"However, I think women's football deserves credit because it's such an accepting place. In every team I've been a part of, I've never felt any discrimination from fans, or anyone at the club. Everyone has accepted me for who I am. 
"Women's football is a sport where a player can be openly gay and no one acts any differently towards you because of it, which is a great thing."
The positive attitude towards gay and bisexual players has been found at West Ham, according to the No5, who has been proud of the atmosphere fostered at the club since she joined in the summer.
Flaherty said: "Here at West Ham, it's irrelevant whether you are gay or whether you are straight. The team welcome anyone with open arms, and we don't get judged because of it. No one's any different towards you.
"I personally wouldn't play for a team if I felt that was the environment that I was going to be judged for who I am. I wouldn't allow myself to be there. I've got more self-respect for myself than that. 
"I can't fault West Ham or any of the previous teams that I have played for. It's never been an issue. Nobody treats you any different, whether you are gay or whether you are straight."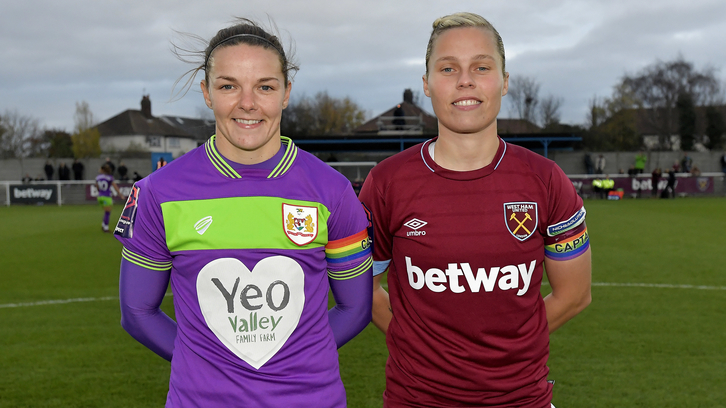 Flaherty has praised the fantastic work done by Stonewall in helping the LGBT community and was proud to show her support for the Rainbow Laces campaign in the women's last home match.
She added: "The Rainbow Laces campaign is incredible. It's been something that's been going on for so many years and, each year, we see the work they do. 
"For me, I think it's nice when you see straight players embracing it as well as gay players. 
It's not like, as a gay player, you have an arrow stuck above your head. Everyone gets involved and supports the campaign by wearing the laces or, in my case, the rainbow captain's armband. 
"The Rainbow Laces game is a chance to show people that we embrace them for who they are, and an opportunity for us to support our teammates, friends and family. 
"My family will be there and it will be great for them to see the support. I think it's a wonderful campaign that everybody can be a part of together."