Carlos Sanchez believes his style of play will resonate with West Ham United supporters.
The Colombia midfielder has based his career on hard work, commitment and sacrificing individual accolades for the success of the team – an approach which has seen him win 88 international caps and given the nickname 'The Rock'.
On completing his deadline day move to London Stadium, the new No15 expressed his desire to please the same fans who were eager for England to knock his national team out of the FIFA World Cup just a few weeks ago!
I will give my 100 per cent, I think it's something that you cannot negotiate

Carlos Sanchez
"We were rivals in the World Cup, but now we are friends, we are on the same side," he smiled. "I consider myself a very passionate player, very professional, I think we're going to do well, I'm a battler like them.
"The people who follow West Ham are battlers, people who work hard to achieve their goals, and with their ambition and the union with the players, we are going to achieve them."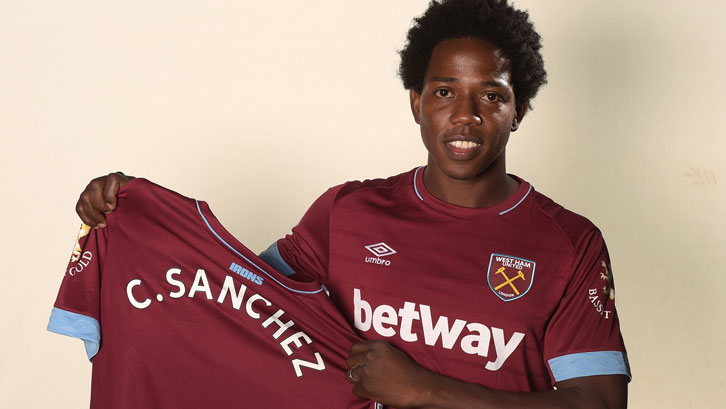 A tenacious defensive midfield player who has graced the top divisions in France, Spain, Italy, England and Uruguay, Sanchez is known for his tough tackling, intelligent positioning and tactical play, while he can also play when in possession, too.
"I will give my 100 per cent, I think it's something that you cannot negotiate," he confirmed. "We can all make mistakes but there are things that you should never compromise, like effort and commitment. For me, that's paramount for everything.
"I consider myself a good player tactically, technically well endowed. I am not a goal scorer, I am a player who gives balance to the team, who tries to give calm in attack and defence and to manage a little each game.
"The most important thing beyond the quality of our players, is that all that quality is put at the service of the team. The important thing is not Carlos, it is not Wilshere, Arnautovic or Anderson but the collective, and if we think like this we can achieve many things because we have a lot of talent."