David Moyes has called on his West Ham United players to get to 40 points as quickly as possible ahead of their Premier League fixture with Stoke City at London Stadium.
West Ham go into Sky Sports' Monday Night Football clash with Paul Lambert's side with 34 points on the board with six top-flight games left to play.
The Hammers manager also challenged his squad to finish the Premier League season on an eight-match unbeaten run. The Hammers beat Southampton and drew at Chelsea in their previous two matches and will look to make it three without defeat against the Potters.
In a wide-ranging press conference, Moyes also discussed the positives and negatives of playing after all their rivals this weekend and the form of Marko Arnautovic and Arthur Masuaku, among other things. Here is what he had to say…
Let's finish the season on an unbeaten run
To get to 40 points is the biggest thing we need to do. I wouldn't say it would guarantee safety, as there are years when it hasn't, but in the main 40 points normally keeps you up.
I'm keeping my target high and I'm hoping to win ten games. At the moment, we've won eight games in the Premier League, so if we can win ten, we'd just about get our points tally up there.
The ante could be upped if the teams below us win, but I was also aware of us taking points against Southampton and Chelsea in our last two games as well, so that meant we did a lot of our business and got some good points in.
It's not enough, but our performances and the way the players have been in the last two games have given us a real lift and since we came back from our trip we've picked up some really good points.
If we can keep the form going, the idea would be to go unbeaten until the end of the season and I don't see any reason why we shouldn't aim for that and try and get there.
If we do, I would see us getting enough points to stay up as well, so the big thing is to make sure we get the points.
It's a big game against Stoke and a big game for them as well. It's a similar game to the Southampton game because of what it means to both clubs but, if we can put in a big performance, and the crowd give us the same levels they gave us in that game, then we'll give ourselves every chance of winning the game.
If we can beat Stoke, we give ourselves a chance of finishing the season in a good position.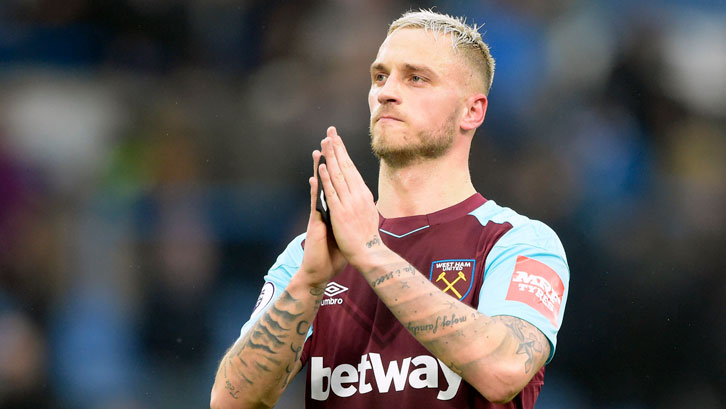 I want Marko to keep doing the business
I don't really care if Marko is looking forward to it or not. I am just concerned that Marko continues doing the business as he's been doing, and it wouldn't matter if it was Stoke or somebody else.
So long as he keeps doing the business, that's all we can be interested in and if he can do it against them, great!
When he is playing like this, Marko is very good and very good to work with and I have to say I hope it continues because he has been really important to the team.
Without him, it could be very different, but that's football and that's why the Club paid £20 million. It was a great signing by the Club and we saw the potential in what he could do and I've got to say that Marko himself has stepped up to the plate.
When you do that, you have to keep your standards up because everyone is watching you and the team are looking for you to have a big impact in every game.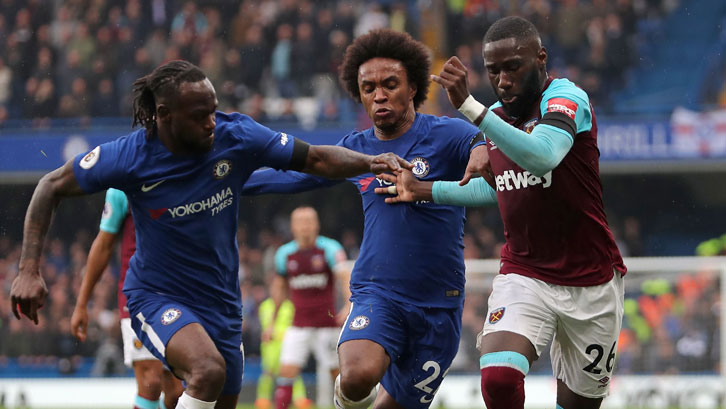 Arthur needs to rediscover his Southampton form
No doubt we missed Arthur Masuaku when he was out during his recent six-match suspension.
When you think back, we lost Pedro Obiang and Arthur against Wigan in the FA Cup in January. We've not had Pedro and we've only had Arthur back for a couple of games.
I thought he did very well in his first game back against Southampton, but I was hoping for much more from him in his last game against Chelsea.
Maybe it was a little bit that he had got back in and the adrenaline had got him through the first game?
I'm hoping for a better performance than he gave me at Chelsea and something more like what he gave me against Southampton.
The supporters will do us proud again on Monday
The West Ham supporters have sensed we need them and we have sensed their support and because of that we've done well.
I thought the support against Southampton was fantastic and I thought the way they paid tribute to Ray Wilkins at Chelsea did the Club proud.
I've got no doubts they'll do the Club proud again on Monday night.
In my first evening game, against Leicester City, it was a Friday and the atmosphere was brilliant. Let's hope for more of it and if the players produce the form they did in the last game, I think we'll give them something to shout about as well.