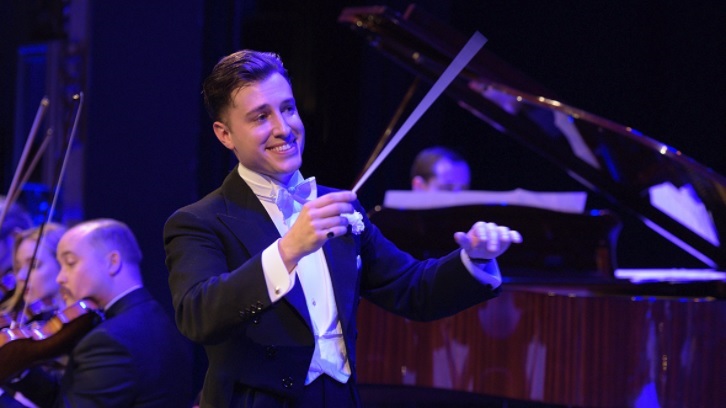 Lifelong West Ham United supporter Alex Mendham and his Orchestra are celebrating the centenary I'm Forever Blowing Bubbles with a new version of the of Hammers anthem.
The song, which was composed by American songwriter John Kellette and written by lyricists James Kendis, James Brockman and Nat Vincent, was originally performed 100 years ago as part of the Broadway musical The Passing Show of 1918.
In the 1920s, West Ham manager Charlie Paynter introduced the song to the Club as a local schoolboy player and trialist, Billy Murray, bore a resemblance to the boy who featured in a painting entitled 'Bubbles' used in a commercial by soap manufacturers Pears.
This association led to the Claret and Blue Army singing the tune, which had quickly become popular in east London music halls, occasionally accompanied by the presence of a big band requested by Paynter.
One hundred years later, Hammers fan and celebrated big band leader Mendham and his Orchestra have honoured the anniversary by recording a new version of Bubbles.
"I'm a West Ham supporter, as my great-grandad was born just behind the Boleyn Ground, as are my grandad, dad and my brother and sister," he explained. "I have always been a Hammer, so when I learned that Bubbles was 100 years old this year, I thought recording a new version of it with my Orchestra was a nice thing to do.
"One of the reasons Bubbles has been kept alive for all these years, when so many of the songs from that period are no longer heard, is because of the West Ham fans singing it at every game. A lot of the other music from that time is gone.
"Our version is a bit more up-tempo than the original, but we've not really done that much to change it, and the musicians in the Orchestra have really enjoyed playing it."
South Ockendon-born Mendham has long been entranced by the swing and big band music of the post-First World War period and former his own Orchestra in 2010 at the age of just 21.
After spending five years as bandleader at London's Savoy Hotel, Mendham has performed at The Ritz, where he was put in contact with West Ham's Joint-Chairman David Sullivan, himself a fan of the Orchestra's big band style of music.
There are now plans afoot for Mendham and his Orchestra to perform Bubbles at a future fixture at London Stadium – an opportunity the bandleader is relishing.
"I have spoken to David Sullivan and we hope to play at a match to celebrate the 100th anniversary of Bubbles, which I am sure all the guys in the Orchestra and the supporters will enjoy!
"We have never performed on that scale, so it would be lovely to play at West Ham on a matchday."