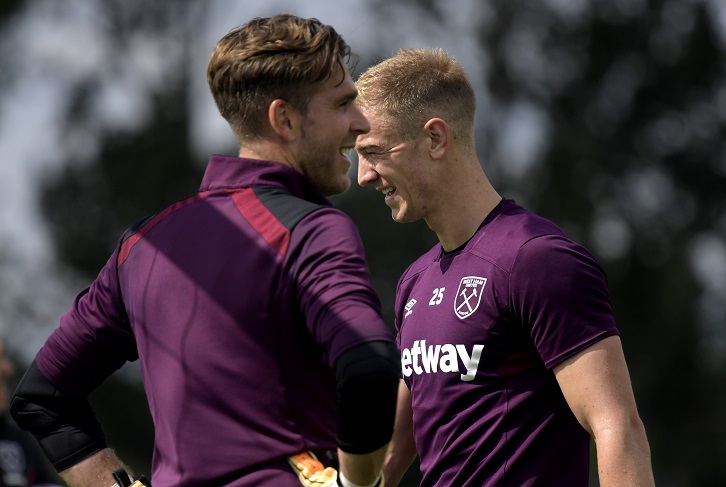 West Ham United's two senior goalkeepers will each take centre-stage this week – and both have been tipped to produce the goods.
Joe Hart will keep goal in the vital Premier League fixture at Everton on Wednesday night before Adrian takes over between the sticks at Manchester City on Sunday, when the on-loan Hart will be ineligible to face his parent club.
Having seen the work the pair put in on the training pitch every single day, goalkeeper coach Chris Woods has great confidence that both the 'vital' Hart and 'ultimate professional' Adrian will rise to the challenge.
"Joe has an aura about him and he portrays that in his talking on and off the pitch and he is a vital member of the team," said Woods, who was himself capped 43 times by England. "We need to start improving our results and start doing that with clean sheets and, to do that, we have to defend as a team, working from the front and ending with Joe in goal.
"Adrian would obviously like to have played more games, but he's been the ultimate professional. He's worked as hard as he ever did when he was starting in the team and, if anything happens to Joe, he's got to be ready to go in.
"If you don't train and let yourself go a little bit, then you're called into the first team, it can have a backward effect on you, but Adrian has worked hard every single day to put pressure on and stake a claim for a place. While we have competition like that, it's got to be good for Joe and Adrian.
"We will also take Nathan Trott to Manchester City as our No2 goalkeeper and it's a big day for him. He's been in and around the first team and trained and travelled with us on a number of occasions, but Sunday will be one step closer for him."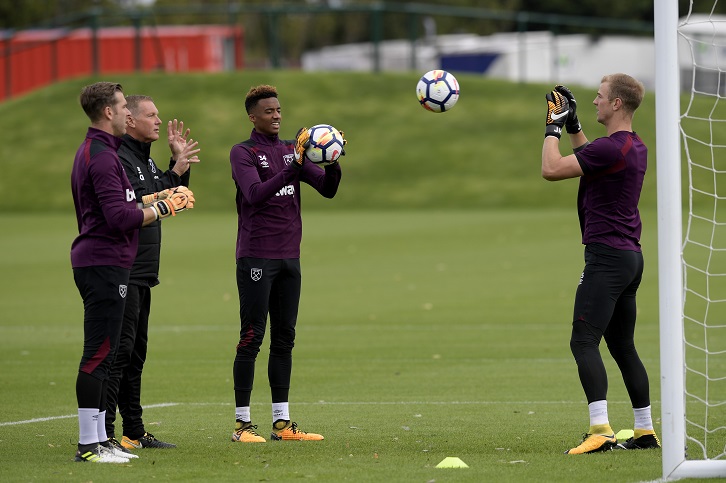 A true gentleman off the pitch, Woods was one of the best goalkeepers in the game throughout the 1980s, helping Nottingham Forest win the European Cup and unfancied Norwich City lift the League Cup before heading north of the border during the European ban on English clubs to help Rangers win four Scottish Premier League titles in five seasons between 1986-91.
After hanging up his boots in 1998, Woods was appointed as goalkeeper coach at Wednesday's opponents Everton by his former Rangers manager Walter Smith. He spent the next 15 years developing the likes of Richard Wright, John Ruddy and Tim Howard, before following long-time boss David Moyes to Manchester United and helped David De Gea win Player of the Year honours.
In summer 2015, he joined West Ham, and has since worked with Adrian, Hart, Darren Randolph and England U20 international Trott.
"Every goalkeeper I've worked with, I've enjoyed working with. There have been no difficult personalities, so they've made my job and life easier because goalkeepers generally all enjoy their work.
"The game has obviously become so big now and every act is analysed, so it's important that I get over my views and I listen to their views as well. It's important to have a good working relationship and that's what we've got."
Woods thoroughly enjoyed his time at Goodison Park, where he spent eleven seasons working under Moyes before being reunited with his old boss in east London earlier this month.
"We had eleven fantastic years there, and obviously the standout moments were getting to the FA Cup final and qualifying for the Champions League. We built a team and added to it when we needed to.
"I was very fortunate to remain with Everton for such a long period of time and the club became part of my life and my family's lives, I got to know the people who worked at the club and built great relationships with everybody. It was a good time to be there."
Three weeks into Woods has already seen the same approach from Moyes starting to take effect at West Ham.
"David led from the front with hard work, setting standards that everyone needed to meet. I've definitely seen the same effect here. It doesn't come overnight, it's a building process which people buy into, work hard and we all hope it will eventually work out.
"After the game on Friday, we are beginning to understand what the manager is putting out there.
"Goodison has always been a very hard place to go, though, particularly under the lights, and just because they've not started the season as they'd hoped, I'm sure it will be a very tough game and unless we play to our potential and concentrate, it will be difficult."