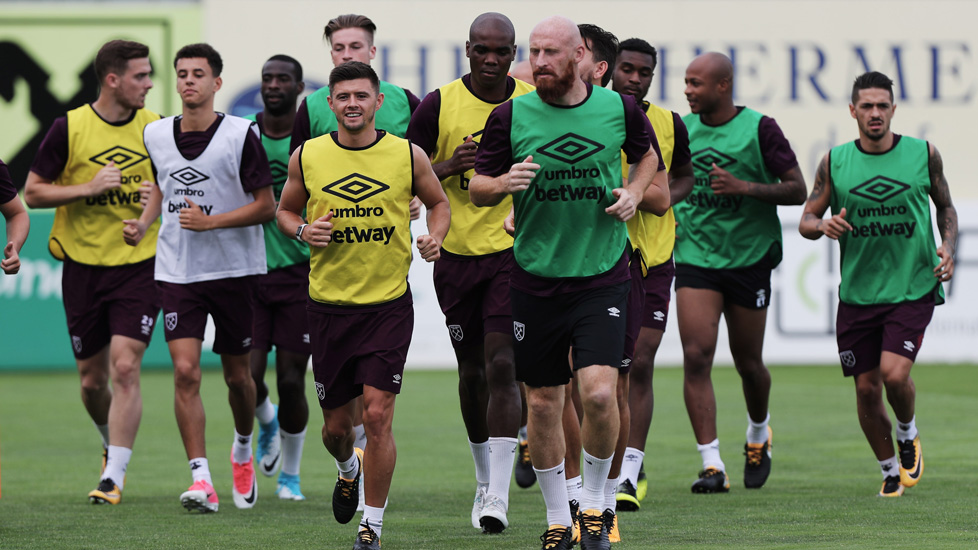 Catching up on daily life with Slaven Bilic's squad during their pre-season training camp in Austria…
At the double again
Following Tuesday's double schedule, with circuit training in the morning followed by an evening session of technical ball work and a practise game, it was simply a case of more of the same on Wednesday. This time the sessions were reversed, with football drills and team play in the morning, and endurance running and core strengthening work later in the day. And credit to First Team fitness coach Josh Ewens, who provides the perfect example and ensures total focus by joining the players through every step of their work without a ball.
Claret and Lew…
He may have a long and illustrious association with London rivals Arsenal, but new Head of Medical Services Gary Lewin truly has the Hammers in his heart. The former England Head Physiotherapist grew up in Essex, where he still lives, and is likely to bump into plenty of familiar faces at London Stadium next season. "All my family come from Plaistow and East Ham, and a lot of them are Season Ticket holders, so it's really gone full circle for me," says Gary. "I've been very lucky over the years to be associated with two great set-ups in Arsenal and England, and I feel like I've joined a third one now. Hopefully I can stay here for as long as I was involved with the other two." You can watch the full interview with Gary right here.
Sam's sight for sore…legs!
For Premier League footballers, there is only one thing that helps to soften the gruelling, physical demands of pre-season training – the sight of footballs. While lots of fitness and conditioning work is necessary in the build-up to the new campaign, the players have been working with the ball since the first day of pre-season, a key psychological tool in keeping the mind stimulated.
"It's disguised running to be honest!" says defender Sam Byram, "but there's no doubt it makes it easier when you've got a football to chase around to take your mind off the fact that you are working hard. We've had the balls out since day one, to be fair, so that has definitely helped."
Alfred the Hammer!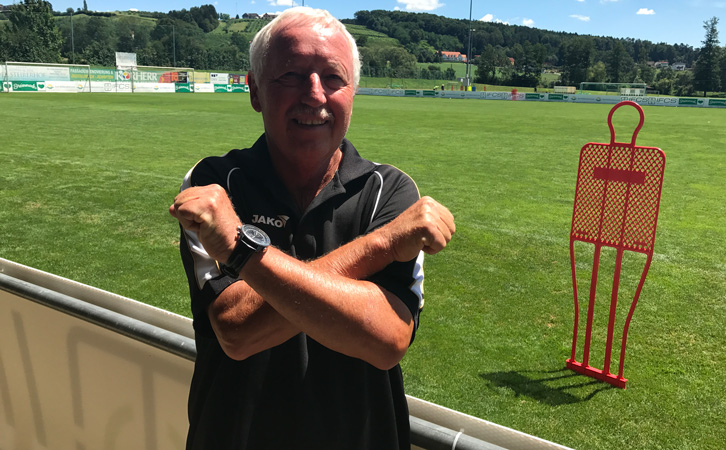 Greeting the Hammers every morning and afternoon has been 69-year-old Alfred Hager, a retired policeman who holds a lifelong association with his local club Bad Waltersdorf, whose stadium the squad are using as a training base. Alfred started out as a defender for Waltersdorf in the 60s, and has managed the Club since 1982, welcoming a host of major sides visiting for pre-season during the last 12 years, including Arsenal, Borussia Dortmund, Werder Bremen and the Polish national team. "I call myself the President," says Alfred. "There is no one to argue with me! I am pleased West Ham are here, I remember Bobby Moore and the 1966 World Cup very well."
No hiding places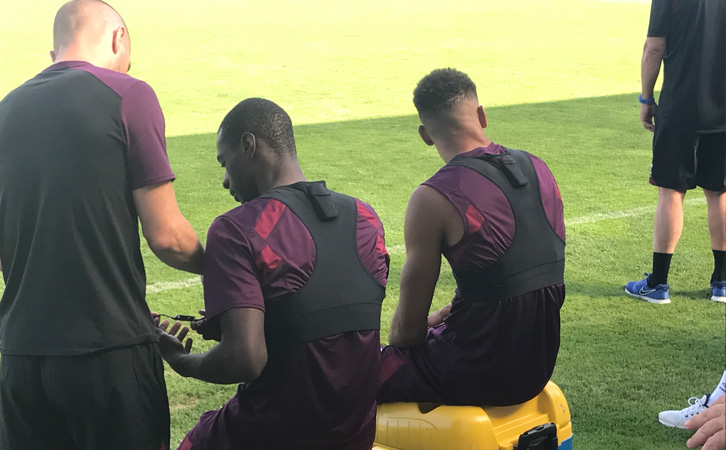 Hammers fans may have noticed the small black vests worn by the players during their training sessions in Austria. These are used to hold a small GPS unit, which tracks every movement made and measures distance and speed, linked up to the video technology used by the Analysis team to record all sessions, ensuring that there are certainly no hiding places for players during pre-season. For fitness work, the players also wear a heart-rate monitor strap across the chest, which is monitored closely by the medical staff.