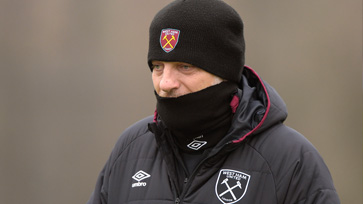 Good morning everybody.
We have been preparing for tonight's game against Manchester City for ten days now, since our fantastic win over Middlesbrough, and we'd love to continue our good form.
Of course the last time we lost was against tonight's opponents, so we under no illusions that it will be a difficult game. They beat us heavily in that FA Cup game, although we were good for half an hour. We crumbled after that and we can't let that happen again.
Manchester City are a team who have their ups and downs. But I consider them a very unlucky team. In every game they play, they are the better side and create more chances.
I'm not talking about possession; they are there and around your box creating chances. In some games they've been unlucky. Hopefully they will be unlucky tonight, too! We will have to be on top of our game.
There is a great atmosphere around our squad at the moment and on the training pitches, so we are looking forward to the game.
I've talked about City's manager Pep Guardiola before, but I will say again, sometimes it's hard and it takes time to come to a new country and for your philosophy and ideas to work straight away.
You need more time than that. They play in a way where they create lots of chances and dominate games. It's a difficult league here and there are no easy games and there is not one pattern the whole league plays – managers change things even during matches.
I think he knew that when he came over, too. Some of the games they've played have been amazing. Long-term, it will be a success for Pep at Manchester City.
In the 5-0 game, we started to chase them all over the pitch and that's exactly what they want you to do. They can use that space behind and in-between your lines with pace and quality and they don't miss the opportunities and chances they get from that.
The game was over in ten minutes – from 1-0 to 3-0 so quickly. We have spoken about tactics and we can't give them that space in-between the lines again. If we give them space, we give it to them in front of us and we have talked about that. If we do that tonight, we have a chance.
In terms of team news, there are no fresh injuries to be concerned with other than Havard Nordveit, who has picked up a knock on his ankle. He will miss tonight's game, but it's nothing to worry about and he should be back in contention for the Southampton game.
Arthur Masuaku is getting closer to being back, while Diafra Sakho, who had that operation on his back, is looking at something like mid-March before he returns.
As I've said, let's hope we can get a good result from tonight game, and I hope everyone enjoys the occasion.
Slaven Bilic