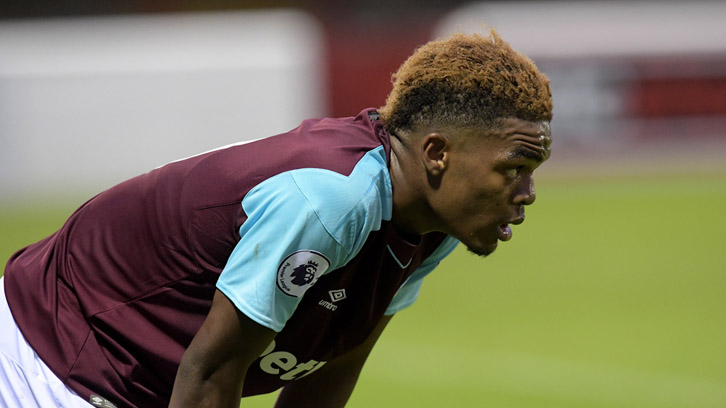 Grady Diangana left everything on the pitch on Friday night against Everton in West Ham United U23s' opener, but the Hammers could not quite force a goal as they were held to a goalless draw.
The hosts were the better side throughout the clash at the Chigwell Construction Stadium, and a number of times almost took the lead, particularly through Toni Martinez who had two fantastic openings.
West Ham's creative force Diangana, exhausted after putting in a fine, lively performance against the Merseysiders, was pleased with his side's performance and believes the result is something to build upon.
He said: "We're pleased that we did so well against last year's [Division 1] champions. We definitely had chances to score and to be fair I don't think they troubled us that much. We're pleased.
"The first game is always tiring! We did work really hard in pre-season, but when it comes to the season, it's always much more intense. Everyone wants to win, so it's much harder.
"I try and create as much as I can in front of goal for my teammates every time I get the ball, and I thought I did that tonight. We moved the ball well as a team tonight.
"The first ten minutes in the second half was difficult, because they came out really strong but other than that, we were definitely the better team."
We definitely had chances to score and to be fair I don't think they troubled us that much. We're pleased

Grady Diangana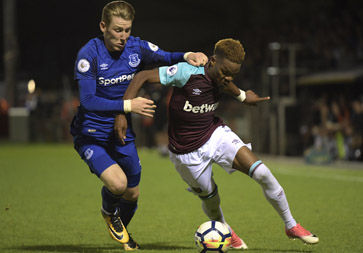 The winger delivered plenty of set-pieces throughout the evening, putting a large percentage into extremely dangerous areas, but nobody in Claret and Blue could turn one past Everton stopper Louis Gray.
"There were plenty of set-pieces – my groin is tired now," he continued. "I haven't really been practising them but I was really pleased with all my deliveries.
"It was a shame nobody could turn one past the keeper. But maybe next week we can score from one.
"Today was just the day for them for me! I need to carry on working hard on them, and that could turn out to be a real weapon in my game if I keep developing it."
The Hammers next face Swindon Town on Tuesday in the Checkatrade Trophy, a game Diangana is looking forward to and hopes to learn from.
"Swindon on Tuesday will be a tough game. I'm glad this year's games are already coming around quickly, and we know the challenge of playing first team opposition.
"It's a good test for all of us young ones – for everyone. We're playing in an extra competition this year, so we're getting game after game and we're going to be learning every week.
"We can learn from our mistakes each week and hopefully have a successful season."