West Ham United U17s advanced to the J-League Challenge final on day two
They thrashed Consadole Sapporo 4-1 in the semi-final on Wednesday afternoon
Head coach Danny Searle hopes his players can learn from their final group match as they face the same opponents, Gamba Osaka, in tomorrow's final
Head coach Danny Searle hopes his players can learn from their group match against Gamba Osaka as the pair meet in tomorrow's J-League Challenge final. 
The U17s lost their final group match on day two to the local side by a goal to nil, despite having already qualified for the knockout phase. 
But the Hammers put in a dominant display against Consadole Sapporo in the semi-finals, comfortably sweeping their opponents aside by four goals to one.
"It was very important to get out the group," said Searle. "To play against Osaka, not knowing what they're like, was good experience for the boys to see the standard. It definitely helped us prepare for the semi-final. 
"The squad size as a whole has been massive and this has allowed rest and given the players an opportunity to recover. Our dominance in the first half (v Sapporo) allowed the players to relax and enjoy the semi final and it gave the younger ones experience. They did everything that was asked of them and it was a really assured performance."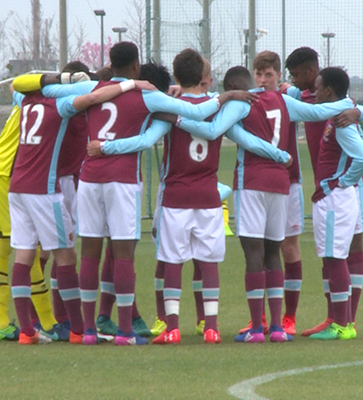 As mentioned, the Hammers went into their final group fixture knowing they had already secured progression to the semi-finals, but it was clear they wanted to maintain their momentum going into the knockout rounds. 
Gamba Osaka had scored an astonishing 20 goals in their opening two matches and looked a threat early on after hitting the post in the first 15 minutes. 
But the Hammers set about containing the danger and had chances of their own through Conor Coventry, Sean Adarkwa and Ben Johnson in the first half.
Searle's players emerged with much more intensity after the break, with Jeremy Ngakia causing the local side problems on the right flank, but it was Osaka who scored against the run of play with ten minutes to play.
A ball was squared to the edge of the penalty area and there was an Osaka midfielder, arriving late, to drill it into the top corner. It was much against the run of play.
Osaka held on in the final stages meaning the Hammers would settle for second place in the group and a semi-final tie against Consadole Sapporo, a side who had yet to concede in their three group matches.
Sapporo were blown away in a ruthless first half display by Searle's players. Jeremy Ngakia's powerful effort and Bernardo Rosa (2) saw the Hammers three up by half-time.
Searle rang the changes at half-time, ensuring rest for the experienced players and game-time for the younger ones, but there was no alteration in the team's work ethic and quality.
Adwarka got his third of the tournament, finishing brilliantly after a great through ball from Harrison Ashby, and although Sapporo scored a late consolation, the Hammers cruised into tomorrow's final with local side Osaka.
"There'll be no excuses in the final," Searle continued. "We know what they're (Gamba Osaka) are about now. Our second half display against them showed that we adapted and evolved as the game went on. It was a dominant second half performance and we should take that into the final. We have a very good chance of coming away as tournament winners."
West Ham (v Gamba Osaka): Anang; Johnson (Forson), Dalipi, Wells, Hannam (Okotcha); Coventry, Mingi; Ngakia (Ashby), Rosa, Diallo (King); Adarkwa. Subs not used: Watson, Sanneh, Chesters.
West Ham (v Consadole Sapporo): Anang (Sanneh); Johnson (Ngakia), Dalipi, Wells, Hannam (Coventry); Coventry (Forson), Mingi; Ngakia (Ashby), Rosa (Okotcha), Diallo (King); Adwarka (Diallo). Subs not used: Chesters, Watson.
Goals: Ngakia, Rosa (2), Adwarka.
Bookings: Mingi.