Interviews
Adrian - We are still optimistic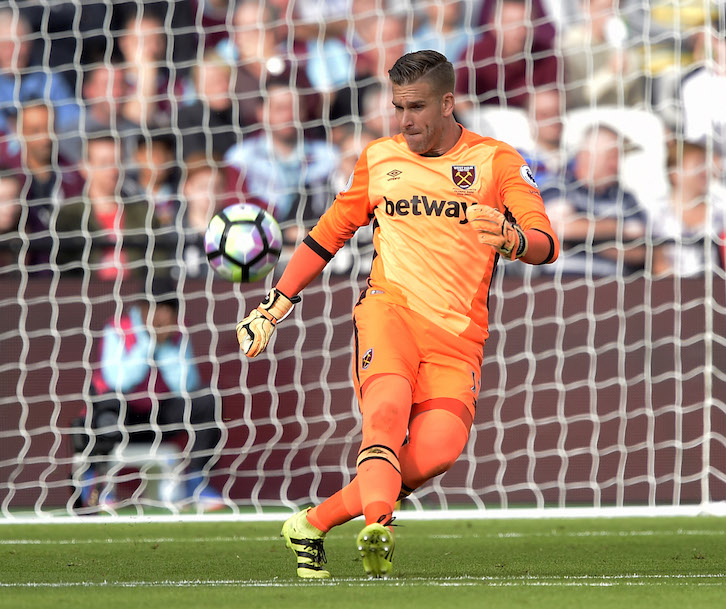 West Ham United keeper Adrian is adamant the players have been working extra hard work this week to turn their season around and is confident they can secure an important victory against Middlesbrough on Saturday.
The Spanish keeper has felt the pain of a frustrating start just as much as anyone and knows the hard work that is needed to fix the situation.
Adrian welcomed the chance for his team-mates to have an important meeting at the start of the week and can see the positive attitude that all the players have heading into the game at the weekend.
With the Hammers enjoying one of their best seasons in the top flight last year, Adrian sees no reason why they cannot re-produce that form and move clear of danger at the bottom of the table.
Adrian said: "For everyone this is a difficult period at the moment, but we are still optimistic and feel we have a great squad.
"We want this situation to change and have better results on the pitch. We have to work harder to fix the mistakes we have been making.
"We are mostly the same players who did so well last season and we need to show that kind of form again. Everyone is fully focused on the game on Saturday and we know that we need to win the game.
"We want to show the fans that we have a great team. They always support us every game and this is a tough moment for them, but we all need to stay together and remain as a team.
"It was good for us a team to come together and we need to enjoy being together, because it was not like that in the last game.
"We got a bad result so the mentality has to change a little and we have to stay together, both on and off the pitch and get a good result on Saturday.
"If we play well and show a good performance the fans will be very happy and proud of this team, We want to get a good result in front of our fans.
"We have big names in the team and many players in each position. We have a strong squad with the new signings and if we can get a good result, the mentality will change with everyone."
Adrian is looking forward to meeting up with Spanish compatriot Alvaro Negredo and knows the dangers the Middlesbrough striker can pose to his side on Saturday.
Adrian added: "I have known Negredo for a long time and have played against him many times. We have to be careful of him because he is a great striker.
"But we cannot think about Middlesbrough and have to focus on our team and give 100 per cent to get the three points.
"Last season we had a great home record and we want to do the same at London Stadium. When you are playing at home you want to show that you are strong and for team to be afraid of playing there."