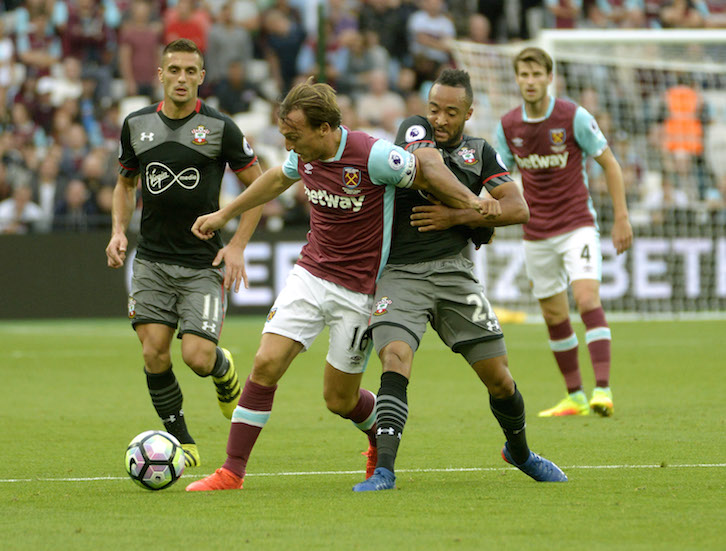 West Ham United captain Mark Noble has no doubts the players will stick together and knows more than most what is needed to turn the Club's season around.
Despite the disappointing start to the campaign, Noble can see the quality that has been assembled in the squad and feels it is only a question of time before they put things right on the pitch.
The 29-year-old midfielder has experienced similar situations in the past and was part of the team that produced a great escape to beat the drop back in 2007.
Noble feels this is a completely different situation and hopes the players will be able to silence the critics and climb away from the bottom three, starting with a victory over Middlesbrough on Saturday.
Noble said: "These are times when you have to stick together. I've been through it many times before — in worse positions than this and with weaker squads — and we've dug ourselves out of it. We are still together.
"The hard thing is knowing why it's going wrong. I've played in this league for a lot of years and it just seems like, at the moment, we can't get a goal that means something.
"Against Southampton we were solid for most of the first half and there was nothing in the game, then there's a lack of concentration and we're 1-0 down after probably their first shot.
"We do have a couple of key players missing — we've lost two left-backs in Aaron Cresswell and Arthur Masuaku but we are not making excuses.
"It's hard to take, especially after the results we had last season. You can only say a certain number of times 'we're waiting for a break or a bit of luck', because sometimes you make your own luck. We're just not playing well and need to liven ourselves up.
"You have to be like that in this league because, if you aren't brave, you will pay the ultimate price."