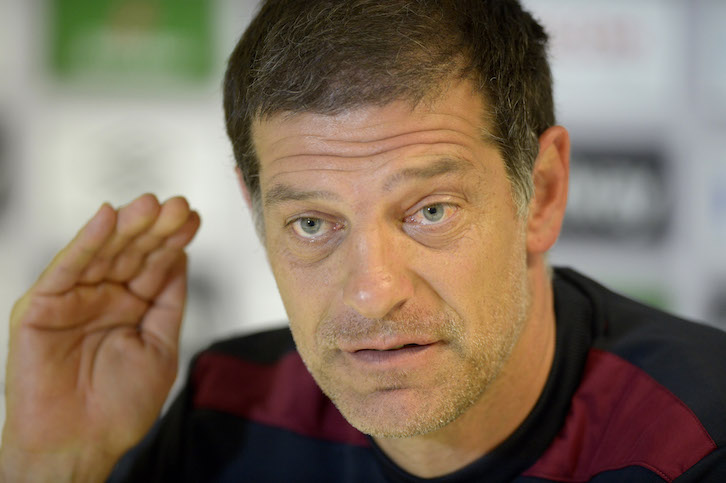 Slaven Bilic faced the media ahead of the Premier League game against Southampton on Sunday and stressed the importance of getting two more wins before the international break.
The Hammers boss also provided updates on the fitness of Andy Carroll and Arthur Masuaku and compared Dimitri Payet to David Beckham....
What would winning this weekend against Southampton mean to you following the recent defeats
SB: "It would mean a lot because we need it. I said after the West Brom game that we had three massive games until the international break starting in the cup and then two big league games.
"It is a good opportunity for us because we are playing at home and we can get out of the situation we are in.
"It would mean a lot to us to get the three points and it would boost the confidence and bring back the belief.
"Although it is very early on in the season it is still very important because we need the points."
You said after the West Brom game that you wanted to see a reaction from the players. Have you seen that in training this week?
SB: "I have seen that and we have also had a game so we had to prepare the players for the Cup game against Accrington.
"To be fair the players have always worked hard in training and we always train aggressive and intense. But the fact is we have to do it in games and we need to do it for ninety minutes."
You won against Accrington Stanley and although the performance was not what you were looking for, you still managed a victory. Has that does something to raise the confidence levels?
SB: "I totally agree with that. The performance was not something we expected or were looking for, but it is a win and we are through. You can train good and have lots of meetings, but nothing can bring you back on track like getting a win.
"I said we had three big games and we have won one and kept a clean sheet. That is very important after conceding eight goals in two games. We have ticked the box in one game and now have another massive game on Sunday.
"We are playing at home again against a team who are playing well at the moment. They did not start points wise the best but they got a win in Europe last week which gave them confidence and played well last weekend. It will be very hard of course."
Dimitri Payet scored another free-kick to win the game. He scores with a highest percentage of free-kicks than Lionel Messi and Cristiano Ronaldo. How highly do you rate him?
SB: "I rate him highly. When it comes to free-kicks I heard what Jamie Redknapp said and that he reminds him of David Beckham.
"There are a few ways of taking a free-kick. Julian Dicks used to smash them. They were great ones but they were different.
"You then have players who bend it like Beckham and he reminds me of that. The old fashioned way but hard as well. He is doing that in a great way and it is a very important part of his game.
"He did it last season for us and for France. He is a great player and got the goal for us a great time on Wednesday night."
What would you say to West Ham fans attending London Stadium on Sunday?
SB: "I want the fans to be behind us on Sunday and we need their support more than ever. They will play a big part in this game.
"We need them every time but we need them now to help us get out of this situation.
"Since I have been here they have always been fantastic with their support and getting behind the team and I have no doubts they will be very positive once again."
Can you give us an update on Andy Carroll and when he could be back in action and the latest surrounding Arthur Masuaku's fitness?
SB: "Andy is doing very well. He is out injured and I saw stories on the day that we played Accrington that he had a setback, but that is not true and it is totally false.
"We are expecting him and Aaron Cresswell to fully train with the squad after the international break. That is good news.
"Of course we had some bad news with Arthur's injury. He damaged his knee at the end of the Accrington game and he damaged his ligaments.
"We will know more in a week's time and when he will be back but it will be at least six weeks, if not more.
"It is disappointing because some players can play in different positions and you can fill the holes, but when both left backs have done the ligaments in their knee, it is not good news.
"But I never look for excuses and we have a good team. I expect from us to do it on Sunday."