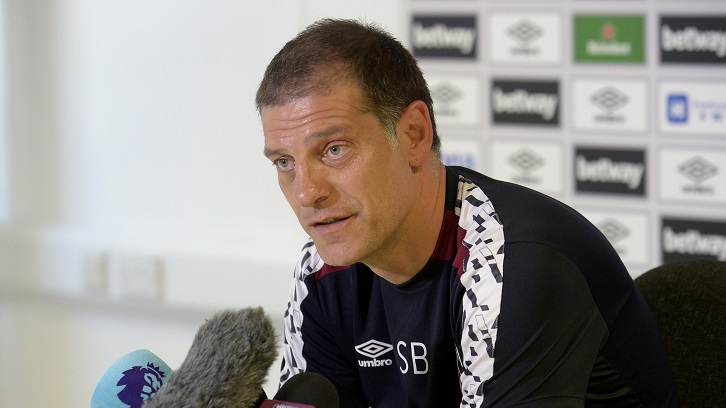 Morning everyone,
I hope everyone is looking forward to the EFL Cup third round game against Accrington Stanley this evening and this is a competition which interests us a great deal.
We are determined to get back on the winning trail at London Stadium and I have been speaking with the players to address the issues we have faced. We now need to see a reaction on the pitch.
We speak all the time with the players. We have long meetings and short meetings. We are aware of the situation.
The worse thing that can happen in football is to lose confidence. Our confidence is harmed a bit because of the results and the position we are in. But you can't lose it.
If you lose your confidence as an individual and as a team then you've got no chance. It's got to be a balance. You have to criticise because it's not good. You have to point fingers.
But there has to be a mix between the two of them. It's hard. But that's the nature of the job. You have to find the balance. We're in this situation and we made it. Me, my staff, the players.
We simply need a reaction to the defeat. In none of these games…. You can't say we've been outplayed by the opposition.
You can't be one second late when you lose the ball. That's enough for the opposition to have an extra yard, and every goal we conceded was like that. When it rains it pours.
If you add on top of that the individual mistakes we were doing it's way too much.
It depends on the other results as well but it would be perfect scenario if we could win all three home games coming up and climb away from trouble.
The cup game doesn't affect the table but then we have two home games and if we win both we won't be completely out of trouble.
In terms of the team news for tonight's game Arbeloa and Fernandes are ready to go and they have been training.
Arbeloa's last game was last season against Real Madrid and Fernandes played for Sion and for the Swiss Under 21's ten days ago.
We have that issue with a few players, but some of the players will get a chance because we want to see them. They have been training hard and we want to see them. It is a risk for the result, but I want to see them and I have full confidence in them.


I watched Accrington's game against Burnley in the last round. They are a good team for that level of football but the lower you go, the better they are at closing down the opponent.
They have already played a Cup Final against Burnley and tonight will be a Champions League Final, they will be up for it, so it is a good test for us.
Come on you Irons!
Slaven Bilic