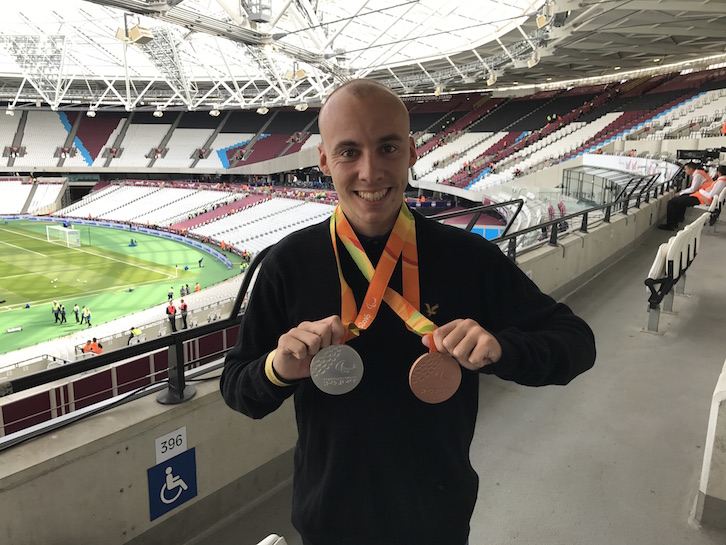 Double Rio Paralympic medalist and lifelong West Ham United fan Andy Lapthorne took great pride in showing off his medals at London Stadium following a memorable summer in Rio.
Lapthorne reached his first ever Paralympic singles tennis final after beating the world number two David Wagner in one of the greatest matches of his career.
The 25-year-old was unable to find a way past world number one Dylan Alcott in the final but he was still celebrating a memorable silver medal.
Lapthorne joined fellow Olympians including another Hammer Susannah Townsend on the pitch at half-time during the Watford game to display their medals and says it is a moment he will always remember....
I was confident going out to Rio that I would pick up some medals, being ranked number four in the world but I knew it was going to be tough with the top three also going for medals.
I trained hard and to come back with two medals is very special and something I am very proud of.
It was more special due to the fact that I won against the guy who beat me here in London four-years ago. It was nice to get some revenge and come away with a silver medal.
I was playing in the Paralympics Singles Final for the first time and it is something that will stay with me forever and hopefully I can do it again at the next Olympics and come away with a gold medal.
That is what I am training for and hopefully in four-years time I will be able to come away with medals once again.
The aim for me is to be number one by the end of next year. I want to keep winning the Grand Slams and representing the country and West Ham.
I remember when we were trying to get the Olympic Stadium that I was a big ambassador behind the move after being here in 2012 and coming out in front of 80,000 at the Opening Ceremony was very special.
I don't think any of us will ever forget that moment. When I come back to the Stadium now it brings back a number of special memories.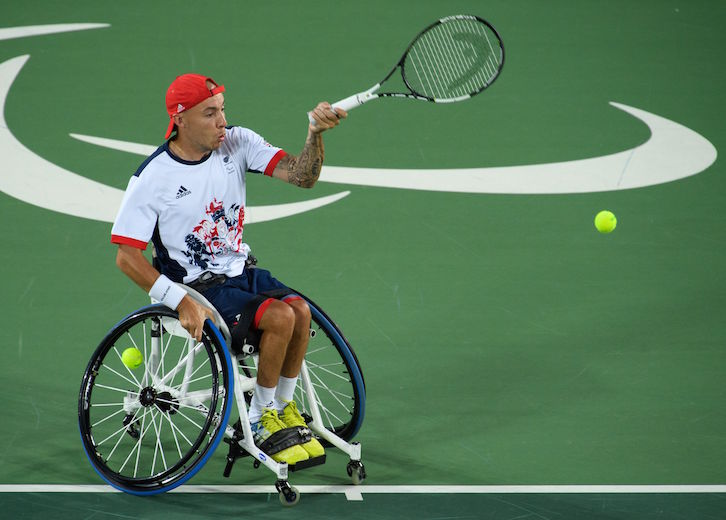 It is crazy that we have now made into a West Ham Stadium and hopefully we can settle in after a few bad results, but that is to be expected after such a big move. I am hopeful this will help us move onto the next level.
It is going to take time to settle in because the Boleyn Ground was such a special place and we all have a number of memories from our time there.
But we all want to be in the Champions League and challenging for the title and we don't want to be the small Club in London anymore.
You have to move with the times and I think we have done that. In the next few years I hope we can start to challenge and this Stadium will enable us to do that.
My love for West Ham has a lot to do with my father who was brought up in Hainult in Essex and all that side of the family support the Hammers so I was never going to support anyone else.
I have been following the Club since I was a youngster and go to the majority of home and away games when I am not travelling around the world playing tennis. I love the atmosphere and coming to watch the team in action and seeing what they do on the pitch.
I was lucky enough to show off my medals at the Boleyn Ground when I won the US Open, but to go out in front of so many fans at London Stadium and thank the fans who showed such crazy support during the Olympics was a great moment.
It is nice to know that so many people are behind me.
The Stadium breathes life into the area and you could see that with the Olympics.
You see everyone buzzing around Westfield and it is the same with West Ham playing here now.
You see claret and blue everywhere and that is a special moment. To see our club being part of something so special is really nice and I hope it helps people in the local area.
It would be nice for everyone to be part of something really special.