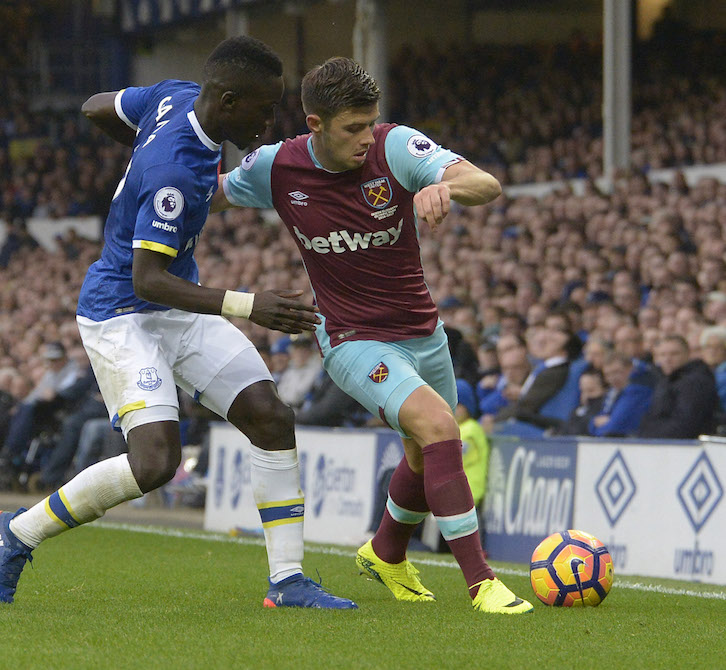 Aaron Cresswell says he is relishing the chance to play in a new wing-back system and hopes to get straight back on the winning trail when the Hammers host Stoke on Saturday.
 
Cresswell was forced to miss the start of the season with a knee ligament injury, but he has made a speedy recovery and a timely return to first-team action.
 
The Hammers full-back has wasted no time settling into a new formation which Slaven Bilic has introduced in recent weeks playing three at the back and two wing-backs.
 
The move coincided with West Ham enjoying their best run of form as they went four games unbeaten and saw the team record big victories over Crystal Palace, Sunderland and Chelsea.
 
Despite the minor setback against Everton on Sunday, Cresswell is confident they can get back to winning ways this weekend and says the new system is helping him to show his attacking qualities.
 
Cresswell said: "I am enjoying the new system. It's nice to get forward in that formation, trying to create and get up the field to get the ball in the box, it suits me.
 
"I was saying to the fitness coach and the physio that I'm feeling better than Wednesday night. It takes time, you can do all the training in the world but you can't beat getting minutes on the pitch.
 
"The knee feels good and I am looking forward to the next few games."
 
The Hammers will be looking to build on recent home victories against Sunderland and Chelsea and with Stoke just above them in the table, some reports have suggested it is a must-win game for the Hammers.
 
But Cresswell strongly disagrees with that theory and says his side have already taken big steps to turn their season around and will be hoping for another big victory in front of their own fans.
 
Cresswell said: "Stoke is not a must win game. Of course we want to win it but it is not must win.
 
"We don't deserve to label it that because we have had some good results recently and been on a good run.
 
"We just need to get back to that again this weekend."
 
Cresswell is refusing to use the memorable win over Chelsea in the EFL Cup last Wednesday as an excuse for his side's defeat against Everton and says it would have been a different story if his side had been more clinical in front of goal.
 
"I don't think the Chelsea game took it out of us. We felt more than okay in the first half and we had more than enough time to recover from Chelsea, so we cannot use that as an excuse.
 
"It was down to us taking our chances, which we didn't do, but we go again next weekend.
 
"We went in at half time at 0-0 and to be fair, they [Everton] came out all guns blazing and pegged us back, got the goal and we were chasing the game.
 
"He's [Lukaku] a tough one, one of the best in world football, he was excellent, it's a shame we can't stop him.
 
"It's frustrating not to take one of the chances in first half and he made us pay."