Members of West Ham United's first team squad visited Newham General Hospital this week
As Christmas approaches, they were therehand over some gifts to poorly children
Winston Reid and Ashley Fletcher both stressed how important visits like this are
West Ham United's first team players took a break from their busy festive schedule to spread the Christmas cheer at a local hospital this week.
Winston Reid, Adrian, Simone Zaza, Michail Antonio, Ashley Fletcher and Pedro Obiang visited the children's ward at Newham General Hospital to meet youngsters and hand over some claret and blue gifts.
It continues the Club's yearly tradition of visiting the hospital just before Christmas begins and the visit, once again, brought smiles to face of the young children currently under the care of doctors and nurses.
"It's tough when it's kids and you can see them struggling. It's nice that we can put a smile on their face by coming into the room and giving them a gift. It's very important for them," said defender Reid.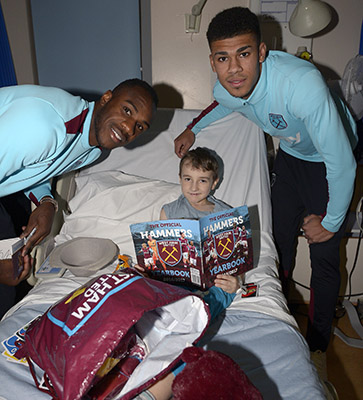 "The kids are going through a tough period and we all hope that their stay is smooth as possible.
"It's something we (the Club) have always been good at and this is a tradition.  Being a father myself, I know how important it is for children."
The visit this year was extra special, as the players were also able to receive a sneak-peek of the new Rainbow Unit at the hospital which will considerably improve the care of young people when it opens early next year.
Most importantly though, the players spent the majority of their time chatting, posing for photographs and handing over lots of Christmas presents to the youngsters.
"It's been very nice. We wanted to come here and make their Christmas in a way. They're going through a tough time and it's nice to able to give them some gifts so they can enjoy their Christmas a little bit more," said striker Fletcher.
"It's very important to do things like because the relationship we have with the fans is very strong. We need to keep that up and doing things like this can only benefit us.
"It doesn't take anything out of our day. We're their heroes so it's very special for us to do things like this."