Former Newham Recorder editor and AAA trustee Colin Grainger on the work being done to provide opportunities for children and young people in the London Borough of Newham and surrounding areas.
West Ham United have kindly again allowed us to turn the spotlight on the vital work of our charity Ambition Aspire Achieve (AAA).
And there were Hammers links everywhere in our most recent major campaign – the Kevin Jenkins OBE Newham Christmas Toy Appeal. Stars from the Irons' women's and men's teams played a key role, as did the West Ham United Foundation.
The 45th annual appeal reached its target and gifts were distributed to more than 3,300 families. We did it thanks to the hard work of our staff and volunteers and those in our community and beyond who dug deep.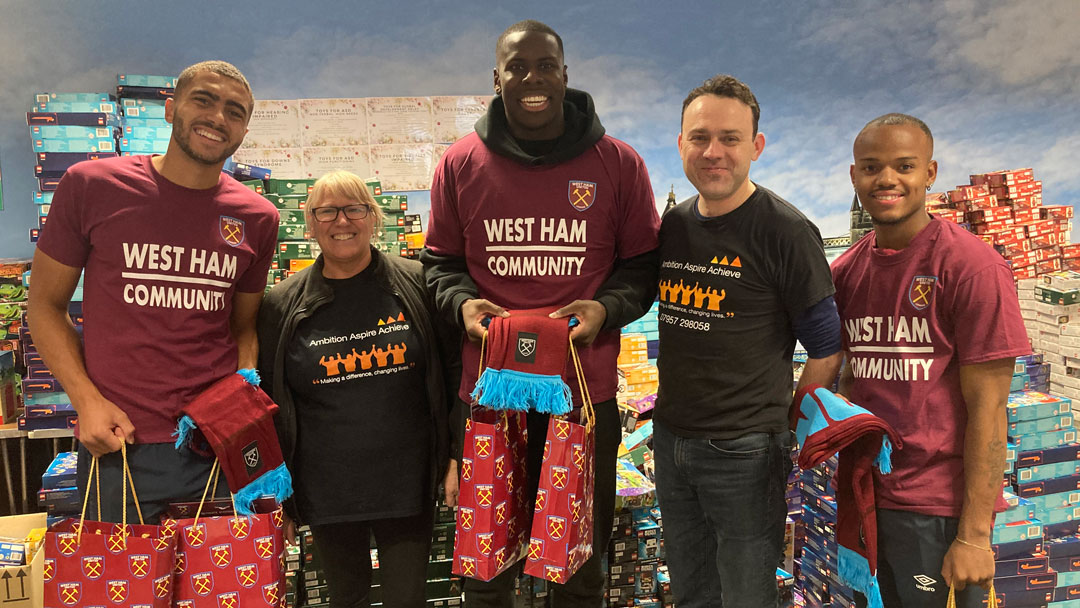 Appeal Co-Ordinator Paula Blake said: "We want to thank everyone for helping us achieve our charity's core aims – making a difference and changing lives."
AAA Chief Executive Jonny Boux highlighted: "Along with the toys, this year we distributed nearly 200 seasonal food hampers for families in need. The requests for help were the highest ever and the kindness of individuals, businesses, schools and community groups was tremendous."
The appeal was launched by women's stars Viviane Asseyi and Grace Fisk, who met staff and the children who act as Santa's helpers for the appeal. Men's first-team player Kurt Zouma and Academy players Remi Coddington and Will Greenidge also visited our toy warehouse, bringing gifts and volunteering for the afternoon, helping to pack and sort toys for vulnerable children benefitting from the appeal.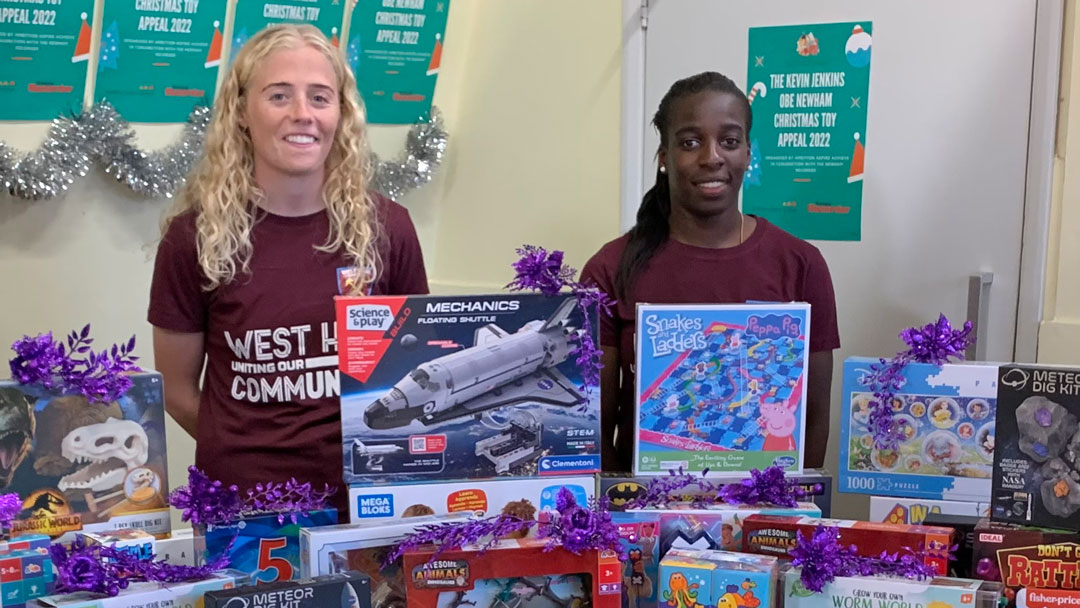 Today's game comes shortly after Joint-Chairman David Gold passed away and our staff and trustees were very saddened to hear of his death. We are fortunate to be one of the Club's chosen charities and welcomed David Gold to our official opening of Arc in the Park in 2017. David Gold, fellow Joint-Chairman David Sullivan and former Chairman Terence Brown have provided huge support for our work over many years.
Hammers stars have been wearing AAA shirts in training in advance of the game against Everton, managed by former Hammers midfielder Frank Lampard. He supported the toy appeal frequently during his own Irons' career.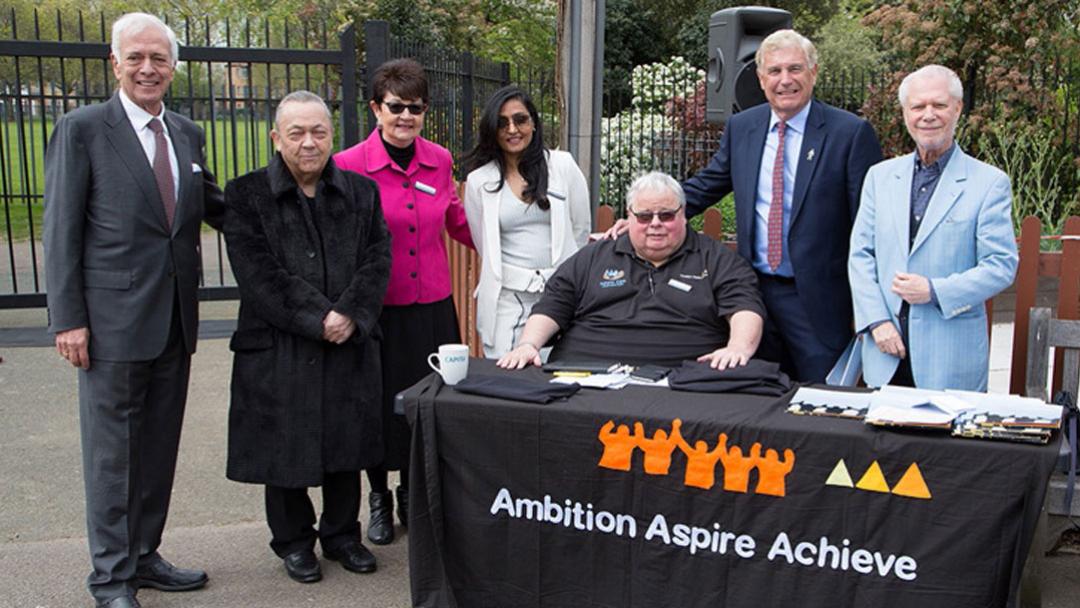 Though life for our charity has many challenges, we are always seeking to help transform the lives of young people by building confidence and expanding minds. The last year has been a busy time and at both our hubs, the Terence Brown Arc in the Park and the Glyn Hopkin Abbey Hub, with hundreds of local young people attending activities throughout the week, at weekends, during term-times and school holidays.
We have a lot planned for 2023, including significant developments for our hubs and the planned opening of an exciting new outdoor activity and adventure space, the Abbey Hub Woodland, offering even better facilities for the local children and young people we support.
With the need for our work rising, growing our delivery programmes to reach and support even more vulnerable children and young people will be vital. This includes our early intervention work at key transition points as children journey from primary to secondary school, tailored support for young people involved in or at risk of becoming involved in gangs and/or serious youth violence, personal development programmes for young people to successfully transition and succeed in college, employment and apprenticeships and our work providing much needed after school and holiday activities and support for children and young people with Special Educational Needs or Disabilities.
Newham has among the highest child poverty rates in the country, and over half the borough's children now reside in low-income households, living the daily grind of poverty
At the heart of this will be enabling our children and young people to flourish, learn new skills and build their confidence, resilience and wellbeing by experiencing a whole range of fun, engaging and exciting activities and experiences – multi-sports projects, music and arts themed activities, outward bound experiences and much more, to ensure all are given every chance to grow and develop.
Chief Executive Boux explained: "The last year has been so challenging for many. But has enough been done though, to highlight the impact this is having on low-income families and the rising pressures they face? The cost-of-living crisis is really biting. Newham has among the highest child poverty rates in the country, and over half the borough's children now reside in low-income households, living the daily grind of poverty.
"Three years ago, our founder, the late Kevin Jenkins OBE, called for a Newham Child Poverty Summit, to drive greater focus on the issue and join up support for those families most in need. That call has even more resonance today and much more must be done together, particularly to help bring together all the providers and agencies working in this space, to foster effective collaboration."
You can learn more about our work here on Facebook, Twitter, Instagram and AAA's official website.