West Ham United Foundation's 150Club programme hit a landmark 1,000 completers earlier this year, as the award-winning initiative continues to lead the fight against type 2 diabetes and cardiovascular disease in east London.
With this week marking Diabetes Week 2022, the huge number of successful participants in the scheme – run by West Ham United Foundation, North East London Clinical Commissioning Group and Newham Council – was celebrated at London Stadium by completers, NHS and Newham representatives, as well as the original commissioners of the programme.
Guests enjoyed the opportunity to come together, enjoy the Club's hospitality and hear from Foundation CEO Joseph Lyons and Health Manager Herve Bessieres, before enjoying refreshments, a raffle and a panel discussion with a number of completers.
The successes of the scheme were also highlighted, including its successful adaptation to the circumstances imposed by the recent global pandemic.
The 150Club saves the NHS an estimated £1.4million annually, with participants reporting an increased level of activity in their lives of 262 per cent during the course of their programmes.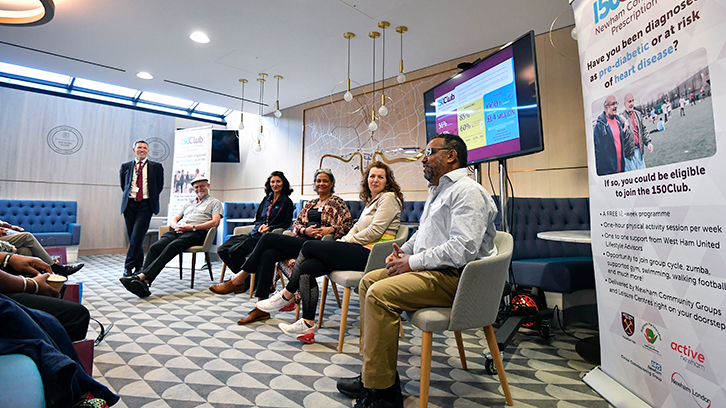 Formed in 2015, the 150Club scheme draws its name from the NHS recommended amount of 150 minutes of exercise people should take per week.
Using the power of football and sport, the ground-breaking initiative was developed by the NHS, North East London CCG, Newham Council and the 150Club partnership – made up of the West Ham United Foundation working with the council's leisure trust, activeNewham and the Staywell Partnership.
A 2018/19 study found that 37 per cent of Newham 19+ Residents are classed as physically inactive, compared to the London (24.2 per cent) and England (24.8 per cent). The borough itself counted 8.57 per cent of diabetes prevalence among its residents (compared to the London average prevalence of 6.51 per cent).
The 150Club therefore works with residents at risk of diabetes or cardiovascular diseases to offer them a range of tailored physical activities through a free 12-week physical activity programme, offered at 12 locations across Newham, including virtually.
Participants are referred to the 150Club by self-referral, their GPs or a health professional, and can choose from over 35 different physical activity sessions each week, including everything from Supported Gym to Walking Football, Yoga, Zumba, Pilates, Tai Chi – and more.
150Club members are also offered one-to-one support from Foundation Lifestyle Advisors; monthly newsletters and social media support; engagement with West Ham players through the Players' Project; and discounted memberships at local leisure centres for completers – providing a mix of fun and community spirit on the way to providing outstanding health benefits.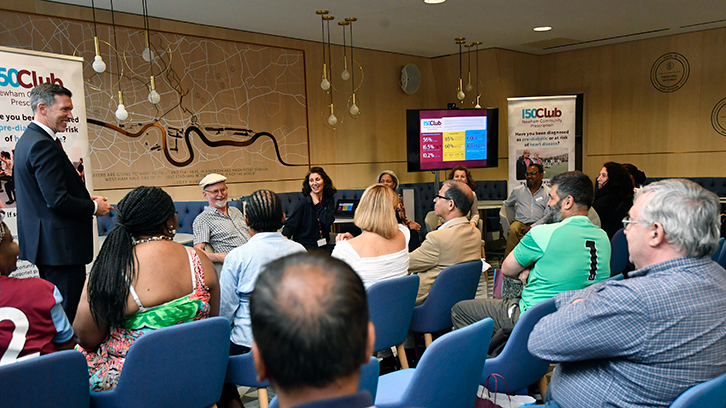 Joseph Lyons, Chief Executive of the West Ham United Foundation, told West Ham TV: "Back in 2015, when we were looking at this programme with partners from across the borough, it was really clear that for us to really start to challenge some of the problems we had, we had to work with grassroots organisations.
"We had to make it about participants being referred not into an alien environment, but somewhere they felt comfortable, and somewhere that was accessible for them, not just physically, but also financially. 
"The scheme has been a fantastic success – and that's continued through COVID. As soon as you leave it, you'll have activities in your life which have become habits, and you can get a discounted rates at local leisure centres.
"All of that in combination is probably why this programme has been such a success. Now, it's down to us to work even harder over the next five years, to make sure it continues to be community-led, and that its good practice is scaled up and down the country, working with lots of other voluntary sectors and football community schemes, to support the NHS.
"I'm really proud of the Football Club, the West Ham United Foundation and what they're doing, and what they will continue to do in the local area."
Anyone wishing to join the 150Club can find more information here, via email, or calling on 07850086914.
To learn more about the work that the West Ham United Foundation does, please click here.
To find out more about how you can get involved with the Foundation please contact [email protected] 
 
Case Study – Nora Castro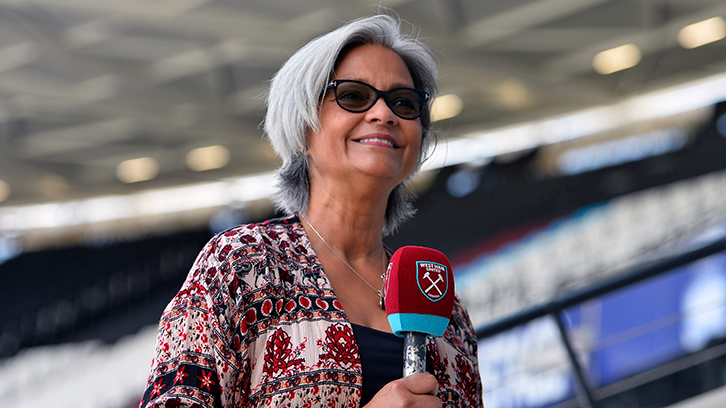 Nora is a Social Prescriber who refers her patients to 150Club with the greatest of confidence, having completed the programme herself previously and enjoyed its range of benefits.
"At the beginning, I was talking to patients, trying to convince them to engage in a healthy lifestyle, and it was very challenging to convince some of them because they didn't believe in it.
"Because it was open to everyone, and my own BMI was just a notch over [the recommended level], I thought 'why not?' I just got engaged with the programme myself so I could share my story with my patients – and it worked.
"I did the whole 12 weeks and it was difficult, because sometimes I had to stop at certain points and it was hard to get back to it, but I had a really good instructor who kept motivating me. I'm so happy, because I got fitter, and now I can share my experience with my patients. 
"The programme offers flexibility. A lot of people have work or families, but the programme has evening sessions and early-morning sessions, which is really good. Also, the fact that at the end of it, you get a discounted membership to some leisure centres, is great for people who might be struggling financially.
"There are a lot of classes people get to engage with. I liked weight-lifting and we had a lot of laughs in our cardio sessions because we didn't want to do them! You get to know other people and you feel fitter and better, and that has a direct impact on your health.
"I'm so grateful to West Ham United and the Foundation. This is a really great way to invest in people and I think many people will appreciate it, because many patients want to get their health back, but they don't know how. I know that my own patients have been really grateful for 150Club, having a good time, and I have quite a few patients myself on my referrals.
"I would say to anyone who has not done it yet: take this opportunity and give it a go. You will find the flexibility, you will find the great support, and it's a win for you. You will feel good after you start. It's work on your part, but just give it a go – why not?"