Throughout October, the United Kingdom has been celebrating Black History Month.
It was 1 October 1987 that, as part of African Jubilee Year, an event was held at County Hall in London to mark the contributions of black people throughout history.
Since then, Black History Month has grown into the widely respected month-long celebration it is today, during which the historical achievements of black people from all walks of life are championed.
In 2021, the theme for Black History Month is 'Proud To Be'.
Since John Charles captained West Ham United to FA Youth Cup glory and made his first-team debut in 1963, nearly 150 black players have proudly represented the Club at senior level.
To celebrate their achievements, former Hammers George Parris and Carlton Cole joined current defender Ben Johnson at London Stadium to talk about their own black role models, their own careers and what it means to be a black person and a black footballer in the UK today…
Carlton Cole: It's Black History Month and, we're here to celebrate the lives of black people and what kind of influence black people have had in this country. 
I feel that we, as West Ham United, have come a long way to try and help the black community in that aspect, especially around the Newham borough.
I think we've all come a long way in our football careers and the influence that we've had on the younger generation. For example, George, you've had an influence on me and, Ben, I probably had an influence on you – not blowing my own horn! – but that's just how it goes. 
Seeing other black people in positions of power in football is what we need to see more of, and I feel like we are going in the right direction to get more equality in the game and I think West Ham pioneers that.
We'll start with you, George. What does Black History Month mean to you?
George Parris: Well, it started in 1987 and back in those days, it was just 'Oh, it's Black History Month', and you never heard about it again for the whole month, so that's progress, where we are now.
I think it's a full-blown month now. Although we're black for not just a day or a month, but forever, it's great that it gets highlighted for the month and it gives us the opportunity to champion what we do and obviously gives a voice to other black people out there.
CC: What does Black History Month mean to you, Ben?
Ben Johnson: I'm a little bit younger than both of you, so I'm still learning about the world and what it means and what it truly means to me in my heart, but I think it's a fantastic celebration actually acknowledging how much black people have done, not just in the UK but across the globe. I think it's a focused month, but for the rest of the time it goes unnoticed. With the icons that have lived and have walked in the same backgrounds as us and have become world figures, there are so many examples of that, it's extremely important for me, being from a West Indian background, to actually understand and know and have the answers about it, so it means a lot to me and hopefully it can just continue to evolve and more people can see [the impact of it]. For the younger generation, another person who is going to be a historical figure is Marcus Rashford, as you know, so it's always developing, which is a brilliant thing.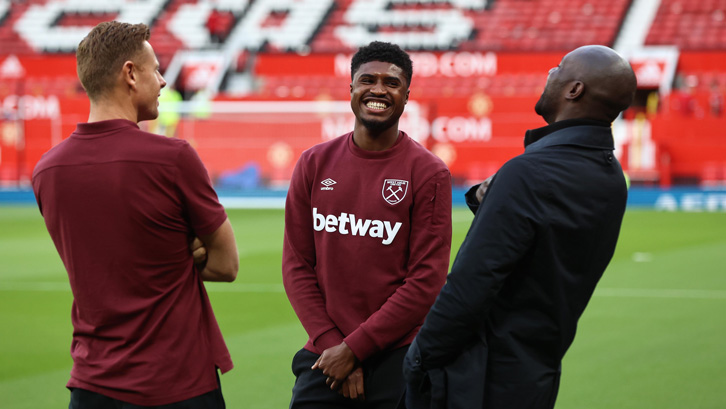 CC: If you go out on the streets, down to Upton Park where the Boleyn Ground used to be, there are so many different minorities and ethnicities over there. I've been down there to do some filming, and I talk to different cultures and backgrounds. I think it's important that we carry on what we've been doing. George, do you think sport in general has a massive impact on what other people see of what the black community can achieve?
GP: Yes, massively. I think that sport is universal isn't it, so whether it's in England or to another country, football's a buy-in, isn't it? You go to a country and you've all got different shirts on and you start talking, whether you're black, white or Chinese – it sets you off. I think it's vital for sport that we carry on doing that and I think people look at us as icons, if you like, or legends, whatever you want to call it. By us playing and performing, that gives hope to everyone else out there.
CC: Growing up, who was your icon? Who did you look up and aspire to, growing up as a young black boy at school?
GP: The obvious one was Pelé. What a great player he was! So, on a football front, certainly Pelé. I also played against people like Cyrille Regis and Garth Crooks…
CC: Cyrille was one of 'The Three Degrees' alongside Lawrie Cunningham and Brendan Batson – three black players who starred for West Bromwich Albion during the late 1970s and were named after the pop group. We also had our own pioneering trio at West Ham who became the first three black players to play in the same team – Clyde Best, Ade Coker and Clive Charles – in April 1972. Ben, what do you know of their story?
BJ: I've heard that Clyde Best was a top player! He's from Bermuda, and of course at that time you know how difficult it must have been for him, and I wouldn't want to have played in that era, so talking about those names – as you said, The Three Degrees – there are players who may have been stopped from reaching their full potential and may have not become players and fallen out of the game, whereas now they would push on.
CC: Who was your icon as a boy who you used to look up to and say 'I want to be like that guy'?
 
BJ: Growing up playing football as a kid in primary school, for me it would be Thierry Henry. My Dad liked golf too, so of course Tiger Woods as well, because I knew about him from a young age. He was probably one of the only black players on the tour and to be the best player and to be revered as the best player is something that is truly special. For me, growing up as a kid, I was aware of that, going into secondary school as well there was a bit more coverage of Black History Month and things like that and, of course, as you said, football is universal and sport is universal, so even though we need to get a good education and have a focus on the core subjects, for kids to learn about Black History Month there are so many examples in sport and in life which teachers can really put in front of kids and stimulate their minds and black kids will appreciate that. 
CC: I used to look up to people like Muhammad Ali. He was the epitome of doing things his own way and being from a black background it was really eye-opening to see how he did things. I used to see him as just an inspirational character, and that kind of builds who you are as a person because you see people in other walks of life looking at life differently to you, and then you want to know his secret, so it kind of opens up a whole new chapter in your life growing up, for me. I used to love Pelé and Michael Jordan as well, and I used to look up to other people for inspiration, like Nelson Mandela. These people inspired me and it just kind of grew inside me that I wanted to be somebody some day and have some influence on the world and leave my mark. 
CC: It's about having black role models we can aspire to emulate in our own lives…
GP: For black lads around at the time I was playing, it was for them to look and say: 'If George can do it, then I can do it! There's no reason I can't do that because I must be faster, quicker and stronger than him and he played 300 games for West Ham!'.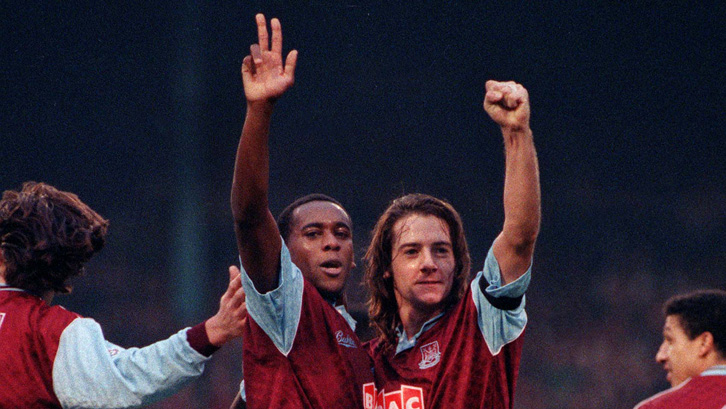 CC: Ben, for you, you had role models in your own family in your uncle Paul Parker and cousin Ledley King, who both played for England?
BJ: Of course, having family that have played is massive for me. My Mum and Dad were good in that when I was young, I understood football but not who the players were, I didn't really know much, so they kept it from me for ages and I found out funnily enough when I was at my Grandma's. She had a little Subbuteo of Paul and Ledley and I asked: 'Why have you got these players, I don't know who they are?' Then I slowly discovered why, of course, and then of course Ledley was doing his thing and Paul was doing his thing and I was young. It was difficult. They did the right thing I think to leave me for a bit and focus on themselves, and it was when I got to about 18 or 19 when I started to get in contact with them to get encouragement, so it's definitely good to have those people in your family to see what they achieved. You have to pick these people's brains. It's amazing for me and it's such a good feeling.
CC: West Ham United is a Club with a history of a lot of black players and is very inclusive. What makes this Club so progressive, George?
GP: For me it's always been a family Club. From day one, when I walked in, I was welcomed, not just because of my colour but because of me as a player, so I think they've continued that throughout the years and it's showing with Ben and others that are progressing to the first team. That's first and foremost, they always try to treat you as a human being which is great and then, as you rightly say, I think we've just been inclusive and welcoming as well.
BJ: When I started, in 2006/07, I was playing for Arsenal and West Ham for a bit and seeing what happened, and my Mum and Dad made that decision to go to West Ham because they just felt a warmth from parents and coaches. That's unique. You don't really get that at a young age. The coaches, who at the time were Jimmy Hampshier, Dave Hunt, Ian Yuill and Trevor Lewin, they just wanted everyone to do well.
CC: They didn't see colour, they didn't see race – they saw a good player…
BJ: Yeah, that was literally how it was and obviously all the parents and boys got on, so it was important for me to feel that warmth and feel that comfort from a young age, and I never felt uncomfortable or felt emotions you don't want to feel. I always just came to enjoy football. From seven to 21, West Ham's always been the same. I've come across so many players and everyone's treated me the same, everyone's treated me with respect. West Ham's obviously been all my life, so I don't know anything else.
CC: As it is Black History Month, it's a time for celebrating how far we've come as a culture. George, what more needs to be done to promote diversity and inclusion?
GP: If this month can turn into a month-and-a-half, and once October's finished it's important that people don't forget about it. There also has to be respect for other races and cultures and creeds.
CC: For me, there's loads more that needs to be done. We see what happens online, on social media. It's a hiding place for racism, but what I would say is that I think a lot needs to be done in our schooling to give kids education about the slave trade and the history of black and African people and the Caribbean. If everyone has access to that information at a young age, we can start to move on, feel more free and not be ashamed of our past, but embrace it. That's what I feel. What do you think needs to be done?
BJ: Coley I echo what you said. It's about how you need to learn as a kid. It gets brushed under the carpet at school. I definitely agree. In school we have the subject History and we're part of that – our culture, our heritage, where we've come from, is history as well. So, if there has to be an exam, or if we have a topic on it, people will learn and be stimulated by it.
CC: Colonialism and all that stuff. I think it's really important to learn because once you brush it under the carpet, it's always going to rear its ugly head later on. We've got to address it and we move on. We're moving on now and we've got to talk about racism in football. What's your stance on taking the knee? 
GP: I think it's important to carry on doing that, and as time goes on the boos that you hear are getting less and less which is great. There might be a day, where we might go to a football match and the knee is being taken and there's not one boo. For me, there has to be something for players to think that by taking the knee, we can actually see something is being done, and people who are racist are punished. Until that gets highlighted even more, it's [banging] your head against the wall.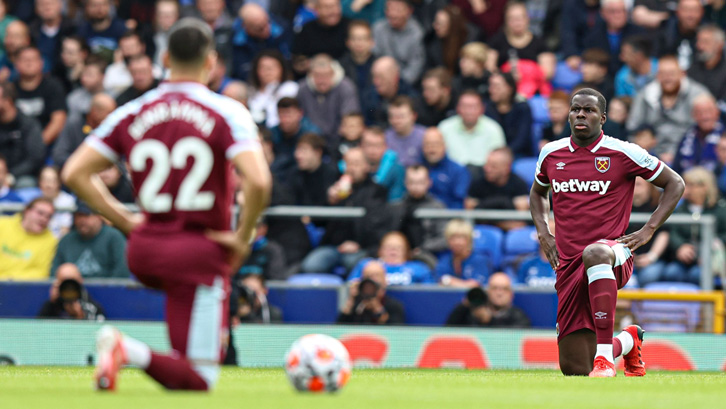 BJ: My personal opinion is that it's helping the young children. When I was growing up watching football at the age of five or six you don't really understand [what racial abuse is], so you ask your parents 'What does this mean?'. So, it's for the kids growing up, to see why we're doing it and if everyone wants to represent in their own way. I think the Premier League have done a great job of that. For me, it's got to continue.
CC: I champion it because I've seen a change, not as fast as I want it to be, but a change. Social media has to play a massive part. Social media platforms need to be more accountable, and they need to promote it to say 'we can't stand for this and we can't take it any longer'. I think everyone should have to submit a passport or an ID card to get on to social media and if you do any misdemeanours on there, you're going to get caught and found straight away. Something has to happen. Do you think the punishments for racism are strong enough, both on social media and from UEFA and FIFA?
BJ: No, not at all. If we've got the smartest people who can make updates for social media apps worldwide, so surely they can make an update to catch people who are being racist? It's as simple as that. As for the international football authorities, we all know it's not enough and it's an elephant in the room now. It's something that it shouldn't be, but we're kind of getting immune to it.
CC: That is a subject that we can talk all day about, but I think we've done enough talking. With Black History Month, I feel we're all going in the same direction. West Ham have always championed being the pioneers of progress and that's all we want. We want progress. We do it all year round. I know this Club is held in high regard around the Newham borough and I just hope we keep on going and keep influencing people in the right way and get even better than we already are.