West Ham United women's midfielder, Dagný Brynjarsdóttir is looking forward to facing the challenge of Manchester City this weekend. 
The Icelandic international was pleased to be a part of the side that won their first match of the season against Leicester City last weekend and hopes that the Hammers can build on that performance when they face the Citizens. 
"It was really nice to get a win last weekend, and we're looking to build on that," the midfielder told whufc.com. It's always nice to get your first home win of the season and to be a part of that was really special. 
"We've been quite unlucky with how the season has started for us, we've had good spells against Brighton and Aston Villa in our opening two games, so it was nice to pick up three points. 
"It was also the manner of the game – we were dominant throughout and also managed to keep a clean sheet. We need to build on this now and look to pick up a positive result against Manchester City."
It was a game to remember for Brynjarsdóttir's newest team-mate, Tameka Yallop, as she scored twice on her debut against the Foxes, whilst Yui Hasegawa was influential throughout on her return from injury. 
And the 30-year-old midfielder was pleased that the Hammers have their squad together for the first time, and is looking forward to having everyone back fit in the near future.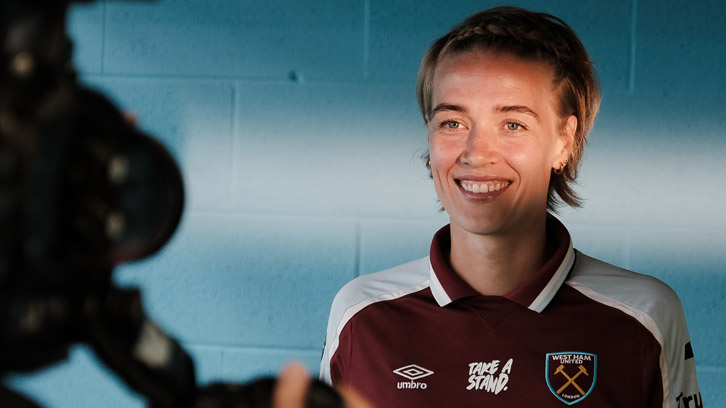 "It's great to have Tameka here with us now – as well playing my first game with Yui. We have a really strong midfield, where competition for places is high. 
"This was the first game where we actually had our whole squad in the building, so I think that was just a reflection of what we can do when we have players available. 
"Having said that, we have players injured that will strengthen the squad when they return – so I'm really looking forward to when we have those players back, because we can get even better."
Manchester City have suffered a poor start to the season by their standards, and currently sit one place below the Hammers. Brynjarsdóttir believes that this is a chance for the team to show that they can compete against one of the top sides in the division. 
"Maybe it's my Icelandic mindset of being from a smaller country and being the underdog, but I think when you have a good game plan and work hard as a team then you have every chance of getting something. 
"They haven't started well and it's a really good opportunity for us to show that we can compete with these types of teams that have been established in the league for a long time."

The Hammers will kick-off against Manchester City at the Academy Stadium on Sunday 3 October at 2pm. 

Tickets can be purchased by clicking here.