David Moyes felt his West Ham United team did not quite do enough to get the better of a determined Southampton as they extended their unbeaten start to the 2021/22 Premier League season at St Mary's Stadium.
A close contest saw both teams work hard to restrict the number of clear-cut chances created by their opponent, particularly in the first half, but each did go close to snatching all three points after the break.
Michail Antonio and Jarrod Bowen were both denied by Saints goalkeeper Alex McCarthy, before Saints substitute Armando Broja hit the post and saw a late header cleared off the line by Declan Rice.
Antonio, who had tussled with Southampton centre-backs Jack Stephens and Mohammed Salisu all afternoon, was sent-off for two bookable offences in added-time and will now miss next Sunday's home fixture with Manchester United.
Speaking afterwards, Moyes felt his players did not quite click in the final third after many of them spent the majority of the past fortnight away on international duty, while also praising the 'unbelievable' Claret and Blue Army for their relentless and vociferous support on the south coast.
It was a hard-fought point.
It was a bit close, the game. I thought we played really well at times in the first half, but we just didn't have the connection in forward areas today to make the difference, when in recent weeks we have and we scored two fours and a two, but we just didn't have the connection today.
Whether that's to do with the players coming back on Thursday and Friday might have something to do with it, but I thought Southampton defended very well.
I thought if we continued to play as well as we had in the first half that we would eventually wear them down and it felt like that, but again I just want to reiterate that our front players ahead of the ball didn't quite make the right passes or the right choices.
In truth, we didn't create enough chances. We had a few but not many. I have to say, so did Southampton near the end of the game as well.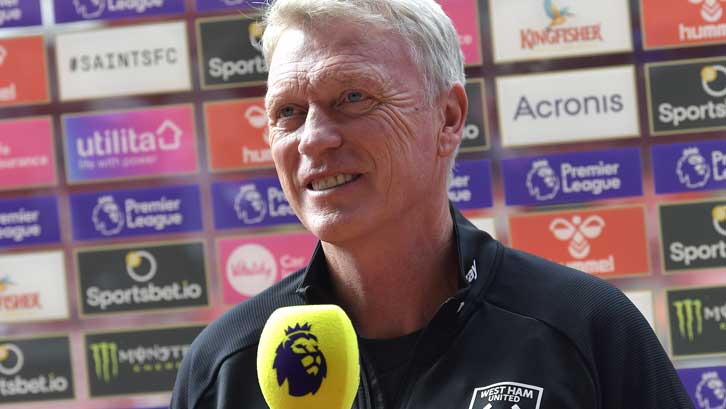 I think the way we have played has been really good and the way we have passed the ball has really pleased me, but I don't want to pass it for passing's sake, I want to pass it to score.
I think we've shown that in all our previous games before today, but today we came up against a hard-working, defensive Southampton team who made it hard for us to play.
There was no reason for us to make any changes to the starting XI, was there? We're up near the top of the league and we'd won a couple of games and drawn one.
There will be reasons during the season when we'll have to make changes and we'll need to make one now that Michail Antonio is facing a suspension, so we'll need the new players and we'll need all the squad of players to see us through in our first season when we've got European football as well.
I think Michail's two yellows were justified from what I saw, but I've not seen them again to comment on them. I feel once you've had one, you certainly don't lunge in for a challenge and get a second one.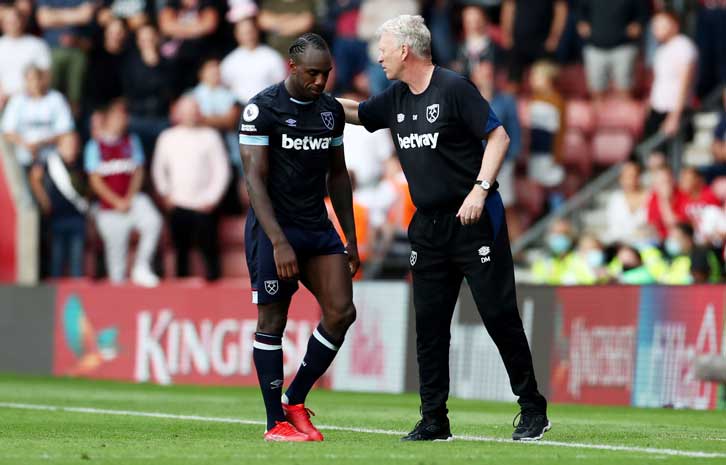 I felt we needed to change the dynamic, so I introduced Nikola Vlasic for his debut, as I felt we needed another way to try and prise them open.
We had a lot of the ball and we controlled long periods of the game, but we just couldn't find the opening, but like I said I thought Southampton defended really well today.
If you saw the West Ham supporters, you can see they've got belief in this team.
They were unbelievable today and I think they sense and we sense we've go a lot of things going on and a lot of good an exciting young players.
We want to try and show it again after last year and what the players have done, I think the supporters are right behind them and I want to say again I thought they did a great job today.
That's eight points from four matches and we're still unbeaten in the Premier League.
We're trying to improve, and I think we've shown that. I think we have improved, I have to say, and I think the players can see it and feel it themselves.
We've added to the squad so we hope we've given ourselves a good chance to be as competitive as we were last year and try and finish high up the table.