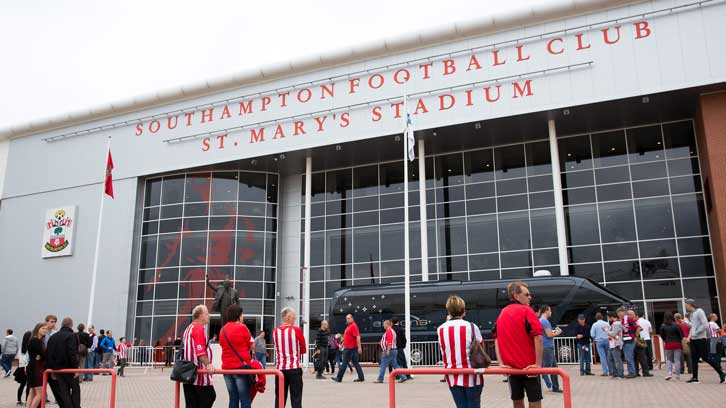 SOUTHAMPTON
Premier League, St Mary's Stadium, Saturday 11 September 2021, 3pm
After travelling to the Premier League's most northerly stadium, St James' Park, for our first away fixture, we travel to the second most southerly, St Mary's Stadium, for our second. For the record, Brighton & Hove Albion's Amex Stadium is further south than St Mary's!
Anyway, back to Southampton and St Mary's is celebrating its 20th birthday this year, having been opened in August 2001. 
Prior to that, the Saints played their home games at the historic, quirky and abnormally shaped The Dell.
St Mary's is anything but those things, but it is situated just a short distance from St Mary's Church, where St Mary's Young Men's Association FC was formed. In 1897, the club took the name Southampton FC.
With a capacity of 32,384, it is the largest stadium in the south of England outside London.
So, now you know..
How to get there…
As is the case with so many football stadia these days, it is recommended that supporters take public transport, rather than driving to the game.
If you are heading down from London, it's a simple journey. Services leave Waterloo Station every 30 minutes at .05 and .35 past the hour and take just 75 minutes to reach Southampton Central. From there, it's a signposted 15-minute walk to St Mary's.
If you'd rather, there is a shuttle bus from Central station to St Mary's (and back again after the game) which costs £2 each way.
Heading home, trains depart Central on the hour and half-past-the-hour.
If you do opt to drive to the game, there is no parking in the streets surrounding St Mary's, so you should instead head for one of the following City Council car parks: Bedford Place (postcode SO15 2QW), Grosvenor Square (SO15 2GR), West Park Road (SO15 1AP), Marlands (SO15 1BA), Eastgate (SO14 3HH).
Where to stay…
Southampton is a sizeable city and, as such, there are plenty of hotels and other accommodation options available.
There are the usual chain options to suit all budgets in and around the city centre.
If you fancy tapping into Southampton's nautical feel, perhaps you might consider staying in the Ocean Village, a few hundred metres south of St Mary's, where you can view the yachts and other boats moored in the marina.
And if you fancy making a weekend of it, perhaps you would consider staying across Southampton Water in the beautiful New Forest National Park..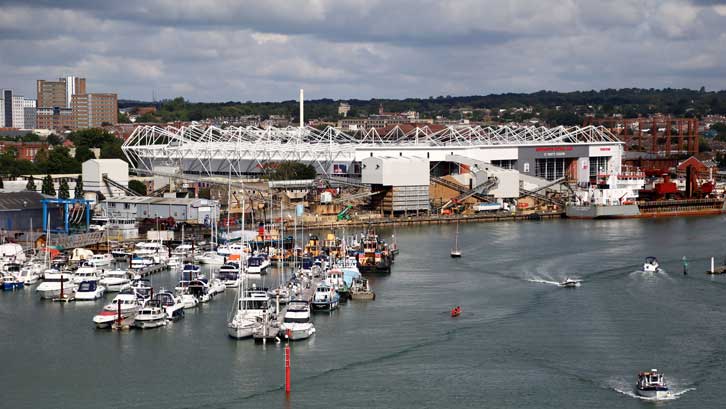 What to do…
Well, as I've just mentioned, the New Forest National Park is a large area of pasture land, heathland and forest situated between Southampton and Bournemouth.
A truly beautiful part of the country, it is home to rare birds and mammals, including the native New Forest pony, which roams free and can be seen strolling through towns and villages!
If you stay in Southampton itself, the city's maritime tradition is apparent in the aforementioned Ocean Village, while the SeaCity Museum tells the story of the Titanic, which set sail from Southampton on its ill-fated voyage in 1912.
The city is also home to a range galleries, theatres and museums.
For further information, click here.
What's happened there before…
We've been regular visitors to St Mary's Stadium since it opened two decades ago, and are unbeaten on our previous three trips to Hampshire.
Last season, the game ended in a goalless draw on 29 December 2020, with Craig Dawson making an impressive debut for West Ham United.
Manuel Pellegrini won on both visits as Hammers manager, 1-0 in 2019/20 courtesy of Sébastien Haller's goal, and 2-1 in 2018/19 through Felipe Anderson's double.
Our first-ever visit also ended in victory, when Trevor Morley and Lee Chapman hit the target in a 2-0 success in our debut Premier League season on 29 November 1993. 
Overall, we've been to St Mary's 19 times in the Premier League, winning five, drawing seven and losing seven.